Marcelo Bielsa's circus of fun-filled football will roll in Marseille during the summer, with the locals hopeful that the appointment of the Argentine can finally put an end to a miserable year for the Provence giants.
Weeks of negotiations have passed between OM and the South American, whose notoriously picky personality meant that this was a deal that was never certain to be completed until it was finally official.
The Rosario native's two-year deal has been greeted with unbridled optimism. Although his arrival in the south of France does not guarantee trophies, he will bring with him the type of freewheeling exuberance that reflects the people of the city that brought the world Zinedine Zidane, but which has been sorely lacking in their football club in recent times.
The Stade Velodrome has been a gloomy place this season, with recent matches against Ajaccio and Lille marred by protests from the fans, unhappy about a spiral of negativity that the team had been sucked into. Ahead of Sunday night's big clash with Olympique Lyonnais, OM are aware that any prospect of European football next season could be swept away from them with failure to win.
It was not meant to be this way in the summer, when the arrivals of exciting attackers Florian Thauvin and Dimitri Payet were sanctioned, and the club embarked on a net spend close to €40 million.
Dour pragmatism has lingered heavily over the port-city outfit since the appointment of Elie Baup in the summer of 2012, and while the ex-goalkeeper was initially successful, there was little joy to be had from the sequence of hard-nosed victories that he yielded. When the results turned in the autumn of 2013, fuelled by a Champions League group stage campaign that brought only six defeats, he was quickly ushered away to be replaced in an interim fashion by unpopular sporting director Jose Anigo.
Results have not improved - indeed, Baup's 17 games in charge have yielded more points than Anigo's 18 - and the support has grown increasingly restless. The colourful ultra factions who populate both ends of Marseille's home ground have called for Anigo's head in recent weeks and against Lille turned their banners upside down – a tactic drawn from the city's maritime roots, as this is exactly the action a ship in distress takes.
It is not the first time that Anigo, whose son Adrien was killed in a suspected gang-related shooting during 2013, has been attacked this season, with a far more sinister event taking place in January. 'Why Adri and not Jose?' read graffiti outside OM's training ground, leading to a scheduled press conference being cancelled.
Marseille replied with an official statement that noted: "The father of the family is bruised and shocked by the violence of the words."
Responding after protests during a 3-1 win over Ajaccio in April, Anigo said: "This is not football. What you can see and hear, all this is hate."
To make matters worse for the sporting director, even the moderate success Marseille have enjoyed of late has been attributed to the incoming Bielsa. When the Argentine watched on from the stands as the Provence side beat Montpellier in April, the media began discussing 'the Bielsa effect'.
"I know the press have invented the concept of the coach-fan," Anigo hit back at couple of weeks later. "For the media, Bielsa won the match for Marseille eating peanuts."
Born and bred in the gritty port city, Anigo has enjoyed a long association with OM, dating back to when he first signed for the club as a youngster as a 14-year-old in 1975. As a physical defender, he would play eight seasons with the club's first team before returning to head the youth academy, from where he would play several cameo roles as first-team coach for a side who are notoriously touch on coaches. This four-year spell brought many happy memories, including a trip to the Uefa Cup final, before he was ushered into a sporting director role, where recently his popularity faltered.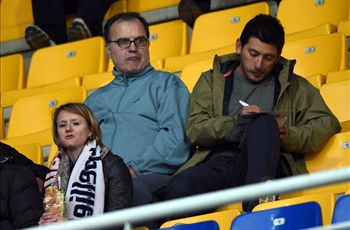 "For the media, Bielsa won the match for Marseille eating peanuts"
During Didier Deschamps' successful reign as OM coach, he would have several clashes with Anigo in what became a rather public war. The current France boss won several skirmishes but was seemingly worn down by the sporting director's brute persistence and resigned in the summer of 2012, sparking frustration from the stands, who have not forgiven Anigo's role in events.
But while the interim coach, who received a further bloody nose from the French FA in March when it was revealed he had failed to attain his coaching diploma, has borne the brunt of the storm, he has not been helped by a squad of players whose attitudes have fallen short of exemplary.
A rift seems to have opened between the team's experienced members and a group of recent, young additions, whose attitude is perceived to have been summed up by the reported incident of Mario Lemina destroying a door when it was revealed he would not be picked for a match. And there have been embarrassing training ground scuffles, too, with Mathieu Valbuena caught on camera tussling with Jordan Ayew - now on loan at Sochaux - just one of a number of reported recent incidents.
Just as the France squad in recent seasons have failed to respect their coaches, there is a similar issue at Marseille. When Valbuena, Andre Ayew and Andre-Pierre Gignac completely blanked assistant boss Albert Emon at training recently, it was dismissed by the players as nothing more than a joke, yet it was one the fans found to be in bad taste.
Marseille simply cannot succeed under the current administration and players, and the best thing for the club is a wholesale change over the summer.
Boasting terrific potential in terms of their playing capacity, there is the possibility of making a rapid improvement in the short term, while the city's appetite for football, combined with Stade Velodrome's redevelopments, means that in terms of the long game there is also the opportunity to establish a side that can regularly reach the Champions League.
Bielsa will bring a dose of fresh air to the club with his free-flowing football that will instantly get the fans onside and will win him time even if results are not as positive as desired.
Crucially, though, his impressive CV and weighty list of demands ensures that he will be respected in Provence, which, more than any brand of attacking football, is crucial to get this wounded Marseille side back on its feet again.