Last time Sergio Ramos was around these parts, he was laughed out of the stadium. Bayern Munich and Real Madrid were contesting the 2012 Champions League semi-final and, in the penalty shoot-out, Ramos had handed the initiative to the hosts by putting his kick comically over the bar.
"I didn't know Sergio Ramos enjoyed blasting his spot kicks over the bar," Bayern goalkeeper Manuel Neuer tweeted. That was crass. Ramos was on hand to remind Neuer "always be humble" when Bayern were defeated by Chelsea in the final. A small, perhaps petty, victory. He has, however, waited two long years to respond on the field.
When the draw pitted Bayern against Real for the sixth time at the European Cup or Champions League semi-final stage, Bayern were installed as favourites. Nonetheless, there have been two immense Real performances, at both ends, to take them back to where they belong - the Champions League final for the first time in 12 years.
While Luka Modric and Angel di Maria have impressed stitching the defensive and attacking elements of Madrid's play together, Ramos, the bulwark, and Cristiano Ronaldo, who also failed from the spot in that fateful 2012 semi, have made amends on a personal level.
Ronaldo scores so many goals that it would be easy to overlook his part in this comprehensive win as a vengeance mission. He worked diligently over the two legs, despite being less than 100 per cent fit in the Bernabeu. His was the pass-before-the-pass for Karim Benzema's opener and put the tie beyond Bayern with two characteristic goals at the Allianz Arena. His European goal tally this season stands at 16 with one match still to play. No player has ever scored more in a campaign. He is truly in a world of his own.
He may very well have enjoyed his revenge but the celebration of his first goal on the night, "15! 15! 15! 15!", showed where his mind truly lay - on goals and records regardless of the opponent. Against anyone else he would have celebrated with similar enthusiasm. For Ramos it was different.
"The Champions League owed me something like this against Bayern," he told
TVE
afterwards. He had just scored two goals to go along with his two semi-final clean sheets and end Bayern's dreams of retention. "We worked so hard. In other years things went wrong but maybe this they'll go right. It's been a great game, perfect."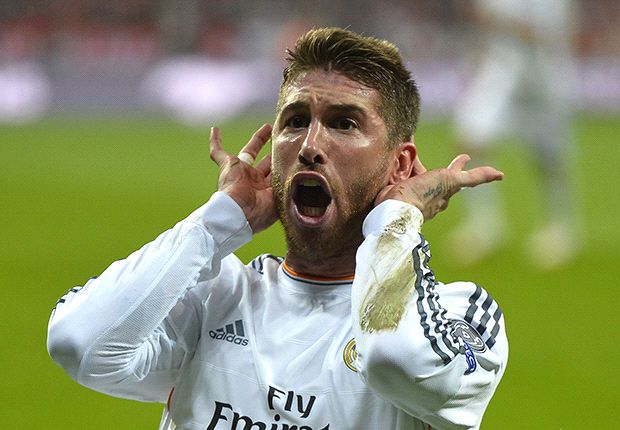 'What penalty?!' | Ramos kicked to touch any lingering sour memories at Bayern
A great game, perfect. Ramos could have been speaking about his own individual display over the two legs. This was as competent a shift as he has ever played in Europe. Time and again he was on hand to thwart Mario Mandzukic, who got no return in either leg from Ramos and the similarly rejuvenated Pepe. He committed not one single foul over the course of the two legs. That is remarkable considering the dexterity in the Bayern forward ranks. Walking the suspension tight-rope, he avoided the crucial second booking.
For any other player that is pretty easy to accomplish. Ramos, though, has a hard-earned reputation as a walking card. The defensive shambles in the second leg of the Borussia Dortmund quarter final did not hint that Ramos had this kind of performance in him. He has proven his formidability and sent the holders packing.
"Playing in a final is a dream," he said. "I've never had the chance to play one. Now Real Madrid is back where we belong."
Ronaldo in his post-match comments spoke about a change of mentality in the Real Madrid squad thanks to Carlo Ancelotti. With the adaptable Italian guiding things from the sidelines, Real finally look ready to deliver
La Decima
after more than a decade without so much as an appearance in the final. Real have changed and so has Ramos Perhaps seen as a vulnerable point before the two legs against Bayern, he is one of their chief strengths.