COMMENT
By Peter McVitie

He may boast the title of being the best player in the world under the age of 21, but Paul Pogba has suffered an alarming nosedive in form in recent months.

The midfielder gradually asserted himself as a key player for the Turin giants in his first season following his move from Manchester United in 2012 and then strolled through the first half of the current campaign, scoring six goals and making four assists in all competitions.
It was thanks to those impeccable displays for club and country that the gifted midfielder earned the praise of some of the biggest names in European football, as well as admiring glances from Europe's biggest clubs.
"Pogba is unique. He has a very bright future," Real Madrid coach Carlo Ancelotti said when asked for his thoughts on him. "He is a complete midfielder.
"Bring him to Real? Why not. This is one of the best young midfielders alongside [Marco] Verratti and Isco."
Meanwhile, Netherlands boss Louis van Gaal has hailed him as a "unique case" and Ruud Gullit is confident he can be "the future star".
The praise is certainly deserved. So bright does his future look and so impressive was his form throughout his first 18 months in Turin, that a host of reports have linking the 21-year-old to some of the continent's biggest sides.

Real Madrid, Manchester United and Paris Saint-Germain have all been rumoured to be willing to spend big on the 6'2" midfielder since the end of last year and it seems likely that more will join the list in the coming months.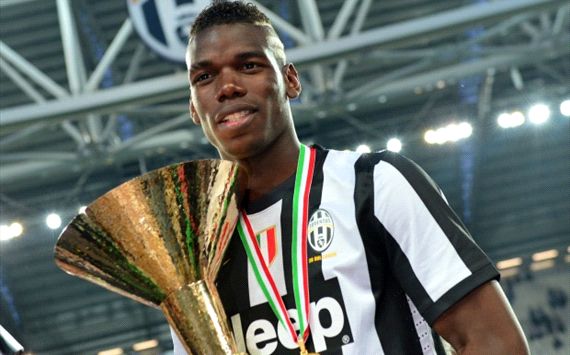 Golden boy | The smile has been missing from Pogba's face as he looks to recapture his best form
As the advances of the bigger sides in Europe intensified in the January transfer window, the possibility of Pogba fleeing the Bianconeri in the near future became real and it has only increased following his insistence that his future won't be discussed until this summer. Unfortunately, though, it seems all the speculation has affected his performances.
Since the turn of the year, the France international's displays have been in stark contrast to those which have earned him international acclaim.
Pogba's influence in games has dropped immensely. His shooting has been very poor since the turn of the year, his passes aren't delivered with the same accuracy and they haven't created as many chances for his team as fans are used to seeing. His influence and ability to control and change a game has diminished at an alarming rate.

In Sunday's 2-0 defeat to Napoli he was virtually anonymous. He made only 16 passes in Stadio San Paolo, a new low in the league this season and little over half of them were successful. Furthermore, his defensive work has diminished as his tackles have become less frequent since the close of the January transfer window.
At 21 he is still developing and growing as a player and so is bound to go through a period of indifference and inconsistency. But it seems that process has been sped up and intensified as the likes of PSG and Madrid keep batting their eyelids at him.
It is understandable that his head would be turned, though. His reported suitors are currently battling for places in the semi-finals of Europe's most prestigious club competition, while Pogba and Juve prepare to contest the consolation prize of the Europa League. While he hasn't said it explicitly, it is only natural then that he would begin contemplating a step up in a bid to experience the latter stages of the most illustrious prizes.
However, he has to further prove his consistency and importance to Antonio Conte's side before he can bank on a move away from Juventus Stadium. For a player who has already set his sights on winning the Ballon d'Or in the future, he cannot afford to be so easily distracted and affected by speculation and transfer rumours.

It will be rife throughout his career and if he is to have one as successful as he hopes, and to fulfil his potential, he must be sure to shake it off and continue to put in the mesmerising performances he did before the closure of the January transfer window.