COMMENT
By Ben Hayward | Spanish Football Writer
Barcelona have been here before. Three times this season the Catalans had failed to beat Atletico Madrid and Tuesday night saw Gerardo Martino's men held for a fourth occasion by the
Rojiblancos
. Such struggles against disciplined defences are nothing new for the
Blaugrana
- and could cost Tata's team dearly when the trophies are handed out over the coming weeks.
Barca's brilliant passing game seems straightforward but is actually highly complex - the fruit of many years of work and a philosophy formed behind the scenes at
La Masia
from Johan Cruyff to Pep Guardiola. Worryingly, however, it has more frequently been deactivated in recent times by organised opponents.
Atletico's gameplan is hardly rocket science. The
Rojiblancos
deserve huge credit for closing the huge financial gap between the two teams with an extremely effective tactical plan, yet Diego Simeone's simple strategy revolves around a highly organised and compact defensive line, an intense and competitive midfield, and an attack adept at breaking with power and speed. In short, Atleti know exactly what they want - and they have learned to execute their plan to perfection since the arrival of the Argentine coach.
Four games into the pair's six fixtures this season, Barca still haven't found a way to beat it. In the sides' Spanish Supercopa series, the two teams drew 1-1 at the Vicente Calderon and then 0-0 at Camp Nou, with the Catalans claiming the title thanks to the away goal headed home by Neymar in the capital - his first for the club. Then, in La Liga, Atleti and Barca played out another goalless game in January, before Tuesday's Champions League quarter-final first leg, which ended even after Diego's stunning strike beat Jose Pinto and Neymar levelled later in the second half.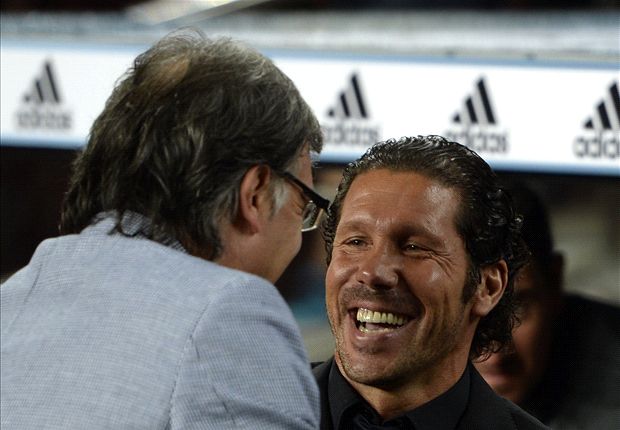 All smiles | Simeone's side are unbeaten this season against Tata's team


Barca dominated after that, but Atleti stood strong and aside from Andres Iniesta's perfect pass which split the visitors' defence for Neymar to level, a fantastic free-kick by Lionel Messi and a long-range strike by Sergio Busquets which were both saved by Thibaut Courtois, Tata's team rarely ruffled Simeone's side. "I'm happy," the Atleti boss admitted afterwards. "Because we can compete with them. We showed that."
So many teams come to Camp Nou with similar strategies, yet quickly fall by the wayside or are turned over with ease by Barca's breathtaking attack - often due to a lack of mental strength or even effort. The difference with Atleti, however, is that they stick stubbornly to their task, they believe in their possibilities of achieving a positive result and this team has been cleverly confectioned by Simeone to include footballers who best suit the system.
"This team has players with huge hearts," Simeone said. The result fills me with pride. These guys never give up."
Diego Godin is an excellent example - a player so sure of his role that he always appears to be in the right place at the right time, as he was in the first half to block an Iniesta shot in the Atleti area. Such a defender would be useful at Barcelona right now, especially with Carles Puyol past his prime and Gerard Pique sidelined for around four weeks after a pelvic injury on Tuesday.
Diego Costa is another and Atleti did superbly to cope without their star striker after the Brazil-born forward had departed with a suspected hamstring injury short of the half-hour mark. Without their talisman, it looked like this would be an uphill task for the
Rojiblancos
, yet the final result was deserved in the end and gives Simeone's side more than a little hope for the second leg. Likewise the final fixture in La Liga, when Atleti return to Camp Nou in what could very well be a title decider.
BARCA AGAINST ATLETI THIS SEASON


Atletico 1-1 Barcelona

Barcelona 0-0 Atletico

Atletico 0-0 Barcelona



Barcelona 1-1 Atletico



August 21


August 29


January 11




April 1

Spanish Supercopa



Spanish Supercopa





La Liga





Champions League



In recent years, Barca have come unstuck against such sides, losing out to Inter and Chelsea in the Champions League semi-finals in 2010 and 2012, respectively, while also struggling against Paris Saint-Germain over two legs last season, AC Milan at San Siro and then, most tragically of all, Bayern Munich in the 7-0 aggregate defeat in Europe last term. Organised opponents with disciplined defences squeezing the spaces between their back line and their midfield and forcing Messi to drop deep or out wide. Tactically, Barca still haven't found a solution.
Martino, however, was happy. "It's the game in which we had most chances to win," he said. "We maintained our intensity for 90 minutes. I was proud of how we played. The tie is still very even and we have a good chance of going through."
And they may well do because, often, Barca's finest footballers still prevail with moments of magic or sheer brilliance in these games, but that may not be enough this time around as Atleti stand between Barca in La Liga and the Champions League, with Bayern likely to be lurking later in the competition and even Carlo Ancelotti's Real Madrid possibly taking note too ahead of their Copa del Rey final clash against the
Blaugrana
later this month.
So while Barca are still favourites to go through this tie and win La Liga as well, how they prepare tactically for future games against Atleti and - if they advance - other members of Europe's elite may just hold the key to their hopes of silverware in 2013-14.
Follow Ben Hayward on