COMMENT
By Carlo Garganese
At the start of the 2013-14 season there was a buzz around Naples that hadn't been present since the glory days of Diego Maradona in the late 1980s.
After splashing out just under €90 million on new recruits – acquiring another Argentine star in Real Madrid striker Gonzalo Higuain – and led by a proven winner, Rafa Benitez, there was a real belief among Neapolitans that their side could claim a first Scudetto for almost a quarter of a century.
Despite the loss of Edinson Cavani to PSG, the players themselves were confident too.
"The fans are asking us for the title? We hope this can be the right year for Napoli to win the Scudetto," said Marek Hamsik.
"I am playing for a great club that will fight to win the Scudetto," promised Pepe Reina.
Even Maradona offered his royal seal of approval through his lawyer Angelo Pisani: "Maradona is sure that Higuain's Napoli can trouble Juventus. Diego has predicted that Higuain will be the top scorer in Italy. He is optimistic, Napoli are worthy of the Scudetto."
A fantastic start to the campaign, which saw Napoli win their opening four league matches – scoring 11 goals in the process – and drop just five Serie A points from an available 33, only further strengthened these convictions. As did the impressive Champions League matchday one victory over last year's finalists Borussia Dortmund.
NAPOLI'S SUMMER TRANSFER PLANS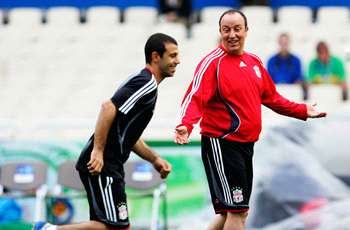 The summer transfer market of president Aurelio De Laurentiis and coach Rafa Benitez will be focused primarily on the defence and midfield. A centre back, yet to be identified, to partner Raul Albiol, will be brought in. At least one full-back is likely to arrive too.

A centre midfielder is also a priority. Javier Mascherano, whose future at Barcelona is clouded in doubt, is the current favourite but a decision first needs to be made on Marek Hamsik.

The Slovakian has failed to score in almost five months and a review is required as to whether he fits in tactically with Benitez's 4-2-3-1.

Napoli also intend to sign a forward who can act as a reserve to Gonzalo Higuain.

On the sales front, a number of Napoli's loyal servants are likely to depart. Christian Maggio, Gokhan Inler, Valon Behrami and Goran Pandev are all available for transfer.

Sergio Chesi | Goal Italy

But a 3-0 thumping at the hands of reigning Serie A champions Juventus in Turin on November 10 hit Napoli's title aspirations hard and it is a blow they have never recovered from. As the two sides prepare to meet again at the San Paolo on Sunday night, a mammoth 20 points separate the hosts in third from the visitors in first.

Former Juventus and Italy boss Giovanni Trapattoni believes that the gap between the two sides is not as big as the Serie A table suggests.

"Juventus this year have been incredibly consistent but, in terms of the quality of their play, they are not 20 points better than Napoli," he stressed.

Nevertheless, if Napoli are to seriously challenge their bitter northern rivals next season then there are a number of weak areas in their squad that they must address.

First of all, goalkeeper Pepe Reina – whose loan deal must be made permanent in the summer at all costs – is not protected by his defence. None of Napoli's right-back options are good enough – including first choice Christian Maggio. The Italy international was an outstanding attacking wingback at his peak in a 3-5-2 system but has never been defensively or tactically sound. He is simply unsuited to a four-man backline and at the age of 32 is on a downward slope.

On the other side, Faouzi Ghoulam has performed well since arriving from Saint-Etienne in January but he is still somewhat unproven. In the centre of defence, Raul Albiol and Federico Fernandez are steady - but steady doesn't cut the mustard at elite level. Compare Juventus' backline of Giorgio Chiellini, Leonardo Bonucci and Andrea Barzagli to that of Napoli's and the difference in quality is astronomical. 'Defences win championships' is one of the few footballing cliches that actually holds some truth.

Napoli's attacking midfield options are enviable and few in Serie A can boast the dynamism and explosiveness of Dries Mertens, Lorenzo Insigne, Jose Callejon and Marek Hamsik – even if the Slovakian has been horribly out of form in 2014. But the shield behind these stars is far from bullet-proof.

Jorginho, who joined from Verona at the start of the year, has the potential to develop into an exceptional all-round regista but Napoli's other options in the centre of the park cannot offer the protection that an Arturo Vidal or Paul Pogba can, or even a Daniele De Rossi, Kevin Strootman or Radja Nainggolan at Roma. Napoli turned down the chance to sign the latter in January and it is a decision they probably now regret.

The southerners need a combative defensive midfielder to complement the more cultured Jorginho. Benitez's old favourite Javier Mascherano is a possibility this July and his type would fit the bill perfectly, even if he will have just turned 30.

In attack, Napoli possess arguably the best first striker in Serie A in Gonzalo Higuain but this season they have been too over-reliant on the ex-Madrid man. A team fighting on two fronts needs at least two quality options in the centre forward role. Backup Duvan Zapata has fallen well short of the required grade, while Goran Pandev is not naturally a striker and lacks the pace to operate as a lone frontman. An alternative to Higuain has to be located ahead of 2014-15.

Benitez must also address some of his own weaknesses. As impressive a strategist as he often is in big matches – this term Napoli have defeated Dortmund, Arsenal, Inter, Milan home and away, and eliminated Roma from the Coppa Italia – the Spaniard continues to drop too many points against smaller outfits, as was also the case during his time at Liverpool. Napoli have failed to beat Sassuolo, Parma, Udinese, Chievo and Genoa at home, while faltering against the likes of Cagliari, Livorno and Bologna away. Juventus steamroll such opposition, as their incredible 26 wins from 30 games demonstrates.

Should Napoli cure most of the above problems ahead of next season – and it would be fantasy football to expect a panacea – only then can they harbour serious aspirations of ending the Serie A dominance of a Juventus machine that win, lose or draw on Sunday will soon claim a third successive Scudetto.

Follow Carlo Garganese on