COMMENT
By Mark Doyle
Less than a year ago, Antonio Cassano appeared on the verge of finally walking out on the game with which he has endured such a love-hate relationship. "I'm tired of football," the Bari native confessed. "There are too many fake people."
As he has proved throughout a turbulent career, Cassano is many things but what he is not, is false. What you see is very much what you get. He always speaks his mind. For better or for worse. And more often than not,
for worse
. This, after all, is a player that Fabio Capello found so unprofessional during their time together at Roma and Real Madrid that he coined the term '
Cassanata
' to describe ill-disciplined behaviour.
CASSANO'S CAREER STATS

Club
Bari
(1999-2001)

Roma
(2001-2006)

Real Madrid
(2006-2007)

Sampdoria
(2007-2011)

Milan
(2011-2012)

Inter
(2012-13)

Parma
(2013-Present)
Games
50


161


29


115


40


39


28


Goals
6


52


4


41


8


9


12


Cassano was blessed with a God-given gift from the game. This was evident from the moment he announced himself to Italy as a player of unparalleled potential with a sensational winner for Bari in a Serie A clash with Inter in December 1999, at just 17 years of age.
It was a goal of staggering quality from one so young, Cassano first controlling the ball on his heel and then his head before racing away from Laurent Blanc, turning inside Christian Panucci and then firing home. Here was a raw, precocious talent playing the game with the kind of impudence usually reserved for a kick-about among friends. A true 'street footballer' who just wanted to enjoy himself. The only trouble was, Cassano wanted to enjoy himself off the field as much as on it.
In his autobiography, '
Dico Tutto
' ('I'll tell everything'), he boasted about his insatiable appetite, explaining that during his spell in Madrid "I had a friend who was a hotel waiter. His job was to bring me three or four pastries after I had sex ... Sex and then food - a perfect night."
Hardly surprising, then, that Cassano was never in a peak physical condition during his 18-month stay in the Spanish capital, during which time he managed just 19 appearances in La Liga and two goals.
Though he never remained far from controversy, a transfer to Sampdoria - initially on loan - seemed to stabilise Cassano and his form at the Luigi Ferraris ultimately earned him a move to AC Milan in January 2011.
His resurgence continued with the
Rossoneri
- despite a minor stroke in November 2011 - and Italy boss Cesare Prandelli paired 'Fantonio' with the equally enigmatic Mario Balotelli at Euro 2012. "If we're counting on me to keep Mario on the straight and narrow," Cassano mused during the tournament, "then we are in a bad way!"
Perhaps unsurprisingly, Cassano formed a fine partnership with fellow 'bad boy' Balotelli and the pair played a key role in Italy's run to the final. However, it was painfully obvious that Cassano's fitness remained an issue, so it came as no surprise that Prandelli opted to pursue other options after the the tournament.
Discarding Cassano appeared a shrewd decision given that after an acrimonious exit at Milan in the summer of 2012, the forward parted company with city rivals Inter in equally rancorous circumstances just 12 months later. While it seemed that Cassano, now married with two children, had settled down, he had clearly not grown up.
Enter Roberto Donadoni. Parma signed Cassano from Inter for an undisclosed fee on July 4 2013. Little was expected of a player just days away from his 31st birthday - but Cassano flourished at the Ennio Tardini.
He briefly flirted with the idea of a return to Sampdoria during the January transfer window but he decided to stay put. Primarily because of Donadoni's role in his remarkable resurgence.
"I'm happy here with Donadoni because he's not a despot," the attacker explained. "He doesn't impose himself on you. He speaks, explains. From him I accept certain decisions, because he makes you understand what is needed."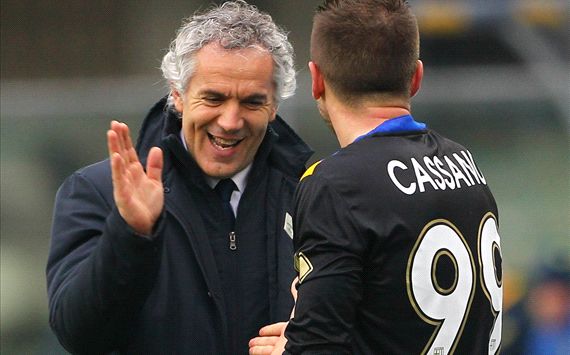 Miracle Worker | Donadoni is one of the few who has managed to get the best out of Cassano
For a player who once admitted to have making the wrong decision 99 per cent of the time, rejecting Samp was one of those few occasions on which he made the right call. Indeed, by the time of his double in a 4-2 win at AC Milan earlier this month, the media campaign to have Cassano included in the Italy squad for the World Cup was already in full swing.
"I can't do better than this," he claimed. "I don't know if there's still a chance but I'm doing everything in my power to give Prandelli something to think about."
In that sense, a stellar showing against Juventus in Turin on Wednesday night would turn calls for his recall into demands. Few would argue that he doesn't deserve one last chance to finally fulfil his potential on the game's grandest stage. Indeed, after his San Siro heroics, Cassano revealed that he'd "lost 10 kilos to go to Brazil. I'm on a diet and I've stopped eating
focaccia
... except for once a week!"
Clearly, Cassano's old appetites have not yet been fully sated but he has at least rediscovered his hunger for the game and that's something that all real football people will appreciate.
Follow Mark Doyle on