COLUMN
By Peter Staunton
Bayern Munich, for the last decade, have crafted to near perfection the image of benign dictators in the German Bundesliga. They have organised friendlies to alleviate the financial plight of struggling clubs and even loaned rivals Borussia Dortmund enough money to cover their wage bill in 2005.
That they also endured a rocky time in European football helped. As they tried to get their own wage bill under control they receded from the Champions League reckoning, with a nadir being an aggregate defeat in the Uefa Cup against Zenit in 2008. They might not have been any easier to love, but, perhaps, easier not to hate.
Bayern, though, have come roaring back. Under Louis van Gaal and Jupp Heynckes they reached three Champions League finals out of four and, with Pep Guardiola at the helm, they have reclaimed the German top flight as their personal fiefdom.
The signings of Mario Gotze and Robert Lewandowski demonstrated Bayern's long-held capacity for weakening their domestic rivals while simultaneously fortifying their own ranks. The unapologetic shrug delivered by chairman Karl-Heinz Rummenigge when questioned on that issue a fortnight ago confirmed that Bayern, off as well as on the field, have their swagger back.
They may have won 6-1 last weekend away to Wolfsburg and emerged victorious in their European last-16 tie with Arsenal but Bayern can scarcely have had a worse week PR-wise. The days of FC Hollywood, the gossip-page juggernaut, are back.
Overshadowing everything, first and foremost, is the impending imprisonment of Uli Hoeness, their beloved club president. Hoeness is contemplating a three-and-a-half-year jail term after being found guilty of massive tax evasion by a German court.
Last January, Hoeness, a World Cup winner in 1974, turned himself in and admitted that he had a secret Swiss bank account that he used after turning profits on currency speculation. Hoeness attempted a "voluntary disclosure", which would have seen him avoid trial and pay back the missing tax he owed for the years 2003 to 2009. The court ruled, however, that this disclosure was incomplete and punished him.
Originally estimated at around €3.5 million, in reality it emerged that the Bayern president owed closer to €30m in taxes. This is a significant point of embarrassment for not only Bayern but for German Chancellor Angela Merkel. She had closely aligned herself with Hoeness, a prominent cheerleeder for her Christian Democratic Union party, and once even faced accusations in parliament of concocting a plan that would go easy on tax dodgers like Hoeness. The proposal was rebuffed. "Someone who has cheated his country for money must not remain a role model," Social Democrat Dagmar Freitag said.
Hoeness has now decided to stand down as Bayern president, a crushing personal blow and also a setback for the club. No one individual had done more to oversee Bayern's transformation to global superclub than Hoeness, who also won numerous accolades for his social engagement. "He lied, deceived and in the end begged for mercy. All for nothing!," writes
Deutsche Welle
's Volker Wagener.
That news came immediately after Uefa's Control and Disciplinary Body confirmed it would charge Bayern on Article 14 of the Uefa Disciplinary Regulations in relations to the "discriminatory behaviour of their supporters" as well as a late kick-off in their match against Arsenal. Bundesliga fans have been widely praised for their coordinated displays behind the goal and their vociferous home and away support, so the minority who let Bayern and Germany down on the world stage should hang their heads.
That game also brought the alleged diving of Arjen Robben back into focus. Arsene Wenger, the Arsenal manager, was heavily critical of the Dutchman's methods of winning penalties even if Thomas Muller's tame kick was saved in any case.
And Franz Beckenbauer, honorary president, even had a pop. "In the end, we will be unwatchable like Barca. They'll be passing it backwards on the goal-line," he told
Sky
as Bayern passed Arsenal to death on Tuesday.
On the terraces, in the press and in the boardroom, it's not been a great week for Bayern. Lucky for them, the results are still positive.
With the manner in which they have been relentlessly successful this season, this past week brings only one word to mind for many Germans:
Schadenfreude
.
Atletico Madrid would be worthy Champions League winners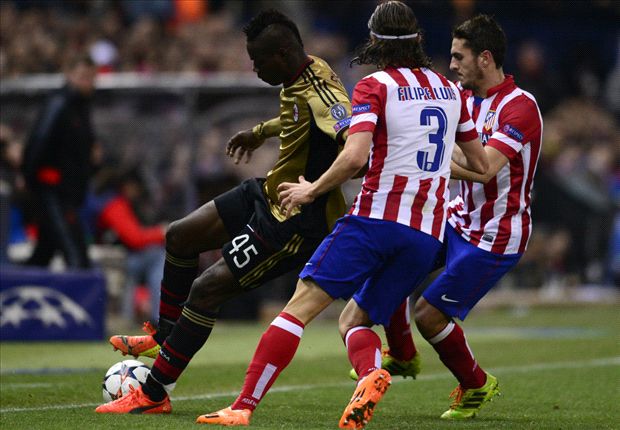 It's been a long, hard season for Atletico Madrid, as coach Diego Simeone has generally trusted the same cadre of players game after game. They are running on empty, fighting on two fronts, and some of their 2014 results - comprehensive defeats to Almeria and Osasuna - have betrayed that fatigue. But they are hanging in there.
They are second only to city rivals Real Madrid in the league and are safely through to the quarter-finals after outplaying AC Milan over two legs. They have avoided defeat to both Real and Barcelona in La Liga and should be a tough assignment for any other side in the Champions League draw.
The chances are that they may drop points elsewhere to cede the title to Real but at this stage of the season they are not going to be ousted from their Champions League qualification berth by any of the chasing pack. That could give Simeone the impetus to expend the remaining Atletico energy on the Champions League.
This Atletico side has everything required to win in Europe. They proved their credentials by winning the Europa League in 2012 - but are a much more accomplished outfit these days. They possess the tightest defence in Spain and are built on a solid foundation. In Europe, it is easier to win ties by putting the focus on keeping clean sheets rather than simply trying to overpower in attack.
This team is a reflection of Simeone the player - feisty, disciplined, energetic with an aversion to defeat. They would be worthy winners.
Follow Peter Staunton on