COMMENT
By Ryan Benson

It is Saturday, November 24, 2013. There is an excitable atmosphere in the Andalusian capital of Seville, with the colours green, red and white prominent just about everywhere in the city centre.

As you enter the Nervion district in the evening, you are greeted with a pungent assortment of smells as the combined stench of beer, police horses and burning rubber forces its way into your sinuses. After turning a corner, Estadio Ramon Sanchez Pizjuan is visible between apartment blocks, with a thronged mass of football fans amongst clouds of flare smoke swarming into the stadium's 45,500 capacity while police keep their distance.

These intimidating scenes can mean only one thing: El Derbi Sevillano.

Sevilla and Real Betis contest arguably the fiercest city rivalry in Spain, and history will be made on March 13 when the two face each other in Uefa competition for the very first time, with a Europa League quarter-final berth at stake.

The rivalry itself remains as bitter as ever, well over 100 years since a divide effectively saw the creation of Betis in 1907.

Sevilla's origins go back to 1890, 15 years earlier than their official date of formation in 1905, with British mineworkers having a particularly prominent role in the club's conception.

Historically, Sevilla were supported and run by those in the higher echelons of society. Such snobbery on their part led to prospective players being turned away for being "working men".

These views ultimately led to a breakaway and Betis subsequently merged with another local team – Sevilla Balompie – to create Betis Balompie. 'Real' was added seven years later by King Alfonso XIII, who also gave Real Madrid their royal name.

With Betis' creation prompting huge bitterness, controversy has rarely been far away from the two clubs' meetings. Their first official clash – in both senses of the word – was played in 1915 and it set a somewhat unpleasant precedent.

Sevilla claimed a 4-3 win, but the referee had to end the match prematurely. Fights broke out, before fans staged a pitch invasion, forcing the official's hand. But the most farcical meeting came three years later as Sevilla triumphed 22-0.

In response to Betis' two key players Candas and Artola getting called up for military service, the club protested by sending out a team including several youth-team players. Rarely has the cliche 'men versus boys' been more relevant.

More recently, tensions between the teams became stretched even at boardroom level. The reigns of Jose Maria del Nido and Manuel Ruiz de Lopera, respective presidents for Sevilla and Betis, overlapped by four years from 2002 until 2006 and they were not too fond of one another.

They were regularly accused of heightening hostilities between the clubs' ultras, and the October 2002 incident which saw Betis goalkeeper Toni Prats attacked while on the pitch was a prime example of matters getting out of hand.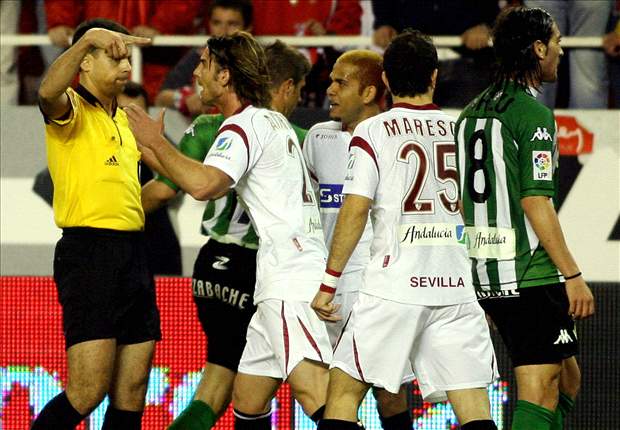 Severe Sevillanos | Expect tempers to flare in the Europa League on Thursday
Five years later the boot was on the other foot. In a March Copa del Rey quarter-final in Betis' stadium - named after president Lopera - Sevilla coach Juande Ramos was forced to spend a night in hospital after getting knocked unconscious by a bottle thrown from the home support.

Lopera had left his post the previous year, but his presence lingered on, before the stadium's former name – Benito Villamarin – returned in 2010.

The August 2007 passing of Sevilla and Spain player Antonio Puerta seemed to bring some relative respite from the rampant antipathy between the two sets of supporters, as the entire city mourned the Seville-born full-back, but the derby matches still have an ugly side.

Over the course of their last two meetings, some sections of the Betis supporters directed monkey chants at not only Sevilla players, but also two of their own - Nosa Igiebor in April 2013 and Paulao in November.

On the pitch, these games are fiercely-contested, ill-tempered and breathless duels. As with any derby match, emotions run high. But the Seville meeting regularly exceeds the fiery reputations of similar clashes.

Seven of the last eight matches between the two have included at least one sending off and one can expect comparable zeal in this two-legged Europa League affair, although probably for different reasons.

Considering Betis' disastrous season, bragging rights - not a European trophy - is their most realistic target. Sevilla, on the other hand, will be among the favourites for a final berth and the club pride themselves on their Uefa Cup successes of 2006 and 2007. Tarnishing their reputation at the hands of Betis would be unthinkable from their point of view.

This last-16 tie will be the first time since the bottle incident that these two have met over two legs. The first game will also be their first encounter with neither Lopera nor Del Nido involved, following the latter's seven-year prison sentence for fraud. The current regimes now sit at a crossroads in terms of how they develop an off-field relationship.

For the good of this fixture's on-pitch entertainment, though, animosity is not a bad thing. Players misbehaving on the field is a part of the sport, but that is where it must stay: on the pitch.

This double-header will be remembered for its historical standing as their first European face-off, but such a hostile rivalry has all the ingredients to be memorable for completely the wrong reasons.

Follow Ryan Benson on