COMMENT
By Robin Bairner
Marco Verratti has come a long way over the course of the last two years. When he signed for Paris Saint-Germain on a five-year deal after arriving from his native Pescara, he had never played top-flight football before in his career. Now the 21-year-old should go the World Cup with Italy.
Strangely for a player so talented, the issue in the mind of
Azzurri
boss Cesare Prandelli is clouded. Four midfielders are certain to travel to Brazil barring injury: Daniele De Rossi, Andrea Pirlo, Claudio Marchisio and Riccardo Montolivo, one of the coach's favourites. Only one further deep-lying midfielder is expected to be named, which means a battle between Verratti and club-mate Thiago Motta for the remaining berth.
"Perhaps I am being punished a bit because I ply my trade in France," Verratti complained ahead of Wednesday's friendly against Spain in Madrid.
"However, PSG are still in the Champions League and not all Italian teams can say the same."
PSG boast one of the most dominant midfields in the world, so it seems ludicrous to think that one of their fulcrums will be omitted before Italy have even departed for South America, yet Wednesday's encounter with the world champions will provide a crucial stage upon which the two team-mates must audition.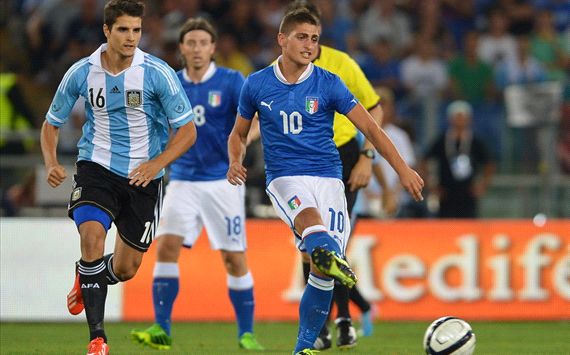 Time to make a Marc | The midfielder has received only four caps prior to the Spain match
For Verratti, he will go head-to-head with Barcelona legend Xavi, the man whose style he most resembles. All season he has provided the lubrication in the PSG midfield machine, ever willing to receive a pass and ever able to retain possession for his side.
During Carlo Ancelotti's reign, the young Italian was the butt of criticism due to the time he took on the ball, yet Laurent Blanc has successfully instilled a more aggressive mentality in his side that appears to have coerced the youngster to be increasingly intelligent with his use of the ball.
THE PARC'S PETIT PRINCE


VERRATTI IN LIGUE 1 2013-14

APPEARANCES
STARTS
MINUTES
GOALS
ASSISTS
PASS %
TOUCHES
YELLOW CARDS
RED CARDS
FOULS COMMITTED
FOULS SUFFERED

22
19
1614
0
4
91.4
2088
8
0
46
49

PSG have dominated possession in Ligue 1 more than any other side – their figure of 61 per cent is significantly higher than that of Monaco, who have 55% - and it has been their two Italian midfielders who have often laid this impressive foundation. Thiago Motta has proven to be more than just a muscular force in the heart of the field, yet even he has been eclipsed by Verratti.
The more senior of this pair, the Brazil-born player has already touched the ball close to 2,300 times this season – a staggering 430 occasions more than Joao Moutinho, who is the top player in Ligue 1 in this category aside from the
Azzurri
hopefuls. Still, Verratti's touches-per-minute is at a higher rate.
Italian sides – both at club and national level – are stereotyped as having a conservative approach to trusting young talent, so it is significant that Juventus have so lustily courted Verratti since even before he left his homeland for the French capital two years ago. Indeed, it was partly the advances of the Old Lady that forced PSG's hand when it came to offering their young star improved terms.
Now he appears happy in France. "Nothing can make me leave Paris Saint-Germain. I am feeling very well here," Verratti told
L'Equipe
in February before following that statement up last weekend by declaring, "If I were to go to Juve now, it would be a step back."
Such comments will not have endeared him to the Italian public, yet these must be overlooked for the good of the national side.
Blanc has certainly been prepared to put his confidence in the midfield starlet and has been richly rewarded. "He is always telling me: 'If you feel sure of yourself, do it, it's up to you to decide what's truly necessary,'" Verratti explained.
There is a feeling that in possession, the 21-year-old, who has a habit of earning yellow cards for overzealous tackles, can take some unnecessary risks, and while he does not dispute that he sometimes plays on a knife edge, he argues that his style is not without its logic.
"I don't like to get rid of the ball without knowing where it will end up," he said. "Even when I'm in a defensive position, I like to always begin an action and I will seek a team-mate - even if I'm surrounded by two or three opponents."
It is this attitude that makes him such a thrilling player to watch, though also one who Prandelli is unwilling to put his trust in on such a big stage.
At club level, Blanc has been proven correct to place his faith in the prodigious Pescara-born player, whose pass accuracy for the season of 91.4% is an impressive statistic for a player so prepared to flirt with danger.
The self-confident Verratti has already earned his stripes at club level and has given himself the opportunity to go to Brazil, where he could become a star. If he is not selected, Prandelli and Italy will be the primary victims.