COMMENT
By Sam Lee
Many observers, either optimists or pessimists depending on their club allegiances, have warned against a late Manchester United charge up the table. Against Fulham on Sunday, David Moyes' men once again spelled out in 15-feet-high letters that they do not have it in them.
But even as United fans gets more and more frustrated with increasingly poor results and worse performances, would limping over the line to a seventh-placed finish be so bad?
VIEW FROM OLD TRAFFORD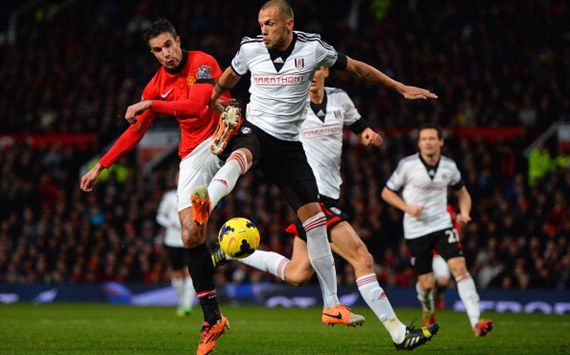 By Peter Staunton

Well, Manchester United thought they had got away with it. Despite dominating the territory and the possession stats, they were justifiably pegged back as the league's bottom-dwellers came away with a share of the spoils.

Darren Bent's late goal was as unexpected as it was deserved. Fulham's defensive fragility threatened to undo 75 minutes of hard work as they capitulated, giving United two goals they scarcely deserved.

More questions for David Moyes who will be asked why the champions cannot close out a home match against the worst side in the division.
Finishing below Arsenal, Chelsea, Everton, Liverpool, Manchester City and Tottenham, while almost sacrilegious a year ago and unthinkable as recently as Christmas, could be no terrible thing in the long run.
After all, their hopes of sneaking into fourth place were slim enough before the weekend started, but the past two days of football have slammed the door right in their faces.
As simple as it may be to compare to completely different matches, Liverpool hammered Arsenal, top of the league, on Saturday with some breathtaking football. A day later, United, short of any cutting edge despite fielding Wayne Rooney, Robin van Persie and Juan Mata on the same pitch, put in a quite staggering 81 (eighty-one) crosses as they laboured to a draw with Fulham, bottom of the league.
It is not the done thing for any club, let alone Manchester United, to write off the end of a season. But with the top four gone, do they really need to be qualifying for the Europa League?
Do they want to be travelling to Tblisi for a July qualifier when they could be in the United States playing Real Madrid and Manchester City in friendlies, pushing up their stock price? Do they want to be flying back from Bratislava on a Friday morning, looking ahead to a Sunday Premier League clash?
In the end, it may not even be in their hands. Everton and Tottenham are far more likely to finish fifth and sixth.
Liverpool are hardly the finished article - their 1-1 draw at West Brom a week ago attests to that - but they are streets ahead of United. Moyes has a long way to go to get his team playing like Brendan Rodgers' firebrands - but would he even want to?
Spurs and Everton may not have what it takes to finish above Liverpool - even though Tim Sherwood's men are now just three points behind Reds - but they are far more advanced than Moyes' United.
WHAT A DIFFERENCE A GOAL MAKES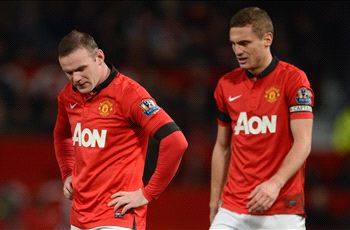 FROM OUR LIVE! COMMENTARY

GOAL! Unbelievable scenes at Old Trafford as Fulham grab an unlikely equaliser to snatch a point at the death courtesy of Bent. Richardson was played in down the left and despite seeing his shot parried by De Gea, it fell perfectly for Bent to stoop and head into the gaping net. Incredible.
As if things were not bad enough for Moyes at the moment, Roberto Martinez has really taken Everton on to the next level this season, but a club run on such a tight budget are always likely to struggle when injuries to key personnel take hold. The Toffees played with Stephen Naismith up front in the absence of Romulu Lukaku in north London, and it showed.
Spurs moved within three points of Liverpool, which is testament to their staying power and the folly of the football narrative, but they went 65 minutes without a shot on target against Everton, who were on top, before Emmanuel Adebayor struck the winner.
Even so, both sides have consistently proven to have more about them than United.
For Moyes, it is going to get worse before it gets better. Finishing seventh would be an undignified showing for any defending champion, but the Scot is planning a major reconstruction at Old Trafford and will be given time to put it right.
As many as 10 players could be shown the door this summer, while an array of top talent is being courted
as Moyes attempts to put Manchester United back among Europe's elite - or at least where they were before he replaced Sir Alex Ferguson.
Nemanja Vidic is defintely on his way out, while Rio Ferdinand, Rafael, Nani, Anderson, Patrice Evra, Shinji Kagawa and Alexander Buttner all look set to follow.
Moyes will be backed by the Glazer family this summer, and he has drawn up a list of top-level targets to replace those he feels have let him down this season.
It would be unfair to write him off completely before he sets to work on building his vision of the post-Ferguson Manchester United, even if some United fans are wondering if he is the man to pick up the tools.
For now, Moyes will continue to work tirelessly to improve United's fortunes, and while a lowly seventh-placed finish would be considered a failure even by the man himself, it would only represent the first step on a long road to success - on his own terms.