COMMENT
By Ben Hayward | Spanish Football Writer
No Cristiano Ronaldo, no problem. Gareth Bale was back with a bang and Jese stepped into the Portuguese's sizeable shoes as Real Madrid made light work of a dangerous Villarreal side on Saturday night to leave coach Carlo Ancelotti with the perfect poser.
Ronaldo's red card and disrespectful gesture towards the match officials in the 1-1 draw at Athletic Bilbao last weekend earned the 29-year-old a three-match ban and he was missing for this one. In his absence, Jese started on the left, his natural position, and continued his fantastic form from recent weeks. But over on the right, meanwhile, Bale was not to be outdone either.
The Welshman, sidelined for several weeks with a mysterious injury, showed no signs of fitness problems as he pounced on an error by Jose Antonio Dorado before racing forward and finishing with a delicate chip after just six minutes. The 24-year-old then beat his marker and crossed for Karim Benzema to make it 2-0 later in the first half.
ATLETI LOSE LIGA LEAD IN WEEK TO FORGET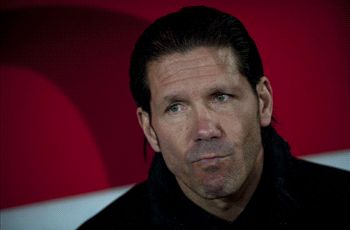 Last Saturday, Atletico Madrid thrashed Real Sociedad 4-0 to move to the top of La Liga for the fist time since they won a Primera Division and Copa del Rey double in 1996.

Since then, however, it has been a woeful week for Diego Simeone's side.

Well beaten by Madrid in the first leg of the sides' Copa del Rey semi-final on Wednesday, Atletico looked to put that 3-0 loss behind them by retaining their league leadership on Saturday.

But it was a toothless performance from Simeone's side in Almeria and although the Rojiblancos were rocked by the dreadful decision to send off goalkeeper Daniel Aranzubia and award the home team a penalty with six minutes left, they were already a goal behind at that point and finished the evening in second place after going down 2-0, their misery compounded by losing midfielder Tiago with what looked like a serious injury.

"These things happen in football," Simeone said of the defeat. "We lost and we won't look for any excuses. I am worried most of all about Tiago."

On Sunday, a Barcelona win will see a three-way tie at the top of La Liga, with the Catalans, Madrid and Atleti all on 57 points after 23 games.

After Mario Gaspar hit back for Villarreal with a stunning strike, Jese joined in the fun for Madrid as he finished off a quick move by dinking the ball nonchalantly past goalkeeper Sergio Asenjo with the outside of his right foot. Giovani dos Santos reduced the deficit once again with a free kick but, like Bale, Jese then turned provider for Benzema, who slotted home his second of the night to make it 4-2 following a flowing move and take his tally to 104 goals for Madrid - the same amount scored by his idol Ronaldo.
Benzema benefited from excellent service from both Bale and Jese, while the two wide man also showed their own value when it comes to scoring goals.
"The absence of Cristiano motivates the rest," Ancelotti said afterwards. "He is indispensable for us. Without him, the others work harder."
That showed - and the Italian was particularly pleased with Bale and Jese. "Gareth played a great game and got a goal and an assist," he said. "And Jese continues to do very well. He works hard, he helps out - and that's what we want from him. He gives us so much for someone his age."
The balance worked well: Bale, a left-footer, looks comfortable on the opposite flank, while Jese, a right-footer, is at home on the left. "For Benzema's characteristics, it's better if they play that way," Ancelotti added.
That probably means Bale remains favourite to start on the right when Ronaldo returns, yet Jese's fine form on both flanks will give the Italian something to chew over in the coming weeks.
The 20-year-old certainly appears unawed by playing for Madrid and has already scored against some of the biggest teams in La Liga: Barcelona, Valencia, Athletic Bilbao, Atletico and now Villarreal. It's an impressive list.
Bale, meanwhile, added to his superb stats. That's 11 goals in 23 appearances for the former Tottenham man and nine assists as well.
So whoever plays when Ronaldo returns, Madrid's attack currently looks in great shape with either Bale or Jese to the right of Benzema. Ancelotti just has to decide which one he likes best.
Follow Ben Hayward on