EXCLUSIVE
By Peter Staunton
Cristiano Ronaldo has been dealt a blow despite winning the Ballon d'Or as details emerge of a deal between Adidas - the main sponsor of Lionel Messi - and Fifa.
Under the terms of the agreement, Adidas enjoys exclusive rights for the promotion of Fifa Ballon d'Or merchandise. Nike, Ronaldo's main sponsor and that of third-placed Franck Ribery, does not possess the same privilege.
It means the Real Madrid forward is unable to make money from the award in the same manner as his great rival would.
"These official partnerships are the reasons why we can use the official award name within promotional activity and therefore, by the same token, why Nike could not," Ben Goldhagen, Senior PR Manager for Adidas UK and Ireland, told
Goal.
On Monday both Nike and Ronaldo posted viral videos on Twitter after the 28-year-old's win but neither included the wording Ballon d'Or.
Adidas is one of Fifa's six World Cup 'official partners' and has supplied balls and equipment for every tournament since 1970. In November, the 43-year partnership was renewed to cover all Fifa events through 2030. The previous deal was renewed in 2005 at a cost of around €30m per year. The new agreement is believed to be worth significantly more.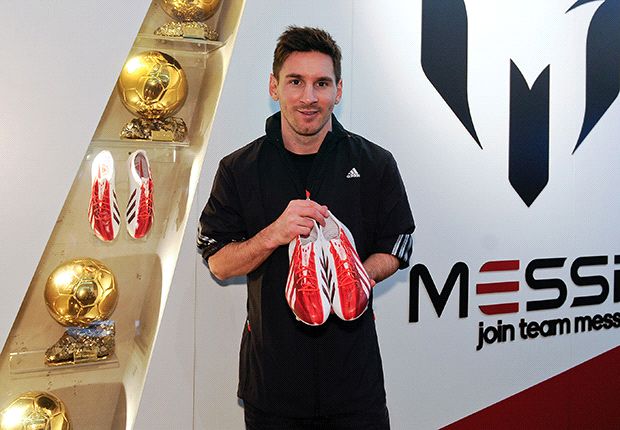 Kicked into touch | Ronaldo can't make money from Ballon d'Or success like Messi
Adidas predicts that its sales in the football category will reach record highs of €2 billion in 2014, up from a total of €1.7bn in 2012. Much of that sum will depend on Messi and his exposure in football's great untapped wilderness - America.
The company has already launched a Messi range of clothing and footwear and the Argentina international is only the second footballer after David Beckham to have such a line tailored by Adidas.
"He hasn't really been marketed in the US," the director of Adidas' North American football project, Ernesto Bruce, told the Oregonian in August. "We're going to market him as the world's best player. We think the 2014 World Cup will be historic for Messi."
Nike and Fifa declined to comment.