It started in October with the sightings of mysterious circles at landmarks across the globe and was followed by the arrival at top football grounds of a group of strange robed figures. The curiosity of football fans was raised by #WINNERTAKESEARTH until the extraordinary riddle was solved... with the setting of a unique global challenge.
Franz Beckenbauer revealed last month he was compiling a team of "the world's finest" and the concept of the GALAXY11 was born. Details of its purpose remained ambiguous but Beckenbauer was clear that the mission was linked to mysterious circles beamed onto Sugerloaf mountain in Rio de Janeiro and Times Square in New York. The huge hole gouged into London's Hackney Marshes by a ball bearing was also connected.
Beckenbauer himself was also photographed at Stamford Bridge in London alongside a strange robed figure and similar characters were spotted at Munich's Allianz Arena and Turin's Juventus Stadium.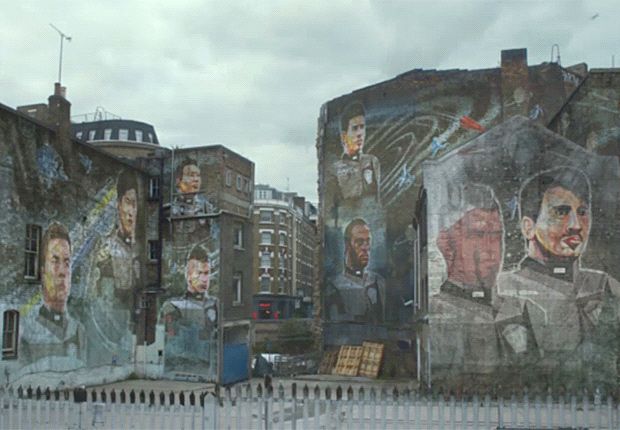 Murals have been created in honour of the GALAXY11
The former Germany player and coach announced he was taking responsilbility for the selection of the GALAXY11, immediately enrolling Barcelona and Argentina's Lionel Messi as his captain.
Over the next few weeks, a host of other star names were added. There was Bayern Munich's Germany playmaker Mario Gotze, Chelsea's Brazilian ace Oscar and outstanding Chinese midfielder Wu Lei.
AC Milan's Stephan El Shaarawy was also selected by Beckenbauer, along with Nigeria's Victor Moses and Radamel Falcao of Monaco. The former World Cup-winning captain and coach wasn't finished there though, with Korean winger Lee Chung-Yong added to his ranks, so too Real Madrid and Spain goalkeeper Iker Casillas.
Manchester United striker Wayne Rooney and LA Galaxy star Landon Donovan followed, with big-scoring Russian forward Alexander Kerzakhov also called up. Real Madrid's Portuguese superstar Cristiano Ronaldo rounded off Beckenbauer's impressive 13-man squad.
In terms of playing positions, the emphasis is clearly on attack with Beckenbauer preparing a special offensive plan to showcase the array of talents at his disposal. Few believed he would be able to assemble such a star-studded collection and yet he managed it. Football fans the world over have since been discussing the choices at #GALAXY11 with the hottest topic for debate being how Messi will play alongside his great rival Ronaldo.
It is an incredible line-up but it needs to be. As Beckenbauer said himself: "Only football can save the planet." Is he correct? Does he have the right weapons to achieve this objective?
Anticipation is building by the day ahead of the GALAXY11's mission so join the debate: #GALAXY11
Watch the new GALAXY11 video above and find out more information:
www.thegalaxy11.com