Peter Staunton




International Football Writer




TIME IS RUNNING OUT FOR AVB
"I won't resign and I'm not a quitter," Andre Villas-Boas said yesterday after watching his team suffer their worst-ever home league defeat. "The only thing I can do is work hard with the players and try and get the results back on track." There is a real danger for the Portuguese though that he will not be the coach tasked with that salvage job.
VIEW FROM WHITE HART LANE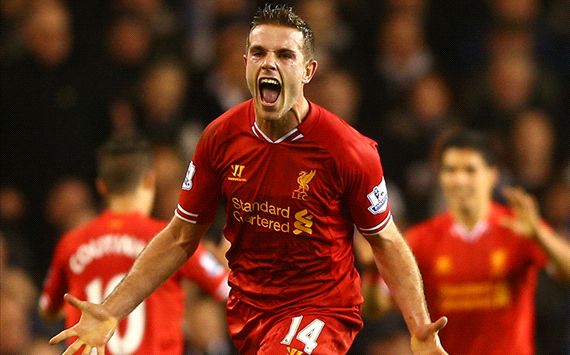 By Ewan Roberts

Liverpool produced a fantastic display to post a 5-0 win over Tottenham - the first time they've not suffered defeat in six visits to White Hart Lane.

The Reds were magnificent, with Jordan Henderson particularly impressive. The away side won the midfield battle and dominated the match as Spurs' home woes continue.

Andre Villas-Boas will rarely have seen his side play with so little character, second best in every way and a shambles defensively - they have yet to win against a top-eight side, and nor do they look like doing so any time soon.

For Liverpool, the match puts them right in the title mix; for Tottenham it raises serious concerns over their ability to claim a top-four. The pressure if back on Villas-Boas.
Before picking through the wreckage - some perspective must be placed on Tottenham's season. They are seventh in the Premier League table and they are only five points from the Champions League places. Villas-Boas, of course, deserves time to integrate his many new signings and has not been lucky with regard to injuries. Even among his new players, Vlad Chiriches and Christian Eriksen are on the treatment table. It is in those positions, at centre-back and in a creative sense, that Spurs still lack.
But it is the nature of the 5-0 defeat to Liverpool that will unsettle Daniel Levy. There was not much fight from those in white on the day. They were poor defensively and toothless in attack - failing to register one single shot on target. They have won only one of their last six Premier League matches at home and are among the lowest goalscorers in the league. Not every defect in the Spurs team has a mitigating circumstance and for that Villas-Boas must examine his own choices.
"This is a top-four squad, but in the Premier League the form isn't there," Villas-Boas told the post-match press conference. "We built this squad to be up there challenging. We have the squad, the ability and we believe in each other. But the results are not there to prove it."
That Villas-Boas is still living week-to-week in the left-back position is a damning indictment on his transfer priorities. Spurs ended up about break-even after the summer transfer window but a good deal of the £85 million total earned through the sale of Gareth Bale to Real Madrid has gone on the wrong type of player. The coach himself will look towards January to rectify some of Spurs' problems but it could well be someone else in charge of those purse strings.
League objectives are ebbing from them by the week as inconsistent results and poor performances continue.
BRATTY OZIL MUST BE MORE LIKE MERTESACKER
"That is the Germans," Arsene Wenger said of Per Mertesacker and Mesut Ozil's confrontation following the 6-3 defeat to Manchester City. "They will sort that out between themselves. Don't worry."
On what was a terrible day for the Gunners and their title ambitions, the two Germany internationals were involved in an angry exchange as Ozil walked away from the Eastlands pitch without acknowledging the travelling Arsenal fans for their support. Stand-in captain Per Mertesacker had no second thoughts about berating his colleague in the full glare of television cameras and those in attendance - £42m signing or not.
"I like the Mertesacker incident," former Arsenal defender Nigel Winterburn told TalkSport. "You've got to show respect to your supporters, even after a difficult game, and I think Mertesacker was letting them know that."
Mertesacker was correct in pulling his team-mate up for his bratty behaviour. The central defender may not have Ozil's skills but his attitude is right and should now rub off on the playmaker after this admonishment.
Arsenal were well beaten on the day by Manchester City and it must have been a chastening experience for the players. That Ozil was frustrated in the aftermath is no surprise but his decision to ignore his own supporters is indefensible. With a growing chasm between those on the field and those in the stands, Mertesacker's intervention was a timely reminder of who pays whose wages and recognition of his gratitude to the fans.
He's become a fan favourite in his time at Arsenal thanks, in part, to his positivity. He hasn't reached nearly 100 caps for Germany for no reason either.
If Ozil is going to be a total success at Arsenal, he would do well to follow the example set by his international colleague and spend less time feeling sorry for himself after defeats and more time reciprocating the affections of the crowd who quickly took him to their hearts.
PREMIER LEAGUE MUST DO MORE TO HELP ITS CHAMPIONS LEAGUE CLUBS
At times on Saturday, Arsenal were heavy-legged and certainly felt the pace in the game as City repeatedly raided their territory in the second half with Jesus Navas tormentor-in-chief. The hosts were the better team and well worth their win but Wenger's side could point to the scheduling of their league matches as a bone of contention.
They played late last Sunday and early on Saturday - all of that would be fine were it not for a crucial Champions League group stage match in between away at Napoli. Arsenal's players did not return to their homes until 0400 GMT on Thursday giving them hardly any time to prepare for their most difficult away match of the season. In that respect we were denied as fair a contest as possible between two of the league's best sides.
"I don't understand why we play Sunday afternoon, Wednesday evening, get back at 0400 and then play again on Saturday morning in Manchester," Mikel Arteta told the press ahead of the match at the Etihad Stadium.
Elsewhere in Europe, Champions League clubs are accommodated in the fixture list with the biggest clubs from Spain, Germany, Italy and France given as much time between European fixtures as possible to prepare for league games.
The bumper pay deal for Premier League clubs is a double-edged sword. BT Sport and Sky Sports pay a combined £3bn for the right to screen Premier League matches across any given weekend. Arsenal earned £750,000 for their Saturday lunchtime showdown with City.
But what they gain in revenue, they lose in preparation.
CLARKE DISMISSAL HARSH BUT UNDERSTANDABLE


By any measure, West Bromwich Albion had ceaed to be doing well under Steve Clarke and, despite a highest-ever Premier League finish last season, the Scot has paid for the club's poor run of results with his job.
The Baggies have won only seven of 34 league matches in 2013 and a fourth successive defeat - at Cardiff City - left them only two points clear of the relegation zone.
The club's statement was pointed and made reference to the fact that they are spending money like never before and, for that, expect a better points return.
"Our player wage bill is the highest in the club's history and we feel we have built a squad capable of being very competitive in the Premier League," the West Brom statement issued on Saturday night read.
There is no doubt that the summer transfer window could have gone better with Stephan Sessegnon and Victor Anichebe the only real notable arrivals and both have failed to impress extensively.
Yes, there have been some unlucky moments - the last-minute penalty concession against Chelsea chief among them - but Clarke was not necessarily being judged on those kind of results. It's the defeats to Norwich, Cardiff and Swansea that do most damage.
"Going into this season expectations were high, perhaps unrealistically so, but with it still being only our fourth consecutive season in the top flight, our primary objective had to be to establishing our status in the Barclays Premier League," Clarke said via a statement issued on the LMA website. "I was, and remain convinced that we were well placed to achieve this aim."
Chairman Jeremy Peace obviously disagreed and will look to another coach to rectify the club's fortunes through the winter transfer window.
There is little chance that West Brom will do much more than survive this season but bright coaches like Clarke deserve the chance to show how they cope with the bad times as well as the good.
Follow Peter Staunton on