COMMENT
By Robin Bairner
It will go down as a special night in Paris. It was a night that finally saw the France national team pull together in a clutch situation and produce a performance that harked back to the glory days of 1998, when they famously won the World Cup at Stade de France.
Tonight, France's aim was rather more modest: simply qualifying for the World Cup was the target. The task was monumental and in many eyes impossible as no side had ever turned around a two-goal deficit from the away leg to qualify for a major international competition.
With a 3-0 win,
les Bleus
rewrote the record books.
From the first seconds of the match, Didier Deschamps' side showed the spirit and commitment that was so embarrassingly lacking in Kiev, where they lost 2-0 on Friday. The urgency that was so sorely missing was abundant in tremendous quantity as the re-shaped midfield trio of Paul Pogba, Blaise Matuidi and Yohan Cabaye dominated matters, while a fired-up Franck Ribery looked every inch the Ballon d'Or favourite he is professed to be.
Deschamps' tactical decisions – unlike Friday – were perfect. Mamadou Sakho and Karim Benzema were recalled to the side and both were able to get on the scoresheet, the latter from an offside position moments after having a valid strike disallowed, while there can be little doubt of the impact Mathieu Valbuena's effervescent performance had on the match, particularly in contrast to Samir Nasri's tepid display in the first leg.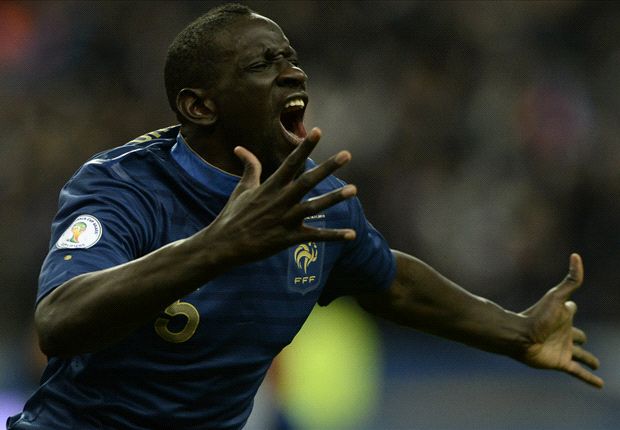 Sak-re Bleu! | The Liverpool centre-back scored an unlikely double
Moreover, France went a long way to shaking off the 'spoilt-boys' image that they have deservedly earned over the course of the last five years, and the crowd responded. Parisian fans are not noted for their patience, but from the outset of this match they fuelled their side by creating a raucous atmosphere that their team fed off.
"
This

is the magic of

football," said the France boss after the game.

"

In the first leg we were

bad, very bad

.

Tonight

the players

were present

.

I

had no

doubt about it

, the players

had

a great

game.

It is very

important

for French football

to be

in Brazil

, we

will be there
."
Often in recent seasons it has seemed that the home crowd has been against their team – but not on this occasion.
Even prior to the game there was a sense in the France camp that they could achieve something special, though too often strong words have not been followed by a performance of similar quality. Olivier Giroud spoke prior to this match about the players' willingness to die for their country in this match – and each and every one responded with that attitude.
The celebrations come full-time were incredible, with the players staying out on the field long after the final whistle, enjoying the company of their fans in a manner that this generation simply has not previously. Crucially, they celebrated as a team, with Deschamps the centre of attention. A bond is seemingly forming.
Now France, who have probably not played better since beating Brazil in the 2006 World Cup, must use this performance as a benchmark; the desire, effort and commitment must be replicated in each and every match, and not simply when it is absolutely required.
It almost felt that
les Bleus
had hit rock bottom on Friday, but this was a cathartic display that may in years to come be seen as a major turning point in the history of the national side.
This night will be remembered as special for all involved, but it must now signal the return of France as a unified team – not simply a collection of individuals.