ANALYSIS
By Ed Dove
Despite all of his achievements and experience, it has felt at times like Stephen Keshi is only waiting for an excuse to find an upgrade on long-time shot-stopper Vincent Enyeama. At various crucial points in recent memory, the Super Eagles boss has turned to Austin Ejide to step in to replace the Lille keeper, creating the impression that he sees him as Nigeria's eventual No.1.
It is fascinating to imagine how things might have been at the 2013 Africa Cup of Nations had Ejide not suffered an injury in a pre-tournament clash with Cape Verde. Ejide had taken his place in the starting line-up and was impressing before his hamstring let him down. Speculation at the time pointed to Ejide taking over as the team's No.1 in South Africa. He did head to the tournament, but concerns about his fitness meant that Enyeama was reinstalled between the posts and Ejide was forced to watch on, unused, as his compatriots made history.
Enyeama delivered a handful of terrific performances during the competition and was named in the team of the tournament. It looked like Ejide would have to bide his time a little longer.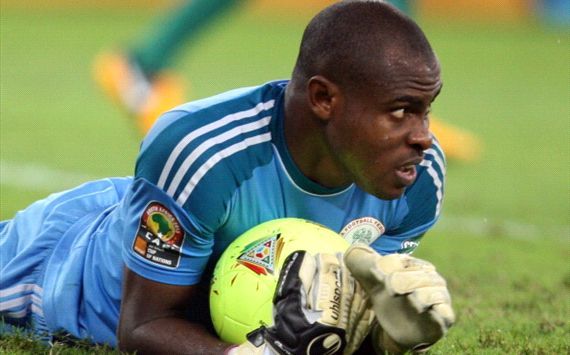 Safe hands | Enyeama has been in fine form for Lille this season
However, despite Enyeama's reestablishment between the sticks for the Super Eagles, his deputy continues to breathe down his neck and earn Keshi's praise. A year ago, the head coach responded to Ejide's performance in a friendly against Venezuela by advocating the Israel-based shot-stopper as a potential skipper for the side.
Only this summer, Keshi's gushed support for his back-up goalkeeper over his patriotism, saying: "One good thing about Ejide is that he is just a professional person.
"I remember his wedding was initially fixed for June this year but he moved the wedding to July because of the Fifa Confederations Cup and World Cup qualifiers. So how patriotic can a player be again."
However, if this weekend's World Cup play-off second leg against Ethiopia transpires with Enyeama between the posts, then Keshi would be left with no more competitive games in which to assess Ejide before the tournament's finals. It would then require a calamitous turn of form for Enyeama to be removed as Nigeria's incumbent custodian.
Should people really be having this conversation at all, though? When one recalls Enyeama's blunders, such as those in high-profile games against Liberia and Uruguay, is it not doing him a disservice?
In actuality, Nigeria possess a fantastic keeper, one of Africa's finest, and he does not get the credit he rightfully deserves.
The shot-stopper has just secured his seventh straight clean sheet for Lille. Naturally, such an achievement is the work of an entire defence rather than simply a goalkeeper, but Enyeama's form - not least his management of those in front of him - has been exceptional.
In their 2-0 defeat of Monaco he was at his best to keep the likes of Emmanuel Riviere and Radamel Falcao at bay. These are tests and challenges that will persistently improve his own responses, ensuring that he arrives at Brazil next summer at the top of his game.
One good thing about Ejide is that he is just a professional person"



- Nigeria coach Stephen Keshi

Beyond his abilities as a custodian, Enyeama also contributes a great deal to the squad and to the first XI.
In this post-Joseph Yobo era, the Lille keeper is the squad's most capped individual. He currently holds 86 appearances for the Super Eagles, a record that puts him over 30 caps ahead of John Obi Mikel, the squad's second-most capped player, and joint third in the nation's all-time appearance record.
If he plays against Ethiopia on Saturday, he will leave Mudashiru Lawal in his wake and find himself tied in second place with Nwankwo Kanu. Few would bet against him at least tying Yobo's record of 95 caps sometime in 2014.
As well as sheer appearances, he also has tournament experience, and considerably more than anyone else in the current squad - the Brazil World Cup would be his ninth major tournament with Nigeria.
This record may well be equalled by Ejide but, while Enyeama has played for the Super Eagles at four tournaments, his deputy has only featured in one: the 2008 Afcon.
Some of his brave performances this year demonstrated to the watching world exactly how Enyeama's experience and big-game confidence inspire and affect the young defence ahead of him.
Crucially, he has displayed an ability to absorb hardship and then emerge from it a stronger man. Consider his initial struggles in France: it took a loan move back to Israel and a year of enforced self-belief before Enyeama became one of Ligue 1's finest shot-stoppers. Some men would struggle to overcome such initial disappointment and might accept life in the shadows, content with being a bit-part player or earning their keep in a second-rate league, but not Vincent.
Over the course of a World Cup, and indeed, even in the high-intensity friendlies that serve as the prelude to the tournament proper, the road will be bumpy and Keshi's elect will be tested to their limits. Enyeama's tournament experience, his ability to respond to trauma, and his current form could well prove to be invaluable.