COMMENT
By James Goldman
Six points off the title pace, England's No.1 goalkeeper acclimatising to life on the bench and a Champions League schooling at the hands of Bayern Munich a black mark on Manchester City's European progression, Manuel Pellegrini's early tenure has not been without its teething problems.

Expectations were understandably high after reinforcements, to the tune of over €120 million, arrived in the summer, and although his side have frustrated as much as they have delighted so far, Pellegrini is still enjoying a cosy honeymoon period by virtue of having restored an element of fun and fantasy to City's play.



STAR OF THE CITY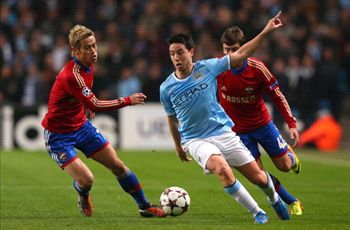 NASRI RATING VS CSKA MOSCOW







When he can be this good, it makes his anonymous displays even more infuriating. Set up City's second and fourth goals on a night when his touch, dribbling and link-up play were out of the top drawer.
FROM OUR LIVE! COMMENTARY


Samir Nasri has got firecrackers in his boots as he dances round and round CSKA challenges in the area before setting up Silva, who can only find the side-netting with a near-post shot from eight yards. Terrific skill from the Frenchman though, who appears to be enjoying his football again.
Chief to benefit from the club's renewed commitment to entertaining has been Samir Nasri, a player whose own travails mirrored the decay of a side that went from swaggering champions to robotic introverts inside 12 months under Roberto Mancini's chaotic regime.

Like his former manager, Nasri is not without his own character defects. Instances of petulance and ill-discipline have pockmarked a career that has seesawed dramatically since his arrival in England five years ago.
Transgressions such as the foul-mouthed rant at a French journalist that followed Les Bleus' stormy exit from Euro 2012 and earned him a lengthy ban have fuelled the perception of Nasri as the atypical brattish Premier League footballer. Ultimately, however, this is an ultra-talented sportsman in need of guidance and indulgence.

It is no coincidence that the best football of his career was played out under Arsene Wenger but the headstrong Nasri wanted to be more than the jewel in Wenger's crown and left for the Etihad, citing trophies, rather than money, as his motivation.

It was a decision that was vindicated in terms of silverware and a gloating Nasri was quick to point out as much just moments after City lifted their first Premier League title. His critics, however, were even quicker to point out he had done little to earn his championship medal.

As City's title defence faltered so too did Nasri's form and relationship with Mancini, who once admitted he had grown so frustrated with the former Marseille playmaker's performances that he had wanted to "punch" him.

By the time Mancini left the club following the humiliating FA Cup final defeat against Wigan, a game in which Nasri was hauled off after just 54 minutes, many expected the 26-year-old to follow him out of the door in the summer.

Indeed, had City's pursuit of Pellegrini's former charge at Malaga, Isco, been successful that may well have been the case. As it was the gifted Spaniard opted instead to sign for Real Madrid and upon learning of his decision, the Chilean coach made a beeline for Nasri, convinced him of his worth and explained in detail the role he saw him fulfilling in a new-look team. In short, Pellegrini made Nasri feel like he belonged at City in a way Mancini never had.

A source close to the club told Goal: "Pellegrini is like an inquisitive father to a lot of these players, particularly some of the younger guys like Nasri. He takes a genuine interest, of course, in their football and development as players, but also their life away from the pitch."
Having taken an interest in his personal life, Pellegrini would know that Nasri is now far more settled than he was following his split from former professional tennis star Tatiana Golvin and the regular trips he made back down to London from Manchester during his early days with City have become far less frequent.

Far from being the divisive character he was painted as at Arsenal by his former captain William Gallas, Nasri is well liked by staff and players alike at City, where his firm grasp of English sarcasm is fondly appreciated.
In particular he has developed a close friendship with Yaya Toure and the two trained together at length in pre-season, regularly staying behind after others had fled the training pitch to practise their long-range shooting and free kicks - sessions which have paid dividends for the Ivory Coast enforcer in the early months of the campaign.

Tactically, Pellegrini has insisted on Nasri and City's other mini maestro David Silva operating closer together when the team are in possession to help supply the ammunition for the burgeoning partnership of Sergio Aguero and Alvaro Negredo.

Goals, and plenty of them, have followed – 12 in the last two games to be exact. City and Nasri are suddenly buzzing again and though CSKA Moscow and Norwich, who have been put to the sword in such thrilling fashion this past week, may view it differently, the Premier League should be proud to boast another box-office draw again.