COMMENT
By Tom J Doyle
Another big test, another big victory -
Arsenal
's critics have been watching and waiting for them to stumble and fall like so often before. Yet after beating
Borussia Dortmund
1-0
at Signal Iduna Park on Wednesday night, the Gunners are beginning to look like the genuine article.
"Arsenal can win it," acknowledged Borussia Dortmund coach Jurgen Klopp in the aftermath of the 2013 finalists' shock defeat before offering the caveat: "If they don't play Bayern Munich."
But is the toppling of another teutonic titan even beyond the rejuvenated north London team? The fact that Arsene Wenger's side sit five points clear in the Premier League and top of the 'Group of Death', of course, is in no small part due to the feel-good factor that £40 million club-record signing Mesut Ozil has brought. But the true testament to their growing maturity is that the German playmaker is not their standout performer.
MAN OF THE MOMENT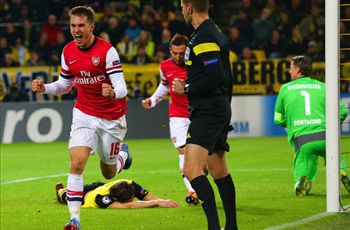 RAMSEY RATING VS DORTMUND






Showed great feet in possession, looking very calm and keen to probe from deep. He did his best to get up and support the forwards and scored another valuable goal with a second-half header.
FROM OUR LIVE! COMMENTARY


GOOOOOAAAAL!! ARSENAL TAKE A SURPRISE LEAD! BVB give possession away in the final third and the Gunners shift play out to Ozil on the right. His cross is cushioned down by Giroud and Ramsey follows up to head the ball past Weidenfeller. Arsenal lead!
With yet another valuable goal to cap a memorable display, Aaron Ramsey can lay legitimate claims to being the Premier League's top player so far this season - a scenario unthinkable to even the most ardent of Arsenal fans 12 months ago.
The Wales captain - awarded the club's player of the month award for the fourth time in a row on Wednesday - is unrecognisable from the timid midfielder of yesteryear, during a career horribly stalled by a nasty leg break in 2010.
Ten goals in 17 appearances suggests this is finally his season to shine and, allied to his impressive passing, tackling and athleticism, Ramsey can now be considered one of the most dangerous box-to-box midfielders in world football.
Alongside the impeccable Welshman also stand the players like Olivier Giroud, Per Mertesacker and Tomas Rosicky, a trio few would have opted for with a title challenge in mind. However, all three have been simply inspirational during this campaign.
Giroud has found the form and confidence that persuaded Wenger to part with just under £10m last summer - and the France striker now offers the ideal blend of brains and brawn as the target man of a 4-2-3-1 system with goals to boot.
His assist for Ramsey against Dortmund typified his sense of awareness and bravery in leading the line so his team-mates could prosper - a perfect example of what Wenger labelled as a "very mature performance" by his side.
Exposed for his lack of pace in the past, Mertesacker has been the rock at the heart of the Gunners defence, keeping opponents at bay and offering a calming presence to a young back line - with a noticeable impact on Wojciech Szczesny.
Rosicky, meanwhile, has forced his way back into Wenger's plans after spells on the sidelines, operating in advanced positions with an effervescent abandon that belies his years and fully deserves his place in front of younger talents.
With the likes of Santi Cazorla, Jack Wilshere, Theo Walcott and Alex Oxlade-Chamberlain struggling to get a kick, there is a genuine competition for places like never before, as top-class players are forced to watch from the sidelines.
A responsible Gunners fan would urge caution - after all, Arsenal have shown in recent seasons that a tough defeat can have a disastrous impact on a dressing room that has been devoid of real leadership. No medals are usually handed out in November.
An injury to Ramsey or Giroud, the side's only reliable striker, could still derail Wenger's best-laid plans, while the fans could react negatively to a lull in form after such a bright start.
But with two keys wins under their belts in just four days - they beat Liverpool 2-0 on Saturday - it is impossible not to be excited by the potential of this Arsenal squad as they head to Manchester United on Sunday for another big test of their credentials.
Klopp may prefer 'heavy metal' football to Wenger's 'orchestra'
but the Gunners have proved they have got the best tunes at the moment. With his huge transfer fee, Ozil is still the conductor but, look a little closer, and it's Wenger's unsung Gunners who are really carrying the beat.