COMMENT
By Enis Koylu
It is a decision that will delight and disgust in equal measure. In spite of seven trophyless years in charge of
Germany
, the DFB saw fit to hand
Joachim Low
a new deal which will keep his in his job for until 2016.
For many, the 53-year-old's footballing idealism, public persona and well-coiffed hair are evidence that he is not suited for the job. Germany, they claim, have lost what made them a fearsome machine - the steely mentality of winners. Polls on numerous websites unanimously called for his sacking.
However, you only have to look at the transformation that has gone on within the
Nationelf
itself to understand the value of his work in revolutionising the team.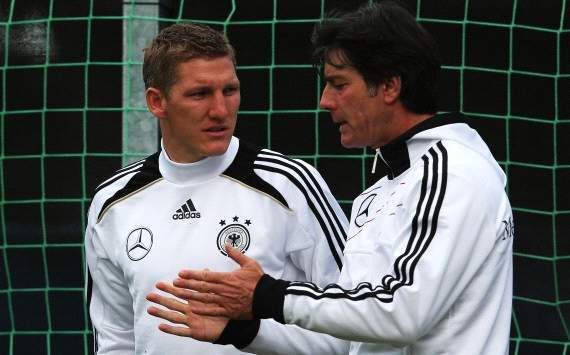 Visionary | Low aided Schweinsteiger's transformation into a defensive midfielder
When he became involved with the DFB, first as Jurgen Klinsmann's assistant in 2004, German football was at its lowest ebb. They had just crashed out of the European Championship in Portugal at the group stages with a team of 30-somethings, long past their best.
However, within two years, Klinsmann and Low had completely revamped the team. Abandoning the style of old, they put their faith in the new generation of players, admirably finishing third in the 2006 World Cup on home soil, showcasing some great attacking football in the process.
Once the tournament was over, Klinsmann left the reins to Low alone. And that was when his style truly began to pay off. They were runners-up at Euro 2008 and reached the semi-finals in both the 2010 World Cup (perhaps playing the best football of the tournament) and the 2012 European Championship.
His failures, such as picking Toni Kroos in the defeat to Italy in Warsaw last summer and controversies over refusing to selecting the ageing Michael Ballack beyond 2010 and overlooking in-form Leverkusen striker Stefan Kiessling, have been jumped upon, used as evidence in the case against him.
GERMANY COACHES' RECORDS

Name


Games

Years

Cups

%


O Nerz

70

'26-'36

0

60

S Herberger

167

'36-'64

1

56

H Schon

139

'64-'78

2

63

J Derwall

67

'78-'84

1

66

F Beckenbauer

66

'84-'90

1

52

B Vogts

102
'90-'98
1
65

E Ribbeck

24
'98-'00
0
42

R Voller

53
'00-'04
0
55

J Klinsmann

34
'04-'06
0
59

J Low

99
'06-pres
0
69
But he remains hugely successful in the grand scheme of things. No
Bundestrainer
has a higher win percentage, in spite of the rebuilding he had to do when he took the job, while two of his major tournament campaigns have come off the back of Bayern Munich losing the Champions League final, an undoubted dampener on his squad's mood heading into a critical period.
Beyond that, of all of Germany's coaches, only Jupp Derwall, who inherited a winning team from Helmut Schon, have delivered instant success, with the former leading his side to glory at Euro 1980.
Only four players, Lukas Podolski, Philipp Lahm, Miroslav Klose and Bastian Schweinsteiger, can remember a Germany set-up before him and the team play football his way, with the vast majority of the squad owing their international exposure and experience at a young age to his willingness to put his faith in youth.
Going into next summer's World Cup, the outlook is brighter than ever before. Bayern have made huge strides forward since Euro 2012, finally winning the Champions League, and Klose, Podolski, Schweinsteiger and Per Mertesacker will all have over 100 caps each by the time the trip to Brazil comes around.
Kroos, who has blossomed under Low's tutelage, is certain that he is the right man for the job. "I think that he has made something very, very good from our national team in recent years," the attacking midfielder said last month.
"Under him, we have to look at the huge step we've made in the quality of our football. I think he can be the coach who leads us to major titles, which we all wait for and work towards."
Beyond that, Low's new contract gives the squad the air of stability that Italy and Spain's players won't have, given the uncertainty over Cesare Prandelli and Vicente del Bosque's futures.
To become a great
Bundestrainer
, Low needs to deliver silverware before his tenure is over. But few can doubt his invaluable contribution to the annals of German football.
Follow
Enis Koylu on