COMMENT
By Ryan Kelly
After Ireland's 3-1 victory over Kazakhstan on Tuesday evening, Noel King refused to be drawn by suggestions that certain players were unhappy at being left out of the team. "They may have been unhappy, but not one of them sulked and not one of them didn't perform any of the things I was asking them to do," he said, diplomatically. "I have addressed the group and I understand. How would you be happy spending 10 days and not playing? Try it, it's horrendous."
Prior to the game in Dublin, Shane Long had tweeted what was construed as a thinly veiled barb aimed at interim manager King. "Cowboy" wrote the frustrated West Bromich Albion striker on the social media site. After the match, James McClean, who like Long did not play, shared his views, noting that it had been a "long, long 10 days" with the national team in a tweet that was later deleted. Indignant, the Wigan Athletic winger was quick to defend himself following a barrage of criticism: "Have to laugh at people whos [
sic
] quick to stick their opinions. It has been a long 10 days, so what, someone tell me wheres [
sic
] the wrong in that."
Both players have previously found themselves at the centre of rows where the object of their ire has been the manager of the Ireland team. Under Giovanni Trapattoni, Long openly contradicted the Italian tactician on more than one occasion. Ahead of a friendly fixture against Serbia in August 2012, Long was replaced in the starting XI by Simon Cox after being deemed unfit to play. However, the West Brom striker immediately denied that he was unable to play, leading Trapattoni to brand the player's claims "idiotic." In the reverse fixture against Kazakhstan in Astana last year, where Ireland narrowly escaped with a 2-1 victory, McClean's expletive-laden outburst on Twitter led to his reprimand by the manager, as well as a number of senior squad members.
Noel King's reluctance to criticise Long and McClean for their defiance is consistent with his defence of the team for their general application over the two games of his temporary tenure. However, the bratty behaviour from these individuals betrays an overinflated sense of self-importance which is at best unsavoury and at worst detrimental to the group.
There have, of course, been other offenders. Millwall striker Andy Keogh, a player with a hefty two international goals in 30 appearances, famously blasted Trapattoni for having no "loyalty" when he was left out of the squad for Ireland's World Cup qualifiers against Sweden and Austria in September. The irony of the complaint is rich considering that most of Keogh's entire haul of caps for Ireland came during the Italian's five-year tenure. In another bizarre exchange, Reading defender Stephen Kelly took the decision to issue a formal statement in February 2013 that essentially called Trapattoni a liar, when the 74-year-old suggested that Kelly felt he was entitled to play against the Faroe Islands.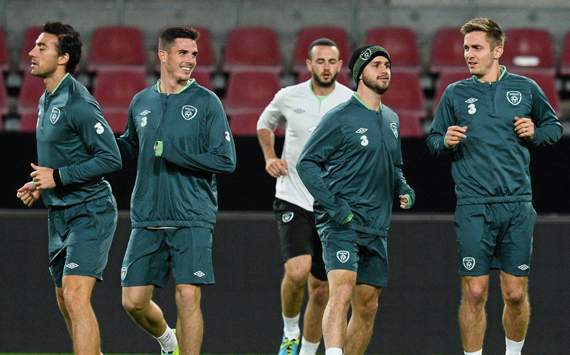 Petulant players | Too many Ireland internationals lack a sense of decorum
Marc Wilson's sneering response when asked about the clarity of Giovanni Trapattoni's instructions following the 2-1 loss against Sweden in Dublin exhibited an absurdly self-serving attitude. He was content to give the impression that the former Ireland boss' instructions were the main reason for the team's capitulation. However, the Stoke City man's words came back to bite him in Vienna. It was his tepid clearance that landed comfortably at the feet of David Alaba, who happily smashed the ball into the net. That had little to do with instructions.
In truth, these players have absolutely no right to feel aggrieved at missing out and they should probably show more gratitude. When one considers those who have very publicly and abrasively vented their frustrations, not one of them has done enough this season, or, for that matter, during their careers to date to make them indispensable.
McClean impressively burst onto the scene at Sunderland towards the end of the 2011-2012 season, but his impact was ultimately short-lived. The former Derry City winger soon fell out of favour with then-manager Paolo DiCanio and was transferred to Championship side Wigan Athletic at the beginning of this season for a relatively modest fee. Shane Long has scored nine goals in 40 international appearances. Just one of those goals came in a competitive fixture – a scrappy deflected strike in the 3-2 loss against Russia three years ago. He has featured only intermittently for his club this season and has failed to find the net in the five appearances he has made.
There is a sense of decorum lacking among certain younger members of the current Ireland squad. By contrast, Aiden McGeady also endured a long 10 days, featuring for just over 10 minutes towards the end of the victory against Kazakhstan. Of the current squad, only Richard Dunne, John O'Shea and Robbie Keane possess more international appearances than the Spartak Moscow winger and he can rightly be considered among the elder statesmen of the team. However, McGeady has not lowered himself to the level of childish outbursts.
The older generation knows that, while things may not necessarily be rosy, mutiny is not an option. They appreciate that at this level, squads rely on cohesion and togetherness, an edifice built on respect for each other and for the authority of the coach.
As a further example, Andy Reid, a player who had been exiled by Trapattoni for five years as a result of a relatively innocuous disagreement, refused to knock the Italian when quizzed by the media. Instead, he preferred to talk about how pleased he was to be involved again, to have the chance to represent his country once more. Darron Gibson, on the other hand, appeared to relish the opportunity to stick the boot in, freely unloading his gripes with the manager and in the process revealing his contemptuous disregard for compatriot and colleague Paul Green. Unlike Gibson, Reid is of the same 'old school' mentality as the likes of O'Shea and McGeady.
On Friday night, Robbie Keane angrily rebuked Germany boss Joachim Low for disrespecting Noel King in the aftermath of the 3-0 defeat in Cologne. Low's crime? Excitedly congratulating his own players for qualifying for the World Cup before shaking the hand of his managerial counterpart. Keane's awareness and appreciation of etiquette sits in stark contrast to the juvenile ramblings of some of Ireland's younger generation. Perhaps the problem holding back the Ireland team really is the players.