SPECIAL REPORT
By Robin Bairner
Paris Saint-Germain had a turbulent summer. They lost head coach Carlo Ancelotti to Real Madrid and lost face as they bungled their way to finding a successor in the form of Laurent Blanc.
They even lost the headlines as Monaco's lavish transfer campaign pushed them into the shade, however the Parc des Princes club did not lose Zlatan Ibrahimovic.
Considered something of a wanderer in the European game, it had seemed likely for a period that the giant Swede would depart the French capital for England.
Having claimed the league title in France, adding to those already collected in the Netherlands, Italy and Spain, the decorated striker's next step appeared to logically be the Premier League.
The 31-year-old has never turned out for an English side and is less highly regarded in Britain than he is the rest of the world. Ibra, it seemed, had a point to prove.
His first season in France had been fruitful. He would score a career-high 30 league goals, marginally bettering the ratio he had produced with AC Milan a year earlier when he struck 28 in 30 matches, and he would become a favourite of the Parisian crowd. Winning the Ligue 1 title and running Barcelona close in the Champions League had been a commendable effort on the team front, too.
Ancelotti's departure, however, seemed to suggest 12 months was all that the Malmo-born striker might enjoy.
The Italian had played a key role in wooing PSG's first truly marquee signing of the QSI era only a year earlier and even before his departure for Spain was confirmed there were whispers that Ibra could be set for a new challenge.
Ibrahimovic, though, was to maintain a steady silence over his future, remaining elusive whenever questioned. "Will I stay at PSG? We'll see... All the times that I have said that I would be staying at a club, at the end I changed clubs," he told
La Gazzetta dello Sport.
Mino Raiola, the Swede's agent, has become synonymous with his clients chopping and changing clubs on a regular basis. Even his mere presence in Ibrahimovic's entourage seemed to fan the rumours of a transfer, though the player's representative was unequivocal that there would be no move from the beginning of the summer.
"The commercial design of the club is based on his signing and they have no intention of selling him," he would tell
Sky Sport Italia
.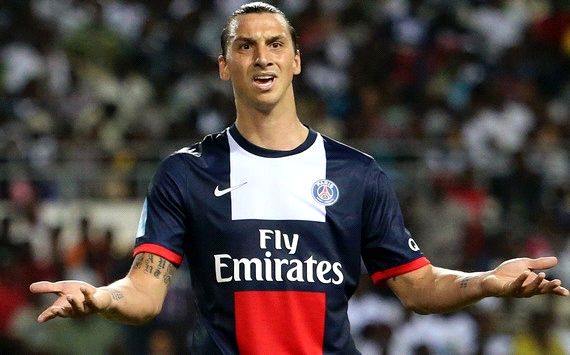 Maverick |
Ibrahimovic's fall-out with Leonardo sparked exit rumours this summer
While the French press revelled in the will-he-won't-he saga, PSG's line was always one that they would not allow the forward to leave.
Indeed, Ibrahimovic's poor relationship with Leonardo was one factor behind the club's erstwhile sporting director failing to replace Ancelotti as coach, though undoubtedly an even greater influence was the long touchline ban he would subsequently receive.
It has not all been about the Swede in Ile-de-France, however. Edinson Cavani's arrival in Paris for a fee of €65 million posed fresh issues as it was the general view that the two were not compatible in the same side.
The early indications of their partnership are inconclusive. While neither has been near the peak of their powers, not aided by a side that has failed to fire so far, there have been very brief sparks in their three matches together to suggest there is a possibility of chemistry. Unquestionably the most notable of these was Ibra setting up his Uruguayan team-mate to score the first in a 2-1 win in Nantes.
However, questions remain if the Swede will be able to stomach playing a supporting role – or at least taking less of the limelight – to the former Napoli man.
A notoriously egotistical character – this is, after all, the man who replied when asked what he had got his wife for her birthday: "Nothing. She already has Zlatan" – playing second fiddle over the duration of the campaign could wear his confidence.
Ibrahimovic, who became the world's best paid player when Samuel Eto'o's deal with Anzhi was ruptured according to
Gazzetta
, earning €14m net per year, has shown a more mature face in the press recently.
"For an attacker, it is always important to score. But I do not want to be reduced to that," he said. "I try to play the game and help the team. I hope to deliver more assists."
He would also deny rumours that he ever thought of leaving Paris at a press conference a few days later, indicating: "You never know what will happen, but I never really considered leaving PSG ... This club takes care of me very well."
Indeed, this was the line that was spun from his camp since the end of the season.
While matters internally at PSG did not necessarily work themselves out as smoothly as hoped, Ibrahimovic never seriously provoked a move in the media. Had the cards fallen differently, for example if Leonardo had been made coach, then of course things may well have been different.
Ibra is therefore still attached to the French champions, though his long-term future is by no means at Parc des Princes.
Cavani's arrival may yet be the catalyst for a disturbance over a longer period of time and with the challenge of England as yet unconquered, a move to the Premier League should not be dismissed before his career is up.