COMMENT
By Enis Koylu
The ghosts of 2012 are finally laid to rest. Bayern Munich's relentless revenge mission since their shameful Champions League final defeat to Chelsea on home soil has gone full circle with their Uefa Super Cup victory over Jose Mourinho's side - ironically on penalties.
The victory also heralds the beginning of a new era at the Allianz Arena. Pep Guardiola came out with the bold promise of adding to the club's impressive haul of trophies in 2012-13 and he has now delivered by claiming - surprisingly - the first such trophy of the club's history.
However, the Catalan coach seemingly has much to contemplate tactically. An early-season injury crisis left them with the undesirable option of fielding Philipp Lahm as a midfielder alongside the attack-minded Toni Kroos and Thomas Muller.
And it took just a matter of minutes for Guardiola's team to be punished, with Eden Hazard, Fernando Torres and Andre Schurrle combining through the middle for the Spaniard to finish brilliantly.
The counterattacking play was fantastic, but what was more noticeable was the ease with which the west Londoners broke through the centre of park, which Javi Martinez and Bastian Schweinsteiger used to patrol with such authority.
While the duo's lack of full fitness is hardly Guardiola's fault, his preference for playing one sitting midfielder, along with the acquisition of Thiago Alcantara from Barcelona, forced out both Luiz Gustavo and Emra Can, who both would have provided them more solidity.
Playing Lahm in midfield also poses the awkward problem of playing Rafinha in defence. The Brazilian was inexplicably retained this summer after two poor seasons at the club and did nothing for his credibility on Friday.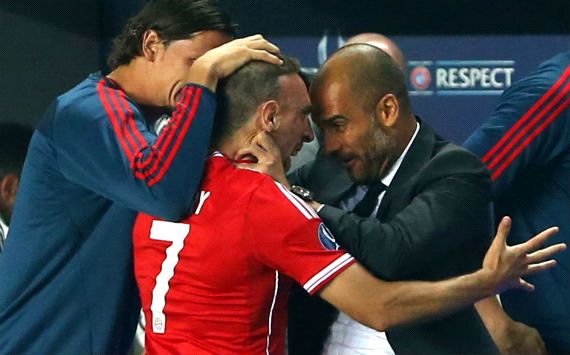 For you | Ribery dedicated his "goal against Mourinho" to his boss
The emphasis on ball-playing, attack-minded midfielders has hardly helped them going forward either. For much of normal time, Chelsea had the Bavarians more than sussed out, barring the odd first-half effort from Franck Ribery and a 15-minute period in the second half following the Frenchman's equaliser, which was a brilliant long-range effort.
Indeed, when Pep's side created the bulk of their chances was in the final 15 minutes of extra time, with Chelsea defending a 2-1 lead with their lives, Bayern pumping balls into the box and Manuel Neuer permanently stationed on the halfway line, driving his team forward.
The insistence on playing 4-1-4-1 and expecting the likes of Thomas Muller, Ribery and Arjen Robben to drop back is looking more and more like an experiment destined to fail.
With a trio playing just behind Mario Mandzukic last term, everyone's role was defined and goals seemed to flow more easily. In a an orthodox midfield role, Muller looks totally stunted, Robben's flying runs down the right do not seem as threatening from a deeper starting position and the Croatian striker looks isolated.
Indeed, when Mario Gotze replaced Muller following a quiet performance and encountered many of the same problems as his predecessor, neither inclined to play the role asked of them.
It has been far from a seamless start for the former Spain international and perhaps recognising this, Ribery was quick to dedicate the triumph to his boss: "We fought until the last minute. It's a well-deserved success for Bayern. The victory is also important for Pep."
In the end, Bayern were worthy winners due to their will to probe Chelsea, but when Guardiola has a full squad at his disposal, he must consider a return to the formation that made his side great under Jupp Heynckes, for the benefit of his attack and his defence.
Follow
Enis Koylu on