PROFILE
By Enis Koylu
There is little doubt that Real Madrid boast an abundance of talent across the board, but all the while, one position remains a weak point - right-back. Step in Dani Carvajal.
All through last year, Alvaro Arbeloa was deployed in defence for
los Blancos
. When he was unavailable due to injury or suspension, Chelsea loanee Michael Essien, a midfielder long past his best, stepped in and played out of position.
At the same time, Carvajal was fast making a name for himself at Bayer Leverkusen. Having left the Santiago Bernabeu in search of first-team opportunities, he quickly established himself as one of the best right-backs in the Bundesliga.
Aware of his potential, Madrid were careful to insert a buy-back clause when he departed the club and it is no surprise that they have decided to exercise their right to bring him back to the Spanish capital.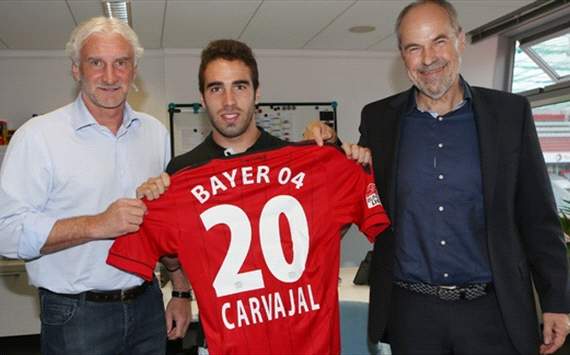 Bargain | Leverkusen bought Carvajal for just €5 million
His displays for Sami Hyypia's side belied his inexperience at the highest level. Despite being a young man in a new country, he slotted in perfectly, with his sound positioning, pace and ability to cross a key component in Leverkusen's third-placed finish, while he also possesses a vicious shot, which will come in useful if Madrid have problems breaking teams down.
Arriving for a fee of just €5 million, he was undoubtedly one of the bargains of the season, not just in Germany, but in all of European football.
His move to Germany was little more than a stepping stone, though, and he was dreaming of a return to the Bernabeu. "I have faith in myself and I feel ready to go back to Madrid. I think of myself as a Madrid supporter. I was born a Madrid fan," he confessed shortly before his switch to the club was finalised.
His identification with the club is crucial. After a campaign where coach Jose Mourinho was criticised for ignoring the
Cantera
, Carvajal could come into the team to prove that the capital outfit's youth system is capable of providing the first team with stars. In a team of champions from around the world, having a local boy would be refreshing and would benefit Spanish football and the club.
ARBELOA v CARVAJAL IN 2012-13

| | | |
| --- | --- | --- |
| 44 | TOTAL APPS | 36 |
| 0 | GOALS | 1 |
| 1 | OWN GOALS | 0 |
| 3 | ASSISTS | 8 |
| 10 | YELLOWS | 10 |
| 2 | RED CARDS | 0 |
And he returns to Madrid a different player to the one he was when he left a year ago. He has experience of playing week-in, week-out for a club pushing for a spot at the top of the table and has familiarised himself with playing in Europe, even if Leverkusen's Europa League campaign ended prematurely.
He has quietly gone about improving himself as a player and is now ready to take the next step and become a regular at one of Europe's biggest clubs.
Arbeloa should be quaking in his boots. While he is defensively solid for the most part - even if the Confederations Cup final against Brazil would suggest otherwise - he offers little going forward, something which Carvajal thrives in doing. Ancelotti's history of playing a fairly narrow system requires full-backs to push up and the former Liverpool man simply offers little in this regard.
What's more, Arbeloa's 2012-13 was shrouded in controversy. He admitted recently that his performances were a marked disappointment, while he was one of Jose Mourinho's closest allies in the dressing room, leading to a well-publicised rift with club skipper Iker Casillas.
While he insists that he maintains a professional relationship with the 32-year-old, there can be little doubt that Ancelotti will be eager to ensure that there are no disruptive influences internally and
the club would not be averse to cutting ties with Arbeloa
.
Carvajal represents a brilliant alternative. A local boy and a
Madridista
at heart, his main agenda at the Bernabeu is proving himself as a player. And all the signs so far are that Carvajal could develop into one hell of a player.
Follow
Enis Koylu on