SPECIAL REPORT
By Ben Hayward | Spanish Football Writer
Spain were on top of the world.
La Roja
had humbled Italy in a one-sided final at Euro 2012 to become the first international team to claim consecutive continental championships and a World Cup win in the middle. History had been written once again by this era-defining group and there was a feeling of joy throughout the Spanish squad. But then, Xavi unleashed a bombshell: he had decided to retire from international football.
The midfielder has had to alter his game in recent seasons due to the rigours of Achilles tendon problems in both feet which means he is constantly playing in pain, cannot train properly between matches and is unable to complete back-to-back fixtures in short succession as he could in his younger years. Training these days involves recovery work and special exercises with the physios to cope with the tremendous toll on his ageing frame, while he cannot cover the same amount of ground as he once was able to - despite retaining a fierce competitive spirit. At 33 and with an injury which will not go away, surgery an unattractive option and no real cure, he must plough on. Growth factor treatment has helped the problem, but Xavi knows his time at the top is drawing to an end and he told Del Bosque: "I want to quit Spain."
XAVI'S TITLES WITH BARCA & SPAIN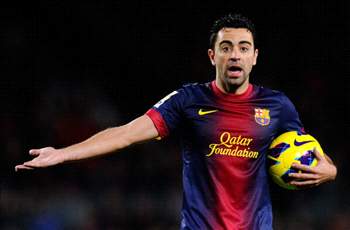 Barcelona (1998-present)
La Liga (1998-99, 2004-05, 2008-09, 2009-10, 2010-11, 2012-13)
Copa del Rey (2008-09, 2011-12)
Sp. Supercopa (2005, 2006, 2009, 2010, 2011)
Champions League (2005-06, 2008-09, 2010-11)
Uefa Super Cup (2009, 2011)
Club World Cup (2009, 2011)
Spain (2000-present)
European Championship (2008, 2012)
World Cup (2010)
Olympic Silver Medal (2000)
Individual
Ballon d'Or third place (2009, 2010, 2011)
Luckily for
la Roja
, Del Bosque had other ideas. In an interview with
El Pais
last year, the Salmantine said Xavi was "more important than the coach" and in dialogue with the same paper this week, the player himself described the moment he told his boss that he was planning on retiring from international football. "I told Del Bosque that I wanted to call it a day and he said: 'What? Has depression got you?' And he said: 'You have to play at the World Cup in Brazil - how can you miss out on that?'"
That was enough to convince Xavi to go on for two more years and his next objective is to claim the Confederations Cup - a trophy neither he nor Spain have ever won. "Because of my age this will be my last [Confederations Cup] - and because you have to win an important tournament to be in it. We are very excited because it is a cup Spain doesn't have and one missing from this generation."
Xavi has been somewhat overshadowed by Barcelona team-mate Andres Iniesta for club and country over the last year, yet he remains the pulse and the heartbeat of the two teams; the 33-year-old completes more passes than any other player on his or the other side, controlling the tempo and the possession play which has brought such spectacular success to the
Blaugrana
and
la Roja
.
But the midfielder is aware he can only push his body so far and, unlike team-mate Carles Puyol, he has been able to adapt his game to cope with age and the additional physical problems he has suffered in recent seasons. Before he breaks down, he would rather stop altogether.
Xavi is also starting to contemplate life after football. The midfielder will marry journalist Nuria Cunillera this summer (on July 13) and the two may also consider starting a family soon, which could have a bearing on the player's international future. "I will think about having a child but when I am away from home less," he once said.
The 33-year-old's current contract at Barcelona runs until 2016 following an extension signed in January and will take him up to the age of 36. Time will tell if that deal is fulfilled, but the World Cup looks like being Xavi's fond farewell in Spain colours, especially as Del Bosque departs after the showpiece in Brazil.
Before that, though, the two can make history by claiming the Confederations Cup and, more importantly, by adding another World Cup to
la Roja
's remarkable recent collection of silverware. But had Del Bosque not convinced Xavi to continue after last summer's fabulous 4-0 win over Italy, this Spain side would have lost its leader out on the pitch for both Brazil-based battles. As it turned out, however, football fans and admirers of
la Roja
can continue to enjoy Xavi's special skills for some time to come.
Follow Ben Hayward on