COMMENT
By Kris Voakes
Until recently there appeared to be very little question as to what the future might hold for Claudio Marchisio. Adored by Juventus fans, valued by his coaches at both club and international level, and a regular starter in the 'MVP' midfield that had inspired the Old Lady to two successive Scudetti, it seemed the Turin-born ace was destined to spend the rest of his days as an employee of the club he has supported all his life.
But the Italy international's status as a definite starter for years to come was called into question towards the end of the domestic season and the last week has seen speculation mount regarding a potential mega-offer from Monaco. Juve sporting director Giuseppe Marotta stirred the pot a little more when addressing the issue, saying: "We have to respect our budget, but the goal is to raise the level of the team. Of course, the will of the player also plays an important role, though..."
"MARCHISIO STILL PART OF JUVE'S CORE"

"Juventus don't want to sell their valuable assets. In particular, they want to keep Arturo Vidal, Paul Pogba and Claudio Marchisio.

"In several summit meetings with his bosses, Antonio Conte has made it known that he is relying on the presence of these core players in the short and medium-term future.

"There are other signs to suggest Conte sees Marchisio as key too. When arriving at Juve's summer camp in Bardonecchia recently, the coach was asked if he saw any player as being his heir in Italian football. The answer? 'Yes, Marchisio. He is a lot like me.' This helps us understand what Conte sees in Marchisio, but the player himself also wants to finish his career with the club at which he started.

"There are many clubs around Europe who have looked at Marchisio as a possible signing, particularly Monaco, but it would take a sensational offer to tempt Juventus, and even then it may not prove enough to part Marchisio from the Old Lady."

- Romeo Agresti | Goal's Juventus expert

The fallout has prompted Marchisio himself to speak out, telling Tuttosport: "I want to stay at Juventus. I want to keep fighting for silverware and win things with the club where I grew up."
And while the next few weeks take him away from his beloved black and white to defend his national colours, the Azzurri's forthcoming fixtures offer Marchisio the opportunity to end the matter once and for all.
Starting with Friday night's World Cup clash with the Czech Republic and running through to the end of the Confederations Cup, the 27-year-old could have as many as six games in front of the eyes of the world, and, just as importantly, the eyes of the decision makers at Juventus. Should he display an ability to deliver on the global stage, then there would surely be no more questions to be asked by those in power at Vinovo.
However, if Marchisio were to show the other side of his character, the one that goes missing at key moments in big games when his team need a hero – as evidenced once more in the Old Lady's exit from the Champions League against Bayern Munich, then there's always the chance that Juve could look elsewhere for the player Marotta talked of; the one who will take them to the next level.
For all of his passion and heart, Marchisio isn't an easy player to pigeon-hole. He isn't really a combative type, full of drive and forcefulness like an Arturo Vidal. Neither is he a creator, a catalyst or a playmaker like Andrea Pirlo, or someone with range both in his legs and in his passing game like Paul Pogba. What the lifelong Bianconero does offer is a luxury third option in the centre of midfield. And while that has worked out just fine for much of the last two seasons, the increasing clamour for Pogba to be given a regular start has come to Marchisio's detriment.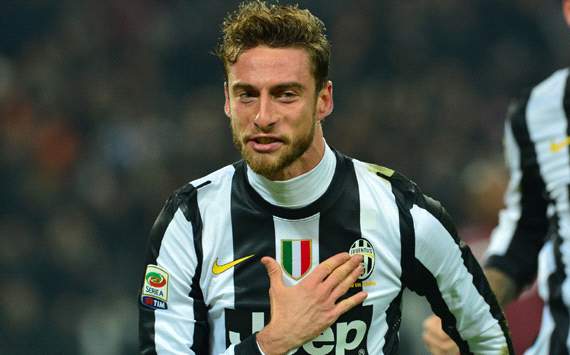 Hand on heart | Marchisio's passion for the shirt has won him countless admirers
He was pushed up into an attacking midfield position towards the season's end in order to make way for the Frenchman, but this clearly cannot be a permanent measure. So what happens now? Do Juve and Antonio Conte stand by their man in the hope that he can continue to turn in the occasional heart-stopping moment, or do they opt for performers of a more consistent nature?
It is easy to see why Marchisio is loved at a club like Juventus, whose fans cherish loyalty above almost every other virtue in a footballer – just ask any of the 2006 team, whether they chose to stay or go – but a tipping point could well be coming in the former Empoli loanee's career.
For all of Conte's bravado relating to Marchisio's position at the club, a big offer from Monaco could yet test Juventus' resolve. With a handful of big performances for his country, the No.8 could put any doubts regarding his place in the club, and even the first XI, into retirement. But another collection of scratchy showings may well leave the transfer chiefs thinking hard about the possibility of cashing in.
These three weeks with Italy could well represent the most important period of his Juventus career.