ANALYSIS
By Ben Hayward | Spanish Football Writer
Barcelona finally have their man. Neymar had long looked likely to sign for the Catalan club, ever since negotiations with Real Madrid broke down in 2011 and a down-payment of €10 million was made by Barca to the forward's father. Since then, however, the saga has taken more twists and turns than a dazzling dribble by the player himself. Now it's over, though, and Sandro Rosell's flagship signing is on board at last.
Ever since he took over the presidency from old foe Joan Laporta, Rosell has been keen to distance himself from the previous regime, of which he formed a pivotal part for two years between 2003 and 2005. Sandro split from the Catalan club due to differences with Laporta in 2005, but remained proud of the significant success secured by that special side, which won two Liga titles and a Champions League crown between 2003 and 2006. And so he might be: after all, it was he who masterminded the signing of Ronaldinho in the 2003.
The Brazilian became the first marquee footballer of the Laporta era, but it was Rosell who utilised his strong contacts in Brazil to lure the forward from Paris Saint-Germain amid firm interest from many other European giants, including Manchester United. Now he wants something similar with Neymar: a player he himself has targeted and one who will be associated with his regime, not Laporta's.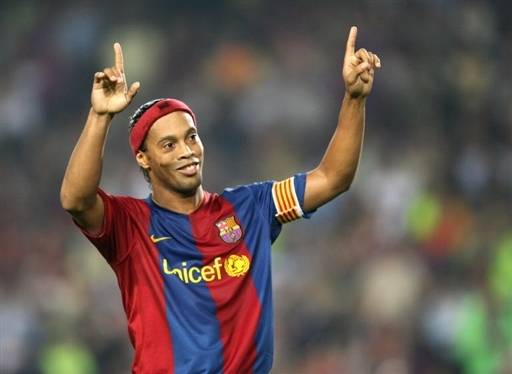 Brazilian charm | Barca believe Neymar can be a commercial success like Ronaldinho


Rosell is also intent on building the Barca brand with Neymar. The
Blaugrana
sport shirts made by Nike and the current club chief (who worked for the sports manufacturer between 1996 and 2002, spending the last three years in Brazil) has long looked to bring in an elite footballer already on the books of the north American company. Andres Iniesta, Gerard Pique and Carles Puyol are all contracted to Nike, but none are high-profile players in merchandising terms compared to the world's top stars. Lionel Messi is, of course, but the Argentine is an Adidas athlete. Neymar, then, ticks both boxes: he is a player who attracts attention from the media everywhere he goes; and he's Nike.
During his election campaign, Rosell had been in contact with another Nike star, Fernando Torres, over a potential signing, but that deal was scuppered as the previous Barca board moved to bring in a different Spain striker, David Villa (Adidas), before the voting took place in July of 2010.
A year on, when Barca finished his debut campaign with a Liga and Champions League double, Rosell was delighted, yet the president knew it was not a team he had built himself. Ronaldinho was long gone, while coach Pep Guardiola and most of the players had been either signed or promoted during the Laporta era.
D.O.B: February 5, 1992
AGE: 21

CLUB STATS

LEAGUE APPEARANCES

103

CONTINENTAL APPEARANCES

29



TOTAL APPEARANCES

225



TOTAL GOALS

136




INTERNATIONAL FILE

U20 APPEARANCES
7
U21 GOALS

9



SENIOR APPEARANCES
32
SENIOR GOALS

20



Rosell has broken many ties with the previous board, stripping Johan Cruyff of his honorary presidency (a Laporta gesture) in his first week, changing the Barcelona Atletic name back to Barcelona B and dispensing with many of the coaching staff at youth levels. Rosell's relationship with Pep was also cold compared to the feeling between the previous president and his coach. And with Guardiola gone too (amid claims from Laporta that the current board made only luke-warm attempts to persuade the coach to stay), this is very much Rosell's Barca now.
But while that may be just how he wants it, this has been a far from straightforward season for Sandro at Camp Nou. Questionable signings last summer, the illness of coach Tito Vilanova and apparent lack of a back-up plan were bad enough. But the reliance upon and subsequent injury to Messi and the calamitous nature of the team's elimination at the hands of Bayern Munich in the Champions League semi-finals have placed Rosell's regime very much in the spotlight, while claims from club spokesman Toni Freixa last month that "Tito is winning all the comparisons with Guardiola" hardly helped. Under fire, under pressure and under-achieving, Rosell needed a boost, and Neymar quickly became an even greater priority.
IN NUMBERS
Barca, Brazil, Nike & Neymar

6
Rosell spent six years working for Nike, several of those in Brazil.
7
Neymar gets €7 million per year at Santos and is now set to earn the same at Barcelona.
8
The Brazilian already boasts eight sponsorship deals - all at just 21.
27.5
Ronaldinho cost the Catalan club €27.5m in 2003, but much of that was recouped through shirt sales.
28
Barca paid Santos €28m, but are also thought to be shelling out an additional €30m to Neymar himself.
The president's mind was made up: Neymar would be brought in this summer. The player himself has been set on the move for some time and his refusal to sign a new deal with Santos effectively ended the Brazilian club's chances of retaining their famous forward until 2014, when his current contract expires. There was no way they were going to lose him for free and, equally, there was no way he would end up somewhere else: Santos could sell the player to whoever they chose to but, without the player's agreement, there would be no deal.
So Barca knew they would get their man, while Santos had hoped to prolong negotiations until after next month's Confederations Cup, in the belief that a star showing from their prized player would push up his value and increase interest. But Barca saw that coming and Rosell swiftly sent a team of negotiators to Brazil to finalise an agreement this week. Talks were long and arduous due to the complicated third-party ownership of the player, but a deal was finally struck for somewhere between €50 and €60 million, which includes around €28m for the transfer itself (split between the club and the two third parties) and up to €30m for the player. On top of that, Barca will pay Neymar wages of €7m per season, although the Catalan club will claim 50 per cent of the total earned by their player in advertising contracts while he is on their books.
Rosell hopes his new star signing can be the catalyst for a spectacular new sporting project, ending on a high note on the back of what has been a difficult third season at the club for the 49-year-old businessman. Beating Real Madrid to a major player will also have been a boost, while the president looks to strengthen his hand mid-term and build both a top team and a brilliant brand to dominate at home and abroad as he aims for re-election in 2016, when Laporta has hinted he may stand once again.
So Neymar may be a skinny 21-year-old with no European experience, but a huge weight of expectation already awaits him before he has even kicked a ball for the Catalan club, while his success or failure at Camp Nou could yet go on to make or break Rosell's regime as president. This Barca board badly needed Neymar; now they need him to deliver.

Follow Ben Hayward on