Three years after replacing Leonardo and immediately leading AC Milan back on the path to success, Massimiliano Allegri could be set to depart San Siro this summer. But is it fair for the
Rossoneri
to be considering cutting ties with their coach?
Following a rollercoaster season for the 18-time kings of Italy, president Silvio Berlusconi has intimated that the former Cagliari boss' time in Lombardy is up, with a move to Roma suggested as his next step. But while it has been a difficult campaign at times for Milan, they could well qualify for the Champions League play-off spot with a win against Siena on Sunday night.
Would finishes of first, second and third not suggest that Allegri is the right man to lead Milan as they continue their rebuilding period? Or has he blown his chance to take the
Diavolo
onto another level?
Goal
has asked two of its top experts to judge whether the time is right for the club to part company with the former
Scudetto
-winner.
"He achieved the impossible... he lost the league with Zlatan"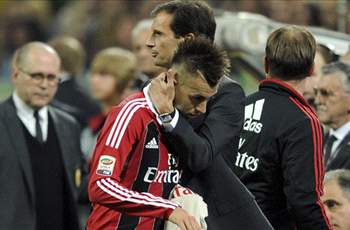 By Kris Voakes
Many have likened Allegri's debut title with Milan in 2010-11, his only major honour with the club, with similar feats achieved by the likes of Arrigo Sacchi and Fabio Capello, but to do that is to completely downplay what a magnificent league Serie A used to be and massively overestimate where it is nowadays in comparison.
"You can only beat what is put in front of you," his backers have said, but Allegri's Milan haven't done that consistently enough. The Scudetto triumph in 2011 was a great boon for the club, but rather than it being the lift-off point for a period of excellence, it has instead become remembered as the final success of an old cycle.
Inter's period of dominance was brought to an end that summer, but given how bad the Nerazzurri were under Rafa Benitez in particular and Juventus' comparative issues, it would have been a massive disappointment had the Diavolo not collected the crown. The additions of Zlatan Ibrahimovic and Robinho were big-money gifts the club couldn't really afford, and the only acceptable response was a league title.
Allegri deserved credit that year for phasing out Ronaldinho at the right time, but his mistreatment of Andrea Pirlo led a bedrock of the club's previous success to skip town and lead Juve's charge back to the top. Allegri mistakenly thought he couldn't play Mark van Bommel anywhere but in the centre of his three-man midfield, Pirlo's natural spot, with the Dutchman's performances for PSV last season proving him wildly wrong.
Allegri has had a ton of excuses lined up for Milan's failures since 2011. First there were the mountain of injuries among first team players in the run-in of 2011-12, then there were last summer's sales of Ibrahimovic and Thiago Silva. But he hardly helped himself. He rushed the Brazilian into action against Roma the weekend before a crunch Champions League clash with Barcelona and the 10 minutes he lasted were the last Milanisti would see of him. A seven-point lead evaporated in no time with Mario Yepes et al playing in Thiago Silva's stead, and Allegri had achieved the seemingly impossible task of losing a title with Ibrahimovic at his disposal.
This season he has failed to get the best out of a good squad. They have shown since November that they have the quality to challenge, and he has no excuse for not getting them going sooner. Too often they were beaten by massively inferior outfits, with Allegri offering nothing by way of a clever tactical response, instead being bailed out by the once-in-a-lifetime rise of then-19-year-old Stephan El Shaarawy, and that is partly why they go into the final weekend scrambling for third place. He has not done enough to show he is deserving of what is a hugely prestigious role.
"He should be applauded for this season's achievements"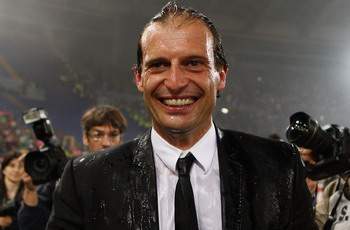 By Luke Matthews
If Sir Alex Ferguson's recent retirement from football has taught us anything, it's that continuity is key to success. Of course, Fergie's achievements at Manchester United were unique, a one-off, something that will never be seen again in the game. However the trigger-happy approach has never served any club well in the long run and Silvio Berlusconi needs to take this into consideration this summer when making a decision on Allegri's future at San Siro.
Allegri joined the club in the summer of 2010 and enjoyed immediate success, following in the footsteps of legendary Milan coaches such as Arrigo Sacchi and Fabio Capello in securing the Scudetto in his first season – a remarkable achievement considering rivals Inter became the first Italian side in history to win the treble the previous term.
The following campaign the Rossoneri lifted the Supercoppa Italiana while having to settle for a second place finish in Serie A behind Juventus. However, while the fans would have ultimately been disappointed to lose out to the Turin club, Allegri's domestic record in his first two seasons in charge is better than that of the much-revered Carlo Ancelotti. In eight years at San Siro the current Paris-Saint Germain coach only claimed one Serie A title in 2004. The former Italy international did of course win the Champions League twice during his tenure in 2003 and 2007 – trophies responsible for keeping Ancelotti in employment at the Rossoneri for so long.
Cost-cutting last summer saw Berlusconi sell the club's two star players, Zlatan Ibrahimovic and Thiago Silva to PSG and with club legends such as Alessandro Nesta, Clarence Seedorf and Gennaro Gattuso also leaving the club due to their advancing years, Allegri's coaching credentials have certainly been tested this campaign.
It's fair to say Allegri has been left with arguably the weakest Rossoneri squad since pre-Sacchi – to no fault of the coach himself - and with the club on the verge of a third-placed finish and Champions League qualification, the former Cagliari man should be applauded for this season's achievements.
The key to any future Milan success will be building upon their young attacking trio of Mario Balotelli, Stephan El Shaarawy and M'Baye Niang, and perhaps what's more telling than anything is the fact the trio, along with several other players, have been vocal in their backing of the 45-year-old.
With the fans and the Milan squad behind the coach, Berlusconi would be a fool to part ways with Allegri.