COMMENT
By Josh Clarke
The grim acceptance that engulfed the Emirates when Michu's quick-fire double consigned Arsenal to a toothless loss against Swansea at the start of December spoke volumes about fans' current expectations.
That loss - which further extended Arsene Wenger's worst start to a domestic campaign - left Arsenal floundering in mid-table as things lurched from bad to worse, with the Gunners' season threatening to be defined by embarrassing cup exits at the hands of Bradford and Blackburn.
ARSENAL 4-1 WIGAN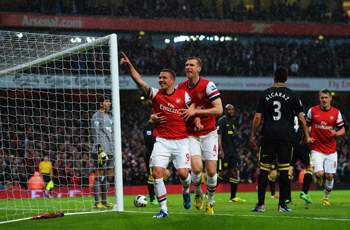 | | | |
| --- | --- | --- |
| | 11' | GOAL! Podolski heads home |
| | 45' | GOAL! Maloney equalises |
| | 63' | GOAL! Walcott makes it 2-1 |
| | 68' | GOAL! Podolski gets his second |
| | 71' | GOAL! Ramsey completes rout |
MAN OF THE MATCH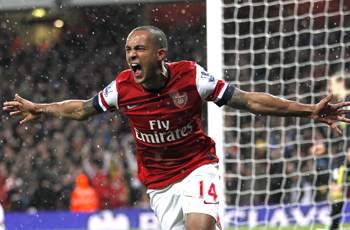 THEO WALCOTT







Walcott was a constant menace throughout. His pace and willingness to run in behind the last man worried Wigan right from the off, and Scharner especially. His end product was often dangerous too, and he grabbed the second-half goal which heralded Wigan's implosion.

Fast-forward six months, though, and a 4-1 battering of Wigan leaves Wenger closing in on what will somehow rank as one of his more impressive achievements at the club. Champions League qualification now sits in Arsenal's hands and - whether or not you swallow Wenger's rhetoric about the 'trophy' of a top-four finish - the complete transformation of an abject-looking season is undeniable.
The chorus of 'one Arsene Wenger' that rung out at full-time at the Emirates on Tuesday certainly suggests a level of satisfaction as the team close in on Wenger's much-maligned target.
So, how has Wenger done it? No, not downgrading expectations, but coaxing a revival out of a seemingly down-and-out squad. Learning from previous mistakes and installing a meritocracy that rewards performance seems to have played a big part.
The bravery required to drop Thomas Vermaelen, complicated by the subtext of the Belgian being club captain, was long called for; poor form is poor form after all. That particular decision has allowed the partnership between Per Mertesacker and Laurent Koscielny to flourish, with the club undefeated in the 17 games in which that pairing has featured.
Similarly, the decision to drop Wojciech Szczesny after his patchy spell has refocused the goalkeeper no end. Since Lukasz Fabianski cracked his rib last month, Szczesny has come back sharper and more mature for the experience.
Thrusting a clearly not-quite-fit-enough Jack Wilshere into action seems to have been knocked on the head, too. The youngster came off the bench against Wigan and was among the substitutes for the three games prior to that, showing that there is a patience developing with regard to how he is utilised.
Too often in the past has Wenger expected too much of Wilshere, and shifting this reliance off the shoulders of the England man has allowed Aaron Ramsey to come to the fore in his favoured central position. The Welshman thoroughly deserves his extended run in the team and the club's Player of the Month award in April.
Nacho Monreal and Kieran Gibbs have a healthy duel for the left-back slot, while Santi Cazorla and Lukas Podolski's regular productivity has risen the bar for standards across the squad. The potential of Theo Walcott seems to have been tapped, with the winger starting to deliver in dependable fashion. Big goals in Arsenal's last three matches against Wigan, QPR and Manchester United have seen Walcott notch up a personal high of 14 Premier League strikes for the season, aided in part by being given permission float into the central areas that he is keen to exploit.
This meritocracy has immeasurably improved the general consistency at Arsenal. The remarkable away win against Champions League finalists Bayern Munich was a turning point, while big hauls against Newcastle, Reading, West Ham and now Wigan since Christmas show an ability to put smaller clubs to the sword.
The Gunners have also amassed the league's biggest amount of 1-0s this term and have gone about their quietly ruthless business in 2013 in a manner that calls to mind famous title-winning sides of the past.
The fact that Roberto Martinez's squad are in possession of more trophies than their Arsenal counterparts since 2005-06 - the north west club's first Premier League campaign - raises interesting and valid questions about the desirability of silverware against the financial necessity of finishing fourth. But it will be Champions League football, not FA or League Cups, that can attract the likes of Wayne Rooney, Stevan Jovetic, Mario Gomez and whoever else the club is linked with this summer. Players of that calibre will allow Wenger to build upon the evident progress of this season.
Even though a top-four finish was the only remaining target following European elimination at the hands of Bayern, it should not detract from the remarkable reversal of fortunes Wenger has overseen in order to achieve it. If Arsenal can, as expected, nail down fourth spot in the Premier League, it will have been a salvage job well done.