SPECIAL REPORT
By Robin Bairner
From Arsene Wenger through to Yaya Toure via George Weah and Thierry Henry, many of France's pre-eminent football figures have been associated with Monaco over the past 55 years. Today, however, the club's future is very much open to question.
For nearly a century, the Fontvielle outfit have aligned themselves alongside the French Football Association (FFF) yet this relationship is now under severe threat with the national body demanding last week that Monaco pay €200 million just for the privilege of playing in France. The request was met with a furious response from the Stade Louis II and even suggestions they could quit the league in favour for Serie A.
The row is a ferocious one and, at its heart, is the principle of a level playing field with rival French clubs envious of the unique tax privileges enjoyed by Monaco. With no obvious solution, a costly courtroom battles looms - although this is by no means the first time the issue has cast a shadow across the French game.
When Monaco were busy firing eight goals past Deportivo La Coruna and eliminating Real Madrid en route to the Champions League final of 2004, in which they lost 3-0 by Jose Mourinho's Porto, the FFF produced a report that suggested they saved €8m per year with their virtually tax-exempt status.
L'Equipe
also claimed at the time that star striker and Champions League top scorer Fernando Morientes would earn a take-home wage almost 50 per cent greater at Monaco than he would at a regular French league side, such as Olympique de Marseille or Olympique Lyonnais.
Further resentment is fuelled by the fact that Monaco are not set up like a typical elite side who have to rely on gate receipts to boost income. Their attendances rarely average above 12,000.
Monaco are arguably the first of the financially-fuelled new wave of European elite, having reached the Cup Winners' Cup final in 1992 under Arsene Wenger with Weah the star striker and a young Lilian Thuram on the bench.
The prolific youth academy that produced Thuram, Henry and Emmanuel Petit still survives, but so too does resentment over the tax issue.
The discontent among Le Championnat's finest towards Monaco, driven by the changing political situation in France, culminated in FFF president Noel Le Graet's spectacular €200m demand at a meeting with the club last Friday.
It sparked outrage from the Monegasque club who posted details of the confidential get-together on their website last weekend alongside a pledge to see the FFF in court.
The genesis of this latest conflict can be traced to February when France Football ran a story declaring that Ligue 1's clubs were going to "war" with the "financial privileges" enjoyed by Monaco.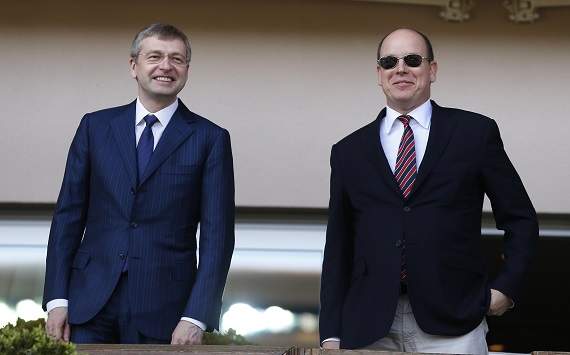 By Royal Appointment | Rybolovlev (left) is a close friend of Prince Albert II of Monaco (right)
Almost exactly a month later, the LFP (the French Professional League) voted on the matter and elected to alter its statutes so that the principality outfit would have to switch their administrative centre to France by June 2014 or else face expulsion from the league.
Jean-Louis Campora, an iconic president of the club and advisor to owner Dimitri Rybolovlev - the 119th richest person in the world, according to Forbes magazine - was not even allowed to speak in favour of his side, a decision he branded as "shocking".
"The club has contributed to the fame of the French football and has developed players who have won titles with the French national side. One would have expected at least an obligation not to be overlooked and to be heard," Campora told
Nice Matin
.
Just as there were some far-fetched suggestions last summer that Juventus could move to Ligue 1 over the manner they were being treated by Serie A peers, there have been whispers that perhaps Monaco could migrate to the Italian league.
Although the club are against such drastic action. "It is inconceivable that the club could go and join another federation other that the French federation. It's totally impossible," Campora told
RMC Sport
in mid-April. If the League has been lacking in sympathy for Monaco's cause, so too has the FFF, who fanned the flames by demanding €200m for the issue to be effectively forgotten.
"The position of the club is very clear: ASM FC considers that such a demand is not only outrageous, but also totally unacceptable," Monaco said in a firmly-worded statement.
"The decision taken by the French football authorities - suddenly and without any consultation - is so clearly counter-productive, given that the project of the club will contribute to the whole of French football and have a positive impact on its development."
Certainly, there is a feeling that some clubs in France are cutting off their noses to spite their face. Given the big names associated with moves to Claudio Ranieri's side this summer there can be little doubt that having another potential superpower to challenge Paris Saint-Germain, whose wealth is so deep that tax laws are merely an inconvenience, could only increase competition and interest at the very top of the league.
"It is fundamental for French football to have investors," stated Lyon president Jean-Michel Aulas in defence of Monaco though, as one of the ringleaders of the coup against the club 10 years earlier, he remains fixed in his belief that they should have some kind of premium to pay.
MEN OF MONACO

THIERRY HENRY



The striker left Monaco in 1999 as a World Cup winner but his career hit stratospheric heights while at Arsenal, where Henry solidified himself as one the Premier League's finest acquisitions. Currently plays for New York Red Bulls as his glittering career comes to an end.

EMMANUEL PETIT



Petit is another Frenchman who cut his teeth at Monaco before moving to the Gunners and, subsequently, Barcelona. A crowning moment in his career came in the World Cup 1998 final where he scored the 1000th France goal to help propel the hosts and eventual winners past Brazil.

LILIAN THURAM



The defender left Monaco in 1996 and spent a decade impressing in Serie A at Parma and Juventus. Thuram finished his playing career at Barcelona, where he and Henry teamed up once again following seven seasons apart at club level.
Bordeaux president Jean-Louis Triaud has been more outspoken on the matter this time around, suggesting in
L'Equipe
that other potential investors in the French game could be discouraged as they would not receive the same financial breaks as the Monegasques. A boycott of the principality side has been suggested next season but Triaud described this as "an extreme solution".
Monaco have threatened to take their case to court but a meeting is now scheduled between representatives of the club, the LFP and FFF during the week of May 20.
Legally, Monaco seem to hold all the cards, however. "The Court of Justice of the European Community and the Treaty of Rome stipulates that companies have the right to settle in any country in Europe, even if it is for tax reasons," explained Antoine David of the University of Nice to
Le Monde
. "Monaco could even claim damages in French football, but I do not know for how much."
It is of course the issue of tax that is at the root of the discontent. When the left-wing Francois Hollande took over the presidency of the country and set in motion the wheels to create a 75 per cent tax band for top earners, meaning that the nation's top clubs are set to find operating costs raised significantly, he unwittingly tipped the football scales further in Monaco's favour.
A nation in its own right as an enclave on the Mediterranean Coast, it is not subjected to French law and is most noted for its status as a tax haven. As the football club's headquarters are based in their Stade Louis II home ground, they do not have the same financial obligations as a regular Ligue 1 side.
While tax rates in the principality are not zero, they are certainly negligible in contrast to their French neighbours.
Now, since the arrival of Rybolovlev, who made his fortune selling fertiliser, they once again have the financial muscle to dream of competing with Europe's best and have been linked with a move for Atletico Madrid striker Radamel Falcao as well as other elite players at a level increasingly outside the means of regular French sides.
This issue is set to drag on, perhaps beyond the end of the summer transfer window.
Each time there has been a political war raged against Monaco in the past, it has coincided with a period of success from the Mediterranean side. A combination of France's 75% tax and Rybolovlev's financial muscle clearly has the present establishment rattled. Expect the resentment to grow further as the club's fortunes almost inevitably improve.
Follow Robin Bairner on