The 32nd round of Bundesliga action this season saw Borussia Dortmund and Bayern Munich clash in a rehearsal for the Champions League final and record a hotly-contested 1-1 draw. However, there was plenty of other talent from across Germany worthy of recognition in
Goal
's Team of the Week.
In goal, we have
Oliver Baumann
of Freiburg, who kept a clean sheet as Christian Streich's men kept up their hopes of European qualification with a 2-0 win over a resurgent Augsburg outfit on Sunday.
Joel Matip
retains his place at the heart of the back three after keeping Gladbach quiet in Schalke's 1-0 win at Borussa Park,
Sebastian Jung
makes a comeback on the right thanks to his role in Frankfurt's 3-1 win over Fortuna Dusseldorf, while Dortmund loanee
Lasse Sobiech
put in a fine performance for Greuther Furth at Stuttgart.
Julian Draxler
makes his fourth appearance of the season after scoring a late winner for Jens Keller's side, while
Alexander Meier
and
Sebastian Rode
of Frankfurt were also in impressive form, the former scoring twice.
Nuri Sahin
completes the midfield after putting in a great performance for BVB against Bayern.
Gonzalo Castro
returned to form as Bayer Leverkusen secured European football with a 2-0 win over Nurnberg,
Sven Schipplock
scored twice from the bench to grab Hoffenheim a point at Werder Bremen, who had
Kevin De Bruyne
to thank for their two-goal lead.
BAUMANN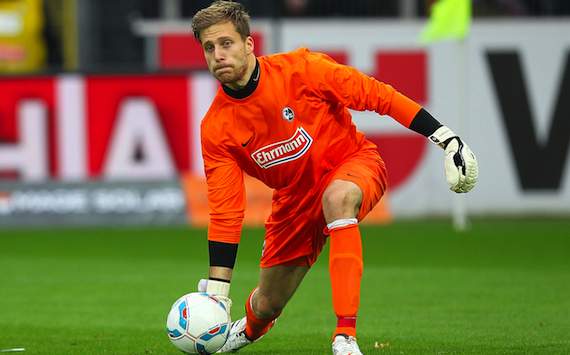 DORTMUND
vs Dusseldorf (A)
Rating:




TOTW Apps: 3
JUNG

MATIP
L. SOBIECH

FRANKFURT
SCHALKE
FURTH
vs Dusseldorf (A)


vs Gladbach (A)




vs Stuttgart (A)

Rating:
Rating:
Rating:

TOTW Apps

: 3

TOTW Apps

: 5

TOTW Apps

: 1
DRAXLER

L BENDER
SAHIN
MEIER

Schalke

FRANKFURT


DORTMUND



FRANKFURT

vs Gladbach

(A)




vs Dusseldorf (H)

vs Bayern (H)

vs Dusseldorf (H)

Rating:
Rating:
Rating:
Rating:

TOTW Apps

: 4

TOTW Apps

: 3

TOTW Apps

:

4




TOTW Apps

: 2

CASTRO

SCHIPPLOCK

DE BRUYNE

LEVERKUSEN



HOFFENHEIM
BREMEN


vs Nurnberg (A)

v Bremen (A)

vs

Hoffenheim

(H)

Rating:
Rating:
Rating:
TOTW Apps: 3


TOTW Apps: 1




TOTW Apps

:

2