COMMENT
By Akarsh Sharma
It is inherently enjoyable to witness or speculate on the rise of one empire at the expense of another, especially if it involves the demise of Barcelona whose dominance, albeit stuttering of late, had become too monotonous for many neutrals to enjoy.
Up stepped Bayern Munich to deliver the wishes of many across the world. Pundits, journalists, ex-players, supporters and the ever so prominent Twitterati were truly overawed by the Germans' display in the Champions League semi-finals. The Bavarians' 7-0 demolition of the Catalans over two legs was not only an emphatic statement of superiority and intent but was also hard to ignore as a landmark moment.
Barcelona are accustomed to such momentous performances that upset the hierarchy - beating the Galacticos of Real Madrid at Camp Nou in 2004 announced their return as title contenders and repeating the same at the Bernabeu five years later cemented their position as the best in Europe.
Bayern may have signalled the beginning of something similar but the coaching discontinuity at the club could be a major hurdle to overcome. This summer, Jupp Heynckes gives way to Pep Guardiola - the same man who laid the foundations of the very team Bayern annihilated this week.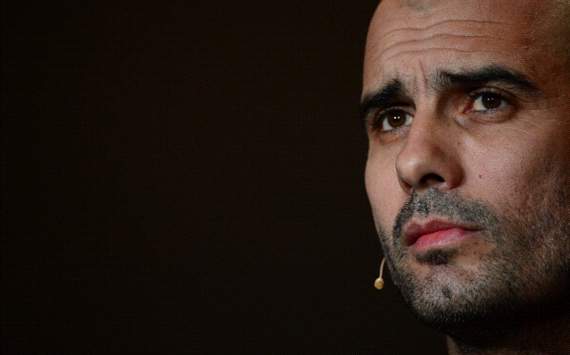 In the shadows | Guardiola will take over from Heynckes in the summer
The German philosopher and writer Wolfram Eilenberger recently argued that Guardiola was responsible for a feminisation of football. Pep's approach to the game had removed 'manly' attributes such as "physique, aggression, ego and rank" in favour of more 'feminine' traits like "communication, collectiveness and creativity". German tabloid Bild mocked him as a 'philostupider' for his remarks, but Eilenberger may have had a point.
The Bayern side of today is a different beast compared to the Barcelona of recent years.
It is a mean machine, an on-field barbarian, a congregation of top notch, high-profile individuals from front to back. It is a truly German outfit with balanced amounts of steel and swagger giving rise to an efficient and ruthless output. It's a side that gets the job done, not with the use of underhand tactics, but with a combination of physicality, aggression and flair.
It is a team that Guardiola will enjoy taking over but also one he may have to tame, perhaps for the worse, before implementing his style.
History has demonstrated that the most notable winners usually encountered heartbreaking obstacles before they triumphed. The Bavarians have been hardened through suffering excessive disappointment last season, when they finished runners-up in three major competitions.
Their versatility and tactical intelligence is what separates them from the rest and also what caught the eye against Barcelona.
Before the first leg, they were statistically closest to competing with the Catalans in manner and dominance; ranked second only to Barcelona in terms of both possession and pass-completion rate across Europe's top leagues. The 'Pep derby', as some called it, was supposedly between one Barcelona and the 'other' Barcelona.
BAYERN'S BEST RATED PLAYERS IN 2012-13


NO.1 | FRANCK RIBERY


3.6/5
The Frenchman has grabbed eight league goals and 10 assists. His pace and dribbling have caused problems for defences all over Europe and he will be a major threat to BVB at Wembley.

NO.2 | TONI KROOS


3.38/5
Although injured for the Barcelona battering, the young German has been a beacon of excellence in midfield. It remains up in the air whether Kroos can recover fitness for the final on May 25.

NO.3 | ARJEN ROBBEN


3.35/5
The Netherlands star struggled in the first half of the season, but he has shone since February and excelled in both semi-final clashes, scoring at the Allianz Arena and Camp Nou.
But one major difference between the mentalities of the two sides is that Bayern aren't stuck up on a particular philosophy yet, which makes them even harder to beat. They can instantly transform themselves from a brilliant possession-hogging side into an exceptional counterattacking one, or even find the right balance in the middle.
In the build-up to the first leg, Xavi re-emphasised the importance of possession. That, he said, will be the key to winning the game. At Barcelona, possession is a matter of pride, of superiority.
Bayern, though, had other ideas. A mere 34 per cent possession spoke more about the Germans on the day than their opponents. They were happy to concede the ball; relying instead on high pressing, clever counterattacking and directness to exploit the opponent's weakness on the wings and in the air. More importantly, not for a minute did Bayern look out of control and less than exhilarating.
Like they've done throughout the campaign, FCB have proven that they have the quality and the all-round personnel to implement different plans for different games with equally positive effect.
Arsenal were crushed by a professional and dominant display of counterattacking, while Juventus were dispatched by clever usage of possession - first, to increase the tempo in the home tie and later, to kill the pace of the match in the away leg.
Come next season, though, will they have a coach who likes to do the same?
This is not to question the undoubted brilliance of one of the best coaches in the world. But in Guardiola's last season at Barcelona, there was a distinct stubbornness to move away from the usual plan and try a different approach to counter teams.
Take, for instance, the defeat in a do-or-die clash against Madrid at Camp Nou. Alexis Sanchez was introduced far too late as a forward to occupy the centre-backs and allow Messi more space, when it was clear not only in the entire game but in a series of matches prior that another forward was virtually a pre-requisite.
Bayern's first two goals in the first leg were not from Guardiola's book of goals, but aerial threat and the deployment of a proper centre-forward has been a key factor in Bayern's dominance. Eilenberger, the German philosopher, had also argued that the likes of Zlatan Ibrahimovic and Samuel Eto'o, who were physically imposing and single-minded strikers, did not stand a chance under Guardiola. So, will a strong centre-forward be done away with again?
There are plenty of other factors - such as the lack of a La Masia style academy in Munich - that suggest Guardiola cannot abruptly change Bayern's style of play. But with the signing of Mario Gotze and the rumoured departure of Arjen Robben, he does seem to be moulding the squad to suit his style.
For a man who preaches idealism, he will be inheriting a team that is dominating Europe with more than a touch of pragmatism. Some claimed that by taking on the Bayern challenge, Guardiola isn't taking on a challenge at all.

And yet, this could be his greatest test - to inculcate artistry without compromising on the savagery and success of this potentially treble-winning German beast.