COMMENT
By Jonathan Wilson
There is a theory, rooted in Sir Alex Ferguson's announcement in 2001 that he would retire the following summer, that if players know a coach is leaving, their levels of discipline and focus wane. Certainly that seemed to happen at Manchester United in that 2001-02 season. It may even hold true in the majority of cases.
And yet there are counter-examples: England's two best performances in major tournaments since 1966 – in 1990 and 1996 - both came when the players knew their coach was going straight afterwards. Chelsea have twice reached Champions League finals, winning one, with a caretaker boss. Jose Mourinho has lifted the Champions League on two occasions with teams he was fairly evidently about to depart (and could do so again this season). Yet the example of Jupp Heynckes at Bayern Munich this season remains extraordinary.
Bayern Munich have already won the Bundesliga in record-breaking fashion. They are 20 points clear of Borussia Dortmund and average almost three goals a game. They will face Stuttgart in the DFB-Pokal final. And they have reached the semi-final of the Champions League, playing thrilling football and administering lessons to Arsenal (in the first leg) and Juventus (in both legs) along the way. And yet Heynckes will not be at the club next season, ruthlessly removed for the supposed greater potential of Pep Guardiola.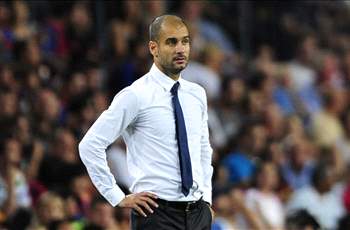 "If Bayern win the treble then it's hard see what Guardiola can add"
If Bayern were to win the Champions League in May, Heynckes would become only the fourth man to lift the tournament with two different clubs. The first time, when in 1998 he ended Real Madrid's 32-year wait for a seventh European title, he lasted four more days before being removed because of poor domestic performances. That seemed a preposterously harsh decision but at least there was a rationale. This time, it is hard to imagine what he could possibly have done better. His greatest fault, it seems, is being 67 in an era in which Guardiola was without a club.
That perhaps is not entirely fair on the Bavarians, who acted swiftly and decisively when it became apparent that Guardiola was available and interested. What he achieved at Barcelona was remarkable. In lifting 14 titles in four years, he implemented a style of football that even Arrigo Sacchi was forced to acknowledge was so tactically innovative, it marked the first new phase in the game's development since his AC Milan won a second successive European Cup in 1990.
Heynckes' contract was due to run out in the summer and last season was marked by narrow failure - runners-up in the league, runners-up in the cup and runners-up in the Champions League. Any club would have wondered whether their coach was lacking the steel to drive his side over the line.
There was no reason to believe that Bayern would be able to use those disappointments as motivation this season, something for which Heynckes must take credit even if he is not solely responsible. But what has been notable about this campaign, more than anything, has been the relentless perfectionism.
When they beat Hamburg 9-2, their director of football Matthias Sammer complained that they had let in two goals from corners. No weakness has been allowed to pass uncorrected. The signings – Mario Mandzukic, Xherdan Shaqiri and Javi Martinez - have strengthened the squad in key areas, not only relieving the pressure on the core of the squad but giving Heynckes options. That Bayern have been able to step up their pressing game this season is down to two factors. Firstly the squad size enables them to rotate more, but also Heynckes can leave out anybody who doesn't perform their defensive function.
Having grown up as a player at Borussia Monchengladbach, one of the bastions of the German school of 'total football' in the seventies, Heynckes has proved the ideal choice to develop the style left by Louis van Gaal, even if the version he played never pressed with anything like the ferocity of the Dutch model.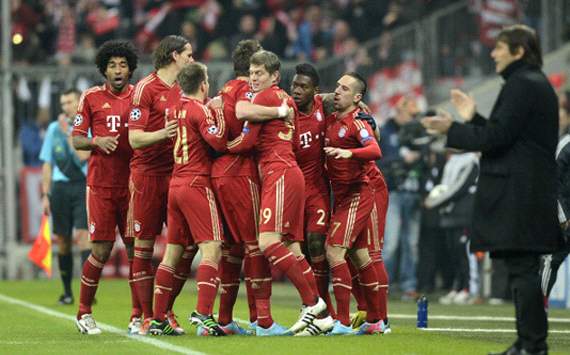 Swept aside |
Heynckes' Bayern taught Juventus a footballing lesson
Perhaps FCB hoped he would drift gently into retirement, but he has made it clear that he intends on prolonging his career further - and that makes Guardiola's position extremely awkward.
If Bayern win the treble, it is hard to see what he can add. It will be the second time he has replaced somebody who succeeded Van Gaal, a coach who he says did more to influence his approach than anybody else he played for. But when he took over the reins from Frank Rijkaard at Barcelona (via Radomir Antic's caretaker stint) he was taking on a side in decline and his first task was to clear out a handful of egos he felt were holding the club back.
Bayern, though, are demonstrably on the up. Having faced accusations all through his time at Camp Nou that anybody could manage players that good within the Barcelona system, Guardiola faces being dogged by allegations that he is simply shepherding Heynckes' team.
That may be unfair, but sustaining somebody else's side at the top is a different challenge to the one Guardiola must have thought he was signing up for, restoring a giant to former glories.
Heynckes, meanwhile, must wonder just what he has to do to keep a job.