COMMENT
By Mark Doyle
The manner of
Juventus
' beating at the hands of
Bayern Munich
last week is reason enough to hold little hope of a dramatic turnaround on Wednesday night, but the loss of Arturo Vidal and Stephan Lichtsteiner to suspension merely heightens the sense of doom and gloom ahead of the second leg, depriving the
Bianconeri
as it does of two of their most influential players.
Vidal is the Italian champions' renaissance man, bailing out his back-line one minute, surging forward in support of his forwards the next. The Chilean is an indefatigable force, a classic box-to-box midfielder who, despite being nowhere near his best in the 2-0 defeat in Bavaria, was one of the few players clad in black and white to offer any kind of resistance in the face of a relentless
Roten
onslaught.
It was Vidal, remember, who took time out from snapping incessantly at the heels of Franck Ribery to unload the only two shots on goal Juventus managed in Munich. Therefore, the significance of his unavailability cannot be overstated.
Still, in Paul Pogba, coach Antonio Conte does at least possess a player capable of softening the blow. The Frenchman has already underlined just why Manchester United boss Sir Alex Ferguson was so frustrated by his departure for Turin last summer with a string of dynamic displays. However, while Pogba undeniably boasts some of Vidal's virtues - wonderful stamina, an eye for a goal - the young Frenchman also betrays some of his failings, with his discipline still a cause for concern for both club and country.
The main problem for Pogba, though, is that not only must he prove an adequate replacement for Vidal, he will also have to take on some of Andrea Pirlo's playmaking responsibilities. The veteran
regista
was suffocated into submission by Bayern's incredible pressing at the Allianz Arena last week, completing just 28 of his 54 passes, thus preventing the visitors from establishing any sort of rhythm or fluidity in their play.
Pogba, therefore, needs to not only protect Pirlo, but, at times, also play like him - given his team-mate is likely to be targeted once again. Encouragingly, Pogba performed the role of playmaker to good effect in Saturday's Serie A success over Pescara. However, whether a 20-year-old can replicate such a display against two of the best midfielders in Europe in what will be his first Champions League start remains to be seen.
Still, while Juve do at least have a player of undoubted world-class potential to call upon to fill the void left by Vidal, they are nowhere near as well stacked when it comes to replacing Lichtsteiner. The Swiss represents one of the finest examples of just how important full-backs/wing-backs have become in the modern game.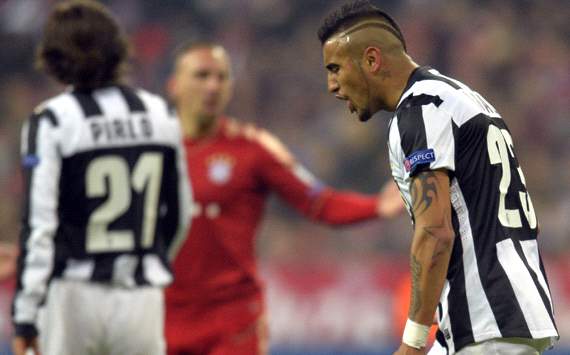 Vidal Void | The Chilean will miss Wednesday's second leg after picking up a booking in Bavaria

With the long-term absence of Simone Pepe having robbed Juve of not only a winger, but also the option of playing an effective 4-3-3, Lichtsteiner has essentially become responsible for the entire right-hand side of the field. He performs the role with remarkable assuredness, so often proving his side's most dangerous attacking threat, while at the same time never failing to neglect his defensive duties. His unavailability is a colossal blow; taken in conjunction with that of Vidal, with whom he dovetails so well, it appears fatal.
Udinese's Mauricio Isla would have made for a decent deputy, but Juventus' version of the same player is merely a pale imitation of the man who shone so brightly for the
Zebrette
. As a result, Conte will put his trust in Simone Padoin, a competent utility player, but little more.
The left flank should be filled by

Kwadwo

Asamoah

, who will be preferred to the more defensive Federico

Peluso

as

Juve

seek to put

Bayern

under far greater pressure out wide than they did in the first leg.
Fielding the attack-minded Asamoah and the limited Padoin will only increase the defensive burden upon the shoulders of Giorgio Chiellini and Andrea Barzagli in terms of attempting to subdue Bayern's wide men, who did so much damage in the first leg. Chiellini should cope but Barzagli buckled under the pressure so incessantly applied by Mario Mandzukic and company in Munich; Juve simply cannot afford a repeat showing in Turin.
Of course, the same goes for the
Bianconeri
as a whole. Too many key players failed to perform last week. Indeed, confirmation that Fabio Quagliarella and Alessandro Matri were playing only came when they were withdrawn. The return of Mirko Vucinic should help in that regard, though, as the enigmatic Montenegrin offers the kind of creativity and guile that were so conspicuous by their absence at the Allianz Arena.
Vucinic has already spoken of Juve's need to go to "war". That may be overstating matters but there can be no doubt that having lost Vidal and Lichtsteiner during the heat of the battle in Bavaria, they have little chance of winning the war should anyone else to go missing in action in Turin.