COMMENT
By Kris Voakes | Italian Football Writer
It has been one hell of a week for Paolo Di Canio. Unveiled as Sunderland's new manager last Monday, he was immediately propelled into a storm of controversy in England when Labour MP David Miliband announced his resignation from the Black Cats' board in protest, citing Di Canio's self-confessed fascist beliefs as a reason to withdraw support.
This Monday evening, seven days on from one of the more extraordinary press conferences ever held to introduce a new manager, Di Canio will be watching on TV as his beloved Lazio take on Roma in a Derby della Capitale which could have massive consequences in the race for European football this season.
The behaviour of Di Canio during his second stint for the Biancocelesti is what most have cited in their castigation of the ex-Juventus and Milan player. There was no firestorm of controversy when he played in the Premier League for Sheffield Wednesday, West Ham and Charlton – at least not for his political standing – yet his return to the English top flight as a boss has had a very different response.
And tonight's fixture is a reminder of just what a polarising figure he can be. While loved by Laziali, he his loathed by Romanisti, and, though he is not the only footballer to have ever fallen under that category, any mention of his name in the capital is generally met with words of a burning passion, whether negative or positive.
After 14 years away from the club he supported as a child, followed as an ultra and served as a young footballer, a 36-year-old Di Canio returned in 2004 to see out his top-level career, yet his two-year stint was anything but a retirement break.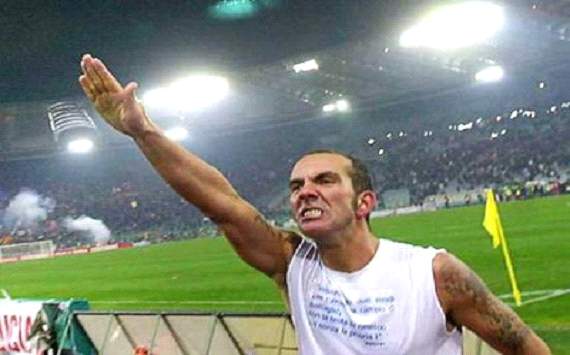 The Roman salute | His gesture, combined with his antics during the match, drew Roma's ire
He walked back into a city which had seen a rare display of allegiance during the previous season, with ultras of both clubs having united to encourage players to call a halt to the Rome derby amid unfounded rumours of the death of a young fan by a police vehicle. However, he would soon help to redraw the dividing line between the two warring factions.
When he came face-to-face with Roma on the pitch for the first time since his return, he immediately found something to crow about and made the most of it. In the 29th minute, he dropped off the back of Philippe Mexes to fire home a volley in front of the Romanista in the Curva Sud, whom he took great delight in taunting as he celebrated. It was a reaction which drew a great amount of criticism in terms of its ability to incite trouble.
He would later earn the Roma fans' ire further by swinging a fist in their direction and shouting obscenities as he was substituted in injury time by Simone Inzaghi, drawing a furious reaction from Giallorossi defender Traianos Dellas. Di Canio's response to the Greek centre-back was to brush past him, embrace Inzaghi and lift three fingers towards the Laziali to signal their impending 3-1 victory.
His use of the Roman salute after the match brought about a serious amount of controversy and a second public display with his right arm aloft against Livorno, known for their left-wing leanings, resulted in a one-game ban and €7,000 fine. Di Canio later said he would not change his inclination for using the salute, stating: "I cannot help saluting this way. It is a feeling of belonging to my people, of belonging to a group that holds true values, values of civility against the standardisation that this society imposes upon us."



If you tell Totti there are tensions in the Middle East, he'll assume that a fight has broken out on the right side of midfield"





- Paolo Di Canio

He received criticism from within political circles though, with many citing the fact the Roman salute had been outlawed since the fall of fascism. And comments of sympathy to Di Canio really didn't wash with Roma fans, further blackening the names of both the player and Lazio in their eyes.
As if Roman salutes were not enough to raise the backs of Romanisti – who themselves are traditionally quite left-wing and comprised of a notable number of Jewish supporters – he also caused consternation by claiming Francesco Totti to be dumb both during his playing days and during stints as a TV analyst.
Once asked his reaction to Totti's claims that he wouldn't sit at the same dinner table as Di Canio, Paolo replied: "That is no great loss because if you tell Totti there are tensions in the Middle East, he'll assume that a fight has broken out on the right side of midfield."
He later castigated the Roma No.10 for reacting to being substituted against Inter in 2010 by storming down the tunnel. Di Canio told Mediaset Premium: "I find it incredible what he did when he was substituted. It was an absolute disgrace. The job of a captain is to stay close to the team. A true leader would have remained on the sidelines and cheered his team on, not to leave your comrades. But he has proven himself selfish."
Totti's delivered a cutting riposte on his personal website, casting aspersions over both Di Canio's politics and his nomadic existence as a footballer. "I understand him," Totti said. "In order for him to make himself noted on television he has to speak about me. On the other hand, he is an expert on flags and has waved many in his short career."



In order for Di Canio to make himself noted on TV he has to speak about me. He is an expert on flags and has waved many in his short career"





- Francesco Totti
Di Canio's latest controversy has impacted little on the Italian press, with their reporting of the English media's reaction sometimes verging on displays of surprise that the Sunderland boss' political views could be used against him in the football fraternity. The head of Italy's coaches' association, Renzo Ulivieri, a confessed leftist, even pointed to the controversy as proof that "the key to the Sunderland issues are that the English mentality is different to ours".
But as the two sides kick-off at the Olimpico this evening and Francesco Totti once more attempts to bring down Lazio and all that they have come to represent at various times in their history, it would perhaps be natural given the events of the past week for the thought of Di Canio to cross one's mind. Except for Sunderland's safety, a Lazio victory in the derby remains right at the top of his wishlist.
Follow Kris Voakes on