SPECIAL REPORT
By Liam Twomey
On Saturday,
Manchester City
produced a performance worthy of
Premier League
champions. Unfortunately though, like most of the good moments in a wretched domestic and European campaign, the 4-0 home routing of
Newcastle
unfolded under a cloud.
Not simply because Manchester United remain destined to win a record 20th league title in May – that has been known for some time now. But rather because the returning hero of the day and his victorious manager could not even bear to make eye contact as he left the field on 73 minutes.
With a simple glance, Vincent Kompany could have erased the doubts but he had no inclination to reassure Roberto Mancini or the wider world that all was well with the manager who had opted to chastise him publicly for electing to make his comeback from injury for Belgium rather than City.
After the match Mancini played down rumours of a rift with Kompany, while bullishly defending his original stance.
MANCINI: KOMPANY WAS OUT OF LINE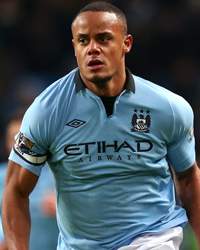 The pair appeared to ignore each other when the centre-back was substituted on Saturday but the Italian has denied a rift despite his annoyance at his appearance for Belgium


"Did I speak to him? No. For what? Vinny knows his behaviour was not good," he told reporters. "He is important for us. I am happy that he played well and played without any problem in his calf. I hope it will be like this for the next two months."
Kompany also defended his corner: "I have taken the right amount of time and I have put in the right amount of work as well," he insisted. "We have a brilliant medical staff at Manchester City and also with Belgium. I have done everything I need to do and more. You can blame me for a mistake I make in a game but that is a different one. You don't choose to be injured."
With any other club and manager, such public discordance would seem strange as well as newsworthy. But at City under Mancini, conflict has become part of the everyday working dynamic.
The Italian, often described as aloof and distant by his players, seems to find it much more difficult to detach himself from his own raw emotions. When he feels the weight of a grievance he invariably feels compelled to share it – with players, staff, officials and even journalists.
THE WRATH OF ROBERTO
Mancini's arguments



Vincent Kompany
Appearance for Belgium


Carlos Tevez
Refusal to warm up as a substitute


Mario Balotelli
Several; sold to AC Milan


Samir Nasri
"I would like to give him a punch"
Those in search of examples do not have to look far or hard. Last season Carlos Tevez was exiled for six months for defying his manager's command to warm up with a view to coming on in a Champions League group stage clash with Bayern Munich. Tevez was widely considered 'the bad guy' but, in the long list of disputes since it is Mancini, and not the Argentine, who has been the constant.
This term, as City humiliated themselves in the Champions League and found themselves being blown away by United in the Premier League title race, Mancini has publicly criticised officials for not giving him the right decisions, his players for not giving him the right performances, and his superiors for not buying him the right players. In short, everyone except himself.
Joe Hart, having lost form and confidence around the turn of the year after a stellar start to the season, was threatened with the bench. Joleon Lescott is already there, seemingly still not fully forgiven or trusted after the error which led to the second of Ajax's three goals in a disastrous Champions League defeat at the Amsterdam Arena back in October.
City's strikers have regularly been panned by the boss for their wayward finishing this season, while after the Newcastle win Samir Nasri was accused of playing at 50 per cent at times this term. Whether right or wrong, Mancini is clearly a man who favours the iron fist over the velvet glove.
This apparent and very aggressive 'one-size-fits-all' approach to player relations has caused both tension and consternation within the squad, particularly as the provocative memory of the peculiarly accommodating treatment of boy wonder Mario Balotelli still lingers.
But in Kompany, Mancini may not have chosen his wisest target. Not only is the Belgian a consummate professional, he is also a leader and idol in the eyes of the fans and many of his team-mates. Since arriving at the Etihad Stadium in 2008, he has become one of the defining symbols of the City revolution, and the sporting embodiment of the club's defiance towards United.
Perhaps insecurity is behind the hostility. Since the arrival of former Barcelona men Txiki Begiristain and Ferran Soriano, Mancini appears to have stepped up his attempts to re-assert his authority, insisting he remains accountable only to chairman Khaldoon Al-Mubarak, and delivering thinly-veiled hints suggesting he would be a sore loss to the club if he were to leave.
Last November he admitted having been in talks with "seven or eight teams", including Ligue 2 free-spenders Monaco, prior to winning the Premier League title with City. On Monday he reiterated that the work he has done has transformed the club: "The club was born more than 100 years ago but as a strong team we were born two years ago."
None of this, however, can change the fact that when Mancini flies to Abu Dhabi to review City's campaign in the company of Al-Mubarak, Begiristain and Soriano, the most he will be able to bring to the table is an FA Cup, along with a season's worth of bad headlines and internal strife. In such circumstances, having four years left on a five-year contract signed last summer is not as impressive or secure as it sounds.
Other factors will also be considered, but one cannot escape the sense that Mancini is not the most natural fit to enact the grand long-term plans Begiristain and Soriano have for City. That Malaga's Manuel Pellegrini and Ajax's Frank de Boer have been talked up as replacements is unsurprising; both are more tactically suitable and less emotionally volatile.
Right now Mancini remains the man in possession. But as he picks fights with his players rather than addressing the issues with those above him, the Italian ignores the battle he most needs to win.