PROFILE
By Liam Twomey
At Stamford Bridge on Thursday evening, one manager will be weighed down by a suffocating air of expectation, knowing that his every decision will be pulled apart and analysed, suspecting that anything less than progression to the
Europa League
quarter-finals could well see him subjected to a barrage of aggressive and uncomfortable questions from a demanding, wealthy and utterly uncompromising owner. The other will be
Rafa Benitez
.
For once, the Spaniard knows that a defeat would not spell disaster for his immediate job prospects. When it comes to Europe, Roman Abramovich has eyes only for the Champions League and qualification for next year's tournament is now all that can salvage a desperately disappointing season for Chelsea.
A Europa League exit at the hands of Steaua Bucharest, while embarrassing, would not make Blues fans any more hostile - or Benitez any more "interim" - than either already are.
BECALI'S BEST QUOTES

On firing midfielder Rafal Grzelak in 2010 because he was bald...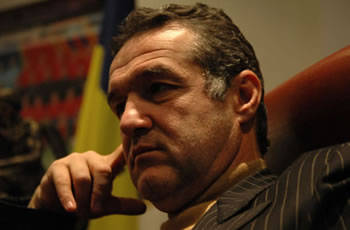 "Did you ever see a bald player to wear the No.10? Tell me, did you? It's impossible! There aren't any great bald football players. Tell me if I'm not right! Name just one!"
On trying to get rid of striker Mihai Costea because his model girlfriend "sucks the life out of him" at night...
"Costea is only thinking about going home and ... you know! How can he concentrate on football? When he's in training camps, you know what he does at night. Goes in front of the camera with her and you know. I'd even pay money for him to go but who'll buy him now? Impossible! I paid some good money for him, I want to get at least half of my investment back! But who'll take him now?"
Live on TV, asked in 2011 about Rapid Bucharest president Dinu Gheorghe referring to Becali's first job as a shepherd...
"What? He is a filthy jerk. A fat bum. I'll force this gypsy back up his mother. I'm tired of him, all his irony and jokes. He forces me to lose control! He's way out of line."
On Chelsea in the first leg...
"They didn't even know where they were. John Terry ... he didn't even know where his hat was! Terry was destroyed, he was like in the movies, in a children's play! I didn't even see Frank Lampard. He didn't even touch the ball! Juan Mata? Pata [Romanian for 'stain']! Eden Hazard couldn't even move. He hazardised!"
But the same cannot be said for his opposite number, Laurentiu Reghecampf. Despite holding a slender advantage from the surprise 1-0 victory that the former Energie Cottbus midfielder masterminded over the European champions in Bucharest on March 7, Steaua remain clear outsiders in the eyes of many to progress at the expense of Benitez's expensively assembled squad.
Not, though, according to the club's outspoken owner, George "Gigi" Becali. "No one in the Europa League can beat us," he boasted after the Chelsea victory. "Only if we go into the Champions League there might be some problems with Real Madrid and Barcelona. The rest ... we're destroying them."
Confident words. But then, Becali is a confident man, which might explain why he also claimed Abramovich "needs a slap or two", and why Reghecampf is the 16th full-time head coach he has employed since assuming control of Steaua in 2003. It is a model with which Chelsea fans are familiar but one which has not yielded much in the way of success; the most decorated club in Romanian football have not won the league title since 2006.
During this barren spell it is Becali, rather than Steaua, who has dominated the headlines. Whether it be cancelling the loan contract of Polish midfielder Rafal Grzelak in 2010 because he was bald – "there aren't any great bald football players," he insisted at the time – commissioning an artist to produce a re-imagining of the Last Supper with him as Jesus Christ or branding a touring Lady Gaga "Satan" last year, the 54-year-old former shepherd rarely fails to provide a memorable story.
His hugely divisive views on society, too, have provoked intense debate inside Romania. Named the country's Homophobe of the Year in 2006 by the LGBT community for offering to personally fund a referendum on homosexuality, Becali banned all Queen records from Steaua's ground on learning of lead singer Freddie Mercury's sexual orientation. On the issue of gender equality, he has been reported as suggesting women "have no more value" after giving birth.
It is perhaps surprising, then, that Becali has managed to enjoy a reasonably distinguished political career in conjunction with his business interests and ownership of Steaua. He served a full term as one of his country's representatives in the European Parliament until December last year and still holds a seat in the Romanian Parliament.
Scandal, though, has never been far away. In 2008 Becali was arrested in possession of a suitcase full of cash and accused of offering bribes to officials as Steaua sought to reel in Cluj in the title race. Both club and owner were eventually cleared of all wrongdoing but the stain of suspicion remained.
A year later he fell foul of the authorities again when, along with four of his bodyguards, he allegedly conspired to have the men who had previously stolen his Mercedes Maybach kidnapped and forced to sign confessions. One suffered the additional misfortune of being shot in the leg during the incident and, last month, Becali was handed a three-year suspended prison sentence.
It seems that Steaua's owner is a man who craves control – a conclusion shared by many of his legion of ex-coaches. Gheorghe Hagi, the club's greatest ever player, claimed that he was "tortured second by second" and "humiliated" by Becali's interfering presence during his time at the helm. During the first leg against Chelsea, executive president Valeriu Argaseala was dispatched from the directors' box to instruct Reghecampf to substitute midfielder Mihai Pintili, who was on a booking.
All this baggage has led more than a few within Romania to question whether Becali is good for Steaua. This season, though, they have little ammunition. As well as their Europa League exploits, Reghecampf's men are 12 points clear in the league, on course for a first title for seven years.
Becali himself will not be present at Stamford Bridge on Thursday evening. A devoutly religious man, he is in Greece on a pilgrimage to Mount Athos. It is regarded as the holiest site in the Eastern Orthodox faith and the 54-year-old often flies there in his private plane to pray before big matches.
But his presence will surely be felt by Reghecampf and his players. The odds are irrelevant; their brief is to progress. Anything less after the first leg and questions will be asked.
Perhaps Chelsea isn't so bad then, Rafa...