COMMENT
By Enis Koylu
And that is the definition of dodging a bullet. It would have taken a miracle for Arsenal to knock out Bayern Munich after the Bavarians claimed a brilliant 3-1 win at the Emirates, yet Jupp Heynckes' side flew dangerously close to that unacceptable eventuality, losing 2-0 with a whimper on their own turf, progressing via the away goals rule.
The performance in London was nothing short of astonishing. They tormented Arsenal, putting them to the sword brilliantly with early goals from Toni Kroos and Thomas Muller. Arsenal have their problems, but to see anyone dominate them so on in London was breathtaking.
With Real Madrid and Barcelona floundering, the title seemed theirs for the taking.
Three weeks on, Bayern had further impressive victories over the likes of Borussia Dortmund under their belts as Arsenal's pursuit of a top-four Premier League finish was given a serious hit by a 2-1 defeat to Tottenham, with their defence in disarray.
And yet, when the two sides met at the Allianz Arena on Wednesday, it was Arsenal who were on top, taking the lead after a matter of minutes. Bayern may have had the territorial advantage throughout, but save an Arjen Robben burst after Muller's pass, they never truly looked like scoring.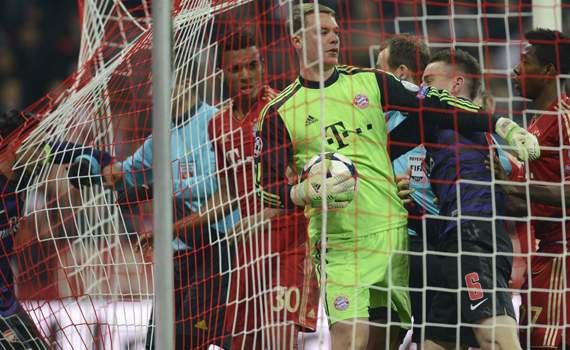 Own-goal | Bayern came precariously close to shooting themselves in the foot
Their performance was lax, their defence poor and midfield anaemic. Kroos skewed several shots high and wide, Mario Mandzukic was a non-entity up front and Luiz Gustavo failed to stake his claim for a first-team place.
Were it not for the former Wolfsburg striker's highly fortuitous strike late on in the first leg, they may well be out of the tournament now.
And, the fact is, Arsenal are little more than an average team these days. A shadow of the sides that preceded them, Wenger's men lack any sort of defensive solidity and attacking brilliance. To cap it all, they were playing a goalkeeper who had not played in 13 months and missing their best midfielder.
Bayern's XI was better in almost every department, yet they could not find a way past them.
Disappointing defeats have become an Allianz Arena hallmark in recent years. Their capitulation against Inter in 2011 after taking a lead back to Germany from San Siro should have been a wake-up call, but complacency struck them once more in the final last year against Chelsea.
The fragility has crept into the national team's fortunes, too, with Bayern's stars delivering a poor performance against Italy in the European Championship last summer when they arguably should have won, before contriving to throw away a four-goal lead against Sweden just a few months ago.
"I don't know if Bayern are ready to win this title. We played against Barcelona on two occasions in recent years, and they are the best team"





- Arsene Wenger

And it could come back to haunt Bayern again. With Real Madrid finally hitting their stride and Barcelona rediscovering their touch, the title of the best team in Europe bestowed onto them after the first leg could well soon be taken away.
For his part, Wenger doubts their credentials as a Champions League winning team. "I don't know if Bayern are ready to win this title. We played against Barcelona on two occasions in recent years, and they are the best team."
The progress they have made in recent years has been extraordinary. They have transformed themselves from a team who failed to beat Bolton to European Cup finalists twice in three years. But they still have huge problems in the psychological department that must be fixed before they establish themselves as the best.
Bayern survived on this occasion. Against better opposition they won't, unless they learn from their mistakes.
Follow
Enis Koylu on