COMMENT
By Husmukh Kerai at Cobham
After
Chelsea
's routine
FA Cup
win at the Riverside,
Rafa Benitez
's comments during his well-publicised rant were calculated and delivered with both eloquence and, by his own admission, passion.
RAFA'S RANTS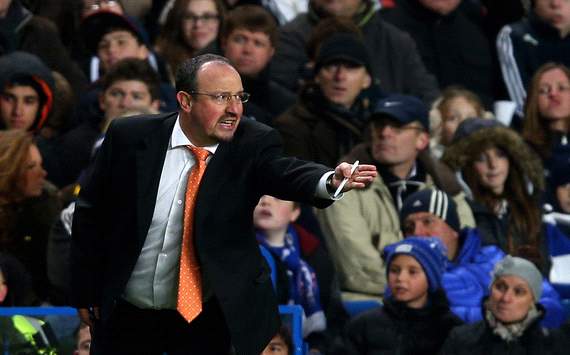 ON TRANSFERS - JUNE 2004
Despite a successful spell at Valencia, Benitez swiftly fell out with the board over transfers famously claiming: "I asked for a table and they brought me a lampshade." His resignation swiftly followed as he headed for Liverpool.

ON SIR ALEX - JAN
2009
"I want to talk about facts," Benitez famously started. Liverpool were top of the league and Sir Alex Ferguson's famous mind games appeared to work as the Spaniard went on to question everything from differing kick-off times to refereeing bias towards Manchester United.
ON HODGSON - OCT 2010
Following his sacking as Liverpool manager that May, Benitez staunchly defended his time at Anfield after the state of the squad was questioned: "A lot of people are talking about the legacy but the legacy is fantastic. [Former managing director Christian] Purslow and [former manager Roy] Hodgson have already changed the squad."

ON MORATTI - DEC 2010

Following a Club World Cup win with Inter, Benitez immediately called on president Massimo Moratti to back him in the transfer market. It was either that or "carry on like this without a project, without planning, and go ahead with one person to blame for the whole season." Moratti opted for a third option and sacked the Spaniard.

ON BOOS - NOV 2012

Since his appointment as Chelsea interim manager, Benitez's reign has been littered with boos by fans irked by the nature of Roberto Di Matteo's departure. His first game in charge was no different, except the Spaniard insisted he heard no such vocal displeasure: "I was not listening to anything. All the clubs are the same, if you win the fans will be happier."

ON ABRAMOVICH - FEB 2013
Following a 2-0 win over Middlesbrough to reach the FA Cup quarter-finals, Benitez vented his anger at the Chelsea fans and owner Roman Abramovich's "massive mistake" to tag him as an interim manager: "At the end of the season I will leave, they don't have to worry about me."

Only two days later, the former Liverpool manager came out to face the media again, this reading from an entirely different script. While he did not go as far as to apologise to the Chelsea supporters whom he criticised, the Spaniard felt - or was perhaps told of - the need to build bridges with the fans ahead of Saturday's visit of West Brom.
"I am part of the team, I need their support," Benitez told reporters at Cobham on Friday, asking for unity between all parties after his divisive outburst had further soured an already strained relationship.
He repeated the line "we are in this together" countless times, to the point where it became obvious that it was a well-rehearsed stance outlined by the club aimed at repairing the damage caused at the Riverside.
If Benitez had delivered a message along those lines on Wednesday, his Saturday afternoon at Stamford Bridge could have been a far nicer experience. Instead, the words that had been aimed at rallying Chelsea's fans ultimately worked against him, adding more fuel to the fire.
The small group of fans who, according to the Spaniard, "wasted time making banners and singing songs" had been growing ever since the 52-year-old's first game in charge. Benitez attempted to curb that grwoth on Wednesday and, while he may have won the respect of some his contemporaries with a passionate delivery, he failed spectacularly in what he actually set out to achieve.
That minority have now morphed into an overwhelming majority. They want Rafa's head on a spike and you can be sure that they will not be shy about letting him about it on matchday.
Benitez, though, not only severed his relationship with those in the stands but also upset the men in the boardroom, whether or not he likes to admit it. His U-turn over the issue - or non-issue, as he now claims - of his tag as "interim manager" clearly illustrates that point.
Again, on Wednesday, his words were clear: "They gave me the title of 'Interim Manager'. It's a massive mistake." But when asked about the same point on Friday, he replied: "In my head, I am the manager; the title doesn't matter, it's fine, it's okay."
The Spaniard cut an authoritative figure in Middlesbrough when he felt that a solid victory had been marred by a group of disruptive fans. Unfortunately for him, all of that authority was unduly yanked from under him with what he was obliged to say less than 48 hours later in a press conference which the club admitted was their busiest in years.
On the pitch, the Chelsea players should have around 15 minutes at West Brom free of a poisonous atmosphere in which to set a positive tone to the day. The manager's situation is so untenable, though, that even an unlikely Fernando Torres hat-trick might not prove enough to spare Benitez from a torrent of abuse from the stands.
If the unthinkable does happen and West Brom do manage to inflict what would be an unfathomably catastrophic defeat over the Blues, the omens do not bode too well for Rafa. Both of his predecessors, Andre Villas-Boas and Roberto Di Matteo, were coincidentally sacked after league games against the Baggies.
The very fact that Chelsea are in a position in which they might consider sacking someone whom they hired in a temporary role whilst they sound out a permanent candidate, in itself highlights just what a ludicrous situation in which the European champions find themselves.
The 52-year-old was visibly drained by the end of his media conference at Cobham when one final question was thrown in his direction.
"You've won the Champions League, you've won league titles. Rafa, why put up with this?" A reporter asked.
Benitez forced a smile and cited his ambition "to win trophies" but his face told a entirely different story. In hindsight, one suspects that he might have rather ignored Roman Abramovich's call last November.
Follow Husmukh Kerai on