SPECIAL REPORT
By Kris Voakes | Italian Football Writer
When talk about secrets to footballing success stories comes up, buzzwords are often thrown around as liberally as the oldest of sporting clichés. Real Madrid? Los Galacticos. Manchester United? Eric Harrison's 'golden generation'. Barcelona? La Masia. For AC Milan, so many immediately point to the leafy Lombardy retreat of Milanello and its famed MilanLab as the reason behind their status as one of the world's top clubs.
But as they prepare to host Barca in Wednesday evening's stand-out Champions League last 16 first leg fixture, the Rossoneri's change of focus to youth deserves some credit. The plaudits that continue to rain down on the Catalan giants for their famous farmhouse production line have clearly been heard over in northern Italy, where the club once derided as a retirement home now boast a hugely successful youth setup of their own.
While 'Milanello' might remain the catch-all phrase for Milan's hard work behind the scenes, the new impetus has largely been fostered 61 kilometres away in the less salubrious south of the city at the Centro Sportivo Vismara, a 230,000 square-metre youth training complex. Under the leadership of the club's Director of Youth Football, Filippo Galli, great strides have been made in the attempt to add a wonderful locally-cultivated future to the Diavolo's glorious past. And a recently-signed new deal with the local curia means that Milan will continue to use Vismara as their hub of youth development through to at least 2022.

Mastour and coach Inzaghi


MATTIA
DE SCIGLIO

Born: Milan
Age when signed: 10

BRYAN
CRISTANTE

Born: San Vito al Tagliamento
Age when signed: 14
HACHIM
MASTOUR

Born: Reggio Emilia
Age when signed: 14
MIHAEL
MODIC

Born: Baja Luka (Bosnia/Herz)
Age when signed: 14
Around €24 million has been spent over the past two years on the continuation of a practice at Vismara which has helped to recruit and develop young players such as Mattia De Sciglio, Bryan Cristante, Hachim Mastour and Mihael Modic. When you consider that Mario Balotelli alone cost around €22m, it is clear why the club would rather spread the cost by catching top players earlier, especially during the Financial Fair Play era.
While De Sciglio, now a first-team regular with 28 senior games under his belt, is one of a large percentage of Milan youths to come through the local system, there has also been an excellent recruitment drive employed by the club all across the world.
The Milan Junior Camps, which take place each summer in various spots in and beyond the bel paese, give the opportunity for players from seven to 17 to train under the tutelage of top coaches, with appearances from former first-teamers guaranteed at most venues. What's more, those who stand out at each camp are then invited to attend an open day in Milan with training at Vismara in front of the Rossoneri's top talent scouts followed by a visit to a home match at San Siro.
And the staff at the club is deeply ingrained with a Milan inflection. Filippo Inzaghi famously now coaches the Allievi Nazionali side, while fellow coaches such as Villiam Vecchi, Davide Pinato and Walter De Vecchi all either came through the Diavolo youth system themselves or were at the club for much of the early part of their careers.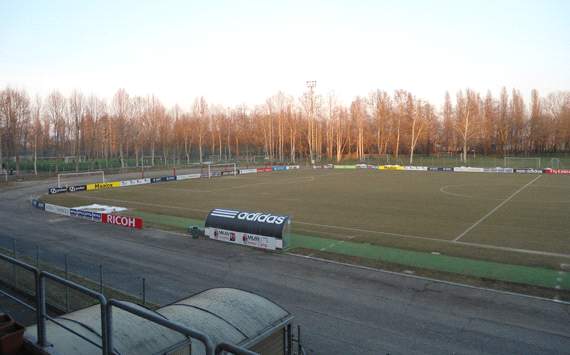 Vismara | Grass, synthetic and indoor facilities cater for all needs
One source close to youth football in the city told Goal.com how the Rossoneri make the most of being such a storied club.
"Milan have a fantastic history to flaunt, and they do it so well," he explains. "Many young players are very keen to follow in the footsteps of players like Maldini and Inzaghi, and when they get to see where they once trained and played it is a big attraction. Also, the added incentive now of possibly being able to work with Inzaghi is a huge temptation.
"Nothing I have seen at Milan has been particularly technologically advanced compared to other clubs, but they certainly are up to scratch in that respect. Above all, they just have a very good network which sells the club superbly. The philosophy seems to be that if they wear the club logo, they automatically carry themselves like champions."
It is this use of the club's homely yet professional feel which often lures in players from far and wide. Cristante was plucked from the north-east province of Pordenone as a 14-year-old and two years later was playing in the Champions League. Mastour, meanwhile, was playing for local club Reggiana before the Rossoneri also snapped him up at the age of 14. While it helped that the club had a good relationship with his agent Dario Paolillo, who had been involved in the deal to sign Kaka, their recruitment network's early detection of talent had also helped to stave off some top European clubs. Further afield, their signing of classy youngster Mihael Modic, now 15 and playing for the Giovanissimi Nazionali side, came thanks to their ability to cast the net abroad too, with his elder brother Andrej also on Milan's books.
Milan is becoming a more attractive club for youngsters as they know that the Rossoneri will back them. This is the first step to creating a great youth sector



- Filippo Galli

Speaking exclusively to Goal.com, Galli himself has explained why they are able to lure such players despite tough competition.
"Milan have to compete with prestigious clubs like Inter, Brescia, Atalanta but also Novara and Varese," explained the former defender. "Now though, Milan is becoming a more attractive club for youngsters as they know that the Rossoneri will back them. This is the first step to creating a great youth sector that can also be transitioned into the first team."
Yet, as Adriano Galliani once famously stated when collecting an honorary masters degree in sports organisation at the University of Parma in 2011, Milan are trying to keep with the times as much as anything.
"It is true that when Demetrio Albertini played for Milan there were 15 local boys in the squad, but we were able to sign Marco van Basten and Ruud Gullit because we could pay more than other clubs. Today, they would go to Real Madrid or to Barcelona."
Galliani added: "Those who have money today buy all the champions even at youth level. Barcelona have a great youth sector, but to play as they do costs €450m a year."
The Rossoneri may not have that kind of turnover, but they are still managing to recruit and develop some of the next generation's great promises. And as long as they continue to use the personal touch and the professional approach of champions past and present, there will be many more of them to come in the future.
Follow Kris Voakes on