COMMENT
By Kris Voakes | Italian Football Writer
Football revels in its derby matches. Arriving at work on a Monday to be faced by fans of your gloating rivals is a pain like no other to the ardent supporter of a team that has to share its city with another club. Whether it be AC Milan against Inter, Manchester City-Manchester United or even a lower-league match-up between local enemies, there is always something special when two neighbours are thrust together.
But the highest highs and lowest lows that are experienced on such occasions are not confined to cross-city clashes. If you are a Fiorentina fan, you know exactly how it feels to rule the roost of an entire city, and yet still have a burning desire to beat one team more than any other in a Serie A season. Local or not, their rivals are Juventus. And to Gigliati supporters, there is nothing more important than Saturday's clash in Turin.
It is 31 years now since the final day showdown which sparked the intense rivalry between the two sets of fans, but there is still no tempering the hurt that Viola fans felt on that afternoon on May 16, 1982. Going into the final day of the season joint-top of the pile with Juventus, Fiorentina looked set to earn a title play-off as they headed to Cagliari on the same afternoon as the Bianconeri visited Catanzaro.
THE VIOLA'S BITTERNESS IN 1982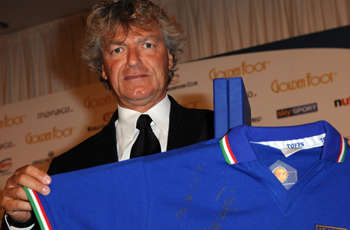 "They have stolen our championship"
- Giancarlo Antognoni
While Fiorentina could only draw 0-0, with a goal by Francesco Graziani having been ruled out by referee Maurizio Mattei for a foul on the Cagliari goalkeeper by Daniel Bertoni, Juve were also at the centre of controversy. First, a strong penalty claim from Catanzaro was waved away, then – with only 15 minutes remaining – Costanzo Celestini blocked Pietro Fanna's shot with a hand, giving the Old Lady a spot-kick of their own.
After a short delay, Liam Brady stepped up to slot home the only goal of the game, despite playing in the knowledge it was his last game for the club due to the impending arrival of Michel Platini. Juve had a 20th title, and with it a second gold star, but Fiorentina fans have never let the bitterness stray far from their minds.
Some suggest the use of the anti-Juventus slogan 'we would rather be second than thieves' was instigated on that day, and Mattei's name is uttered with contempt to this day in Florence, while Viola midfielder Giancarlo Antognoni, who would spend the next two months becoming a national hero by winning the World Cup alongside six Juventus players, claimed afterwards: "They have stolen our championship."
Eight years on, the two sides came head-to-head for silverware once more, this time in the two-legged final of the Uefa Cup. By the time of the opening game at the Stadio Comunale in Turin it was already clear that Fiorentina's star man, Roberto Baggio, was to leave the club, and rumours were rife that Juve would be his destination.
After a goal each in the first half, Pierluigi Casiraghi put Juventus 2-1 up with a goal which arguably should have been ruled out for a push on Celeste Pin in the build-up, and violence broke out in the stands in response. The Bianconeri went on to win 3-1, with the remainder of the match being a torrid, scrappy affair full of bad challenges.
The second leg was played in Avellino due to fan troubles at Fiorentina's semi-final clash with Werder Bremen, but while Juve earned a 0-0 draw which clinched them the trophy, it was the backdrop of the Baggio deal which was catching everyone's attentions.
Within days, 'Il Divin Codino' had been sold to the Bianconeri for a world record fee of 16 billion lire, plus the rights to forward Renato Buso. The sale of the club's biggest asset was galling enough, but the fact he had been sold to the outfit still castigated as thieves proved the tipping point for the Tuscan followers, sparking massive riots all across Florence.
THE VIOLA'S BARREN RUN SINCE 2008


2008-09
2009-10
2010-11
2011-12
2012-13
HOME
D 1-1
D 1-1
D 0-0
L 0-5
D 0-0
AWAY
L 0-1
L 1-2
D 1-1
L 1-2
Saturday
Baggio himself would gain some redemption in the eyes of the Viola faithful the following season on his return to the Artemio Franchi. After refusing to take a penalty which was subsequently missed, Baggio was substituted. Donning a bench coat, he picked up a Fiorentina scarf that had been hurled from the terraces, and as he made his way behind the goal in front of the Curva Fiesole, he received the applause of the fans who had rioted over his departure. It was a move which didn't go down well with Juventini, who remain to this day to one set of supporters Baggio never won over entirely during his glittering career.
Over the years, further players have been sold back and forth between the two clubs, but never gaining the attention that the Baggio deal did. Still, Fiorentina fans would never let the moment they felt they had been wronged be forgotten.
Those feelings came to the surface once more last year, as Juventus' summer-long pursuit of Stevan Jovetic grew to agitate the Fiorentina board and fans in equal measure. With visions of another 1990 in the offing, the Viola money men said no, but the Old Lady would still have a huge say in their transfer movements.
With a deal for Dimitar Berbatov seemingly tied up and the striker's air fare to Tuscany having already been paid, the Bulgarian stood up the Viola amidst a last-ditch bid by Juve to lure him to Turin instead. In the end, Berbatov moved to Fulham, but the Bianconeri's part in the failed transfer continued to rankle long after the closure of the summer window.
Now, the club still awaiting that elusive third Scudetto are eager to record their first win over Juventus since 2008. More than that, they still feel that aching in their hearts every time they see the black and white shirts line up in front of them.
To Fiorentina fans, Saturday's game is about more than three points, while those they refer to as 'Gobbi´(hunchbacks) just love rubbing the Tuscans' noses in it. Another barnstormer is to be expected.
Follow Kris Voakes on