COMMENT
By Enis Koylu
Miroslav Klose
's withdrawal from the
Germany
squad to face
France
on Wednesday, coupled with
Joachim Low
's decision not to call up a recognised striker in his place, brings with it a rare guarantee - that
Mario Gomez
will start a match.
Just 12 months ago, it seemed inconceivable that the Bayern Munich star would find himself frozen out of the first team at the Allianz Arena, indeed, he would have undoubtedly welcomed the signing of Mario Mandzukic at the club in order to take some of the considerable strain off his shoulders.
Arguably the biggest reason for Bayern's failure to secure a major trophy last season was the lack of depth in their ranks. And no player would have borne the brunt of that more than Gomez, given Nils Petersen's failure to provide credible back-up to him.
In total, he played a stunning 52 games in all competitions for Bayern, and although they yielded a more-than-respectable 41 goals, by the time the business end of the season came along, he was exhausted when it mattered most as his side ended up empty-handed after promising so much on three fronts.
Still, with Bayern's shortcomings behind him, he had the chance to announce himself on the world stage at Euro 2012, but once again, he was found wanting. Despite being joint-top scorer in the tournament at the time, he was hauled off at the internal in the semi-final against Italy in favour of Klose.
To cap what was ultimately a torrid few months for the player, he was denied the golden boot in Poland and Ukraine by Fernando Torres' late goal and assist in the final when Italy had long since given up against Spain.
MARIO GOMEZ | ALL-TIME BAYERN STATS

MORE ON
MARIO GOMEZ


| | | | | |
| --- | --- | --- | --- | --- |
| Season | League Games | League Goals | Total Games | Total Goals |
| 2009-10 | 29 | 10 | 45 | 14 |
| 2010-11 | 32 | 28 | 45 | 39 |
| 2011-12 | 33 | 26 | 52 | 41 |
| 2012-13 | 8 | 2 | 11 | 4 |
| Total | 102 | 66 | 153 | 98 |
Despite his undoubted pedigree, and formidable goalscoring record, he was being criticised from all angles. He may have scored twice against Portugal, yet Mehmet Scholl, a then-Bayern coach offering his views for
ARD
,
claimed Gomez "may have got bedsores", so little did he move
.
Months later, club president Uli Hoeness, the man who helped bring him to the Allianz Arena,
claimed Gomez was "good, but not very good"
. That said, he would almost certainly have begun the season as first-choice striker, were it not for the ankle surgery he required in August.
Ironically, if he had had Mandzukic for cover during 2011-12, Gomez may never have picked up the injury which has cost him so dearly. In the event, the Croat performed admirably in his stead as Bayern produced a record-breaking start to the season.
Gomez would, by no means, be the only person to find his demotion surprising.
Goal.com
Germany
's Falko Bloding explains: "If someone had said a year ago that Mario Gomez would be a bench-warmer at this point in the season, I would never have believed it.
"But that is exactly what he is, and it is not easy for a striker who scored as many as he has in recent years. He can count himself the victim of bad luck; that he is not in the team is purely down to his injury and Mandzukic's surprising form."
Nonetheless, when Gomez marked his comeback in November with a goal within seconds of coming off the bench against Hannover, and Mandzukic's form began to wane before the winter break, it seemed the German would have his place in the first team back when Bundesliga action resumed.
It was not to be. Mandzukic has now confirmed his status with five goals in three league games since the turn of the year. Barring a drop in form or injury of his own, he will retain his place.
Bloding expects that Gomez will deal with the problem stoically. "He accepts his situation now and understands that the coach has no reason to change the team," he noted. "With Bayern's schedule clogging up in the next few weeks, he can displace Mandzukic, just as he did with Ivica Olic."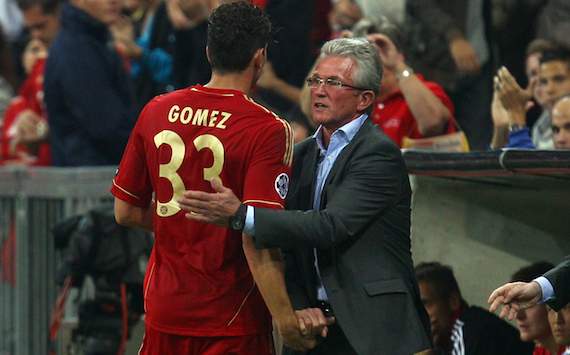 Cold shoulder | Gomez has spent more and more time on the bench this season
Gomez certainly has all the ability to take any opportunities that come his way, but come the end of the season, a new threat to his
Roten
career looms.
The arrival of Pep Guardiola in the place of Jupp Heynckes on the Bayern hot-seat has inevitably brought with it a wave of speculation as to how he will use the club's coffers to institute his unique brand of football.
While some of the names mooted with a move to Bavaria seem about as likely as the jokes doing the rounds that Toni Kroos will be used as a false No.9, there are questions about how Gomez would fit into the former Barcelona boss' plan.
At Camp Nou, strikers were famously incompatible with his system. Samuel Eto'o was moved on after a year of his tenure, with Thierry Henry frozen out during his final season at the club. As for Zlatan Ibrahimovic, his differing style of football will have contributed to his 'failure' in Catalunya as much as his dissenting personality.
Bloding, though, is confident Gomez can overcome any tactical challenges the 42-year-old might bring with him. "People say he won't fit into Guardiola's system. But Pep is clever enough to know he is not at Barca any more.
"It would be no surprise if Gomez proves his doubters wrong and establishes himself as the No.9 once more."
Gomez is now facing a career-defining few months. The times are changing at the Allianz Arena, and as Bayern look to give Heynckes the fitting end to his illustrious career, the German hitman can re-establish himself as top dog.
With three months left in the season, the time has come for him to make up for his shortcomings on the big stage last year, and prove to everyone that there's plenty of life in him yet. This starts on Wednesday night as a German side aim for their first win over France for 26 years.
Follow
Enis Koylu on