After last week's reintroduction following the winter break, the Bundesliga is back in full swing, and matchday 19 saw yet more pulsating action in Germany's top flight. Borussia Dortmund and Bayern Munich marched on at the top, while Hamburg and Hannover claimed derby wins, and all four are represented in
Goal.com
's team of the week.
In goal, we have
Ron-Robert Zieler
of H96, who fended off wave after wave of Wolfsburg attacks at the AWD Arena in Saturday's local derby.
Two BVB players are represented in the back three -
Lukasz Piszczek
, a constant threat down the right wing, and
Mats Hummels
, who was his usual composed self as the champions beat Nurnberg 3-0 at home. Meanwhile,
Fallou Diagne
helped stave off Bayer Leverkusen's in-form attack as Freiburg claimed a credible point.
Another two of Jurgen Klopp's troops man the midfield -
Jakub 'Kuba' Blaszczykowski
scored two goals in a matter of minutes on Friday, while
Ilkay Gundogan
barely put a foot wrong in the match. Elsewhere,
Juan Arango
and
Koo Ja-Cheol
shone for Borussia Monchengladbach and Augsburg respectively.
The front line all found their names on the scoresheet this weekend.
Son Heung-Min
starred for Hamburg in the 3-2 derby win over Werder Bremen,
Mario Mandzukic
justified Jupp Heynckes' faith in him with by playing a leading role in Bayern's win over Stuttgart, and
Adam Szalai
added another two goals to his tally for the season as Mainz beat Greuther Furth.
ZIELER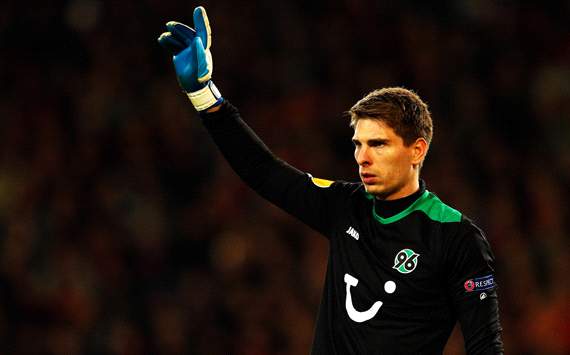 HANNOVER
vs Wolfsburg (H)

Rating:




TOTW Apps: 1
PISZCZEK

DIAGNE

HUMMELS

DORTMUND
FREIBURG
DORTMUND
vs Nurnberg (H)

vs Leverkusen (H)


vs Nurnberg (H)

Rating:
Rating:
Rating:

TOTW Apps

: 2

TOTW Apps

: 2

TOTW Apps

: 5
KOO

BLASZCZYKOWSKI
GUNDOGAN

ARANGO

AUGSBURG

DORTMUND


DORTMUND



GLADBACH
vs Schalke (H)


vs Nurnberg (H)

vs Nurnberg (H)

vs Dusseldorf (H)

Rating:
Rating:
Rating:
Rating:

TOTW Apps

: 1

TOTW Apps

: 2

TOTW Apps

:

2




TOTW Apps

: 3
SON

MANDZUKIC

SZALAI


HAMBURG



BAYERN

MAINZ

vs Bremen (H)
vs Stuttgart (A)

vs Furth (A)

Rating:
Rating:
Rating:

TOTW Apps

: 2

TOTW Apps

: 2

TOTW Apps

: 2