ANALYSIS
By Oliver Platt
In beating
Manchester United
last September,
Andre Villas-Boas
has already achieved one thing that
Harry Redknapp
never did in his time at
Tottenham
. No Spurs manager, in fact, had outsmarted
Sir Alex Ferguson
since Glenn Hoddle in 2001, when Dutch winger Willem Korsten scored twice in a 3-1 victory at White Hart Lane.
On home turf, United had proved even harder to topple. Terry Venables was in charge when, in December 1989, Spurs beat the Red Devils at Old Trafford after Gary Lineker scored a rare goal from outside the penalty area. That season was also the last in which they completed a league double over United. They even saw them off a third time in the League Cup for good measure.
The stars aligned for Spurs when they snatched a 3-2 victory this season but that is to take nothing away from the way in which Villas-Boas' team inflicted the only blemish on United's otherwise flawless league record at home. They were well organised, menacing on the break and able to withstand a much-improved second-half display inspired by the half-time introduction of Wayne Rooney.
HOW SPURS CONQUERED OLD TRAFFORD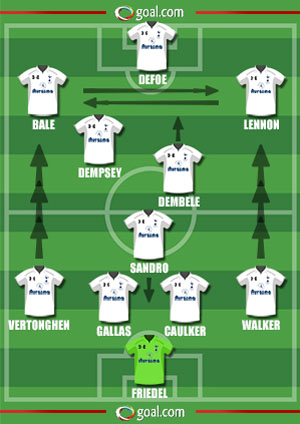 Sandro & Dembele offered a platform in midfield while Defoe's clever runs made space for Bale & Lennon
Spurs may have been hoping to be fortunate enough to escape Rooney again for at least a portion of Sunday's rematch but the England striker completed 90 minutes upon his return from a knee injury against West Ham on Wednesday.
Prior to his arrival, United had struggled to find a way through to Brad Friedel as Mousa Dembele and Sandro shielded a back four of Kyle Walker, William Gallas, Steven Caulker and Jan Vertonghen.
Shinji Kagawa started in Rooney's position behind Robin van Persie but is known more for his energy and ability to chip in with goals than his creativity. Ryan Giggs looked a shadow of the player who impressed against Sam Allardyce's team in midweek, while Nani, on the right wing, scored a second-half goal engineered by Rooney but otherwise struggled to get the better of Vertonghen.
Rooney's absence aside, the key to Tottenham's defensive success was the platform offered by Dembele and Sandro, who congested space effectively and cut off the supply to Van Persie. The former's ability to carry the ball was a particularly useful weapon in the transition from defence to attack. Ahead of the two central midfielders was Clint Dempsey.
In United's last Premier League match, against Liverpool, Brendan Rodgers flipped that midfield triangle, selecting Lucas Leiva behind Joe Allen and Steven Gerrard. As the latter pair tried to support striker Luis Suarez, Lucas was frequently left isolated in dealing with United's fluid movement in the opposition half. Furthermore, Gerrard and Allen's access to Suarez was blocked by Michael Carrick and Tom Cleverley, who find it easier to intercept passes than tackle dribblers.
When Daniel Sturridge was introduced, Liverpool improved vastly and in attack moved closer towards Tottenham's hugely effective approach. From the flanks, Gareth Bale and Aaron Lennon had driven inside to great effect while Jermain Defoe peeled into wide areas. In this way, all three players were asking questions of centre-backs Rio Ferdinand and Jonny Evans and their ability to deal with pace, which has frequently been questionable this season.
Liverpool's speed was provided by Suarez and Sturridge. Suarez darted in from the right to create the space for Andre Wisdom to overlap and advance on David de Gea but he could not control his shot. Sturridge on more than one occasion received the ball after moving outside his marker but chose to shoot from a difficult angle rather than look for a team-mate as Defoe had done.
Defoe was not on the scoresheet at Old Trafford but his influence was invaluable. For Tottenham's second goal, he pulled Evans out of position with a run to the left to allow Bale to attack Ferdinand. Now 34, the centre-back was no match for the Wales international and could not stop him from continuing his run to shoot past Anders Lindegaard.
Later, Defoe floated out to the left wing again, drawing out Ferdinand and holding off the defender before picking out Bale with a superb through-ball. Anders Lindegaard stopped his shot but Dempsey pounced on the rebound.
In the first half, Vertonghen had given Spurs the lead with a brilliant run that was admittedly poorly defended by United. On that occasion, Bale had come deep to receive a pass, drawing Rafael high up the field - and again leaving the centre-backs exposed.
Whether it is Ferdinand, Evans or Nemanja Vidic in central defence on Sunday, Spurs have the potential to cause problems on the counterattack by isolating those defenders. Carrick, too, will find it difficult to stop those players from advancing at pace, while Rafael and Patrice Evra are eager to attack and often questionable in their positioning.
Emmanuel Adebayor's absence at the Africa Cup of Nations may prove a blessing in disguise, as it makes the decision to revert to 4-2-3-1 from 4-4-2 an easy one for Villas-Boas. If Spurs can replicate the dynamism and fluidity which they showed when turning defence to attack earlier this season, the Portuguese could take another significant step in erasing the memory of his ill-fated spell at Chelsea.
Follow Oliver Platt on