COMMENT
By Mark Doyle
When
Riccardo Montolivo
left
Fiorentina
for
AC Milan
last summer it felt like an overdue step forward for the talented
Italy
international. Six months on, it has the look of an ill-advised move. Friday's news that the
Viola
are poised to add
Giuseppe Rossi
to their ranks only reinforces the perception that while there has been a recent resurgence in Milan, there is a renaissance taking place in Florence.
Montolivo, of course, can be forgiven for abandoning a club that ended last season in acrimony, with Delio Rossi having been dismissed as coach with two games to go after an astonishing touchline dust-up with forward Adem Ljajic. Worse still, rumours abounded that star forward Stevan Jovetic was destined to join champions Juventus.
However, club patron Andrea Dalle Valle refused to entertain offers for the Montenegrin, while
Viola
chairman Mario Cognigni successfully persuaded the forward to reject the Old Lady's advances. Perhaps more significantly, Dalle Valle acquired a new sporting director, Daniele Prade. The latter had spent over a decade at Roma before being gradually forced out by new owner Thomas DiBenedetto and was determined not to make the same mistake as his former employers in ignoring the obvious coaching capabilities of Vincenzo Montella, who had been twice passed over by the
Giallorossi
, first in favour of Luis Enrique in the summer of 2011 after a short stint at the Olimpico as caretaker coach, and then Zdenek Zeman 12 months later.
SOME OF FIORENTINA'S SUCCESS STORIES

BORJA VALERO



A Real Madrid academy product who had a spell in England with West Brom before returning to Spain, Valero was signed from Villarreal last summer.

GONZALO RODRIGUEZ



Another player prised away from El Madrigal, Rodriguez has impressed in Serie A, forming a fine central defensive partnership with Roncaglia and Savic.

ALBERTO AQUILANI



Repeatedly written off because of injuries, the Italy midfielder has returned to the form which persuaded Liverpool to pay over €20 million for him in 2009.
Prade had overseen a
Scudetto
success during his time at the Stadio Olimpico, while Montella had established himself as one of Serie A's most exciting young trainers during a stellar season at Catania, but the pair had a difficult job on their hands. Yes, Dalle Valle had promised them money to spend, but their task was to overhaul a squad that had finished 13th the season before
almost completely
, and then hope that the numerous new recruits would gel quickly enough to keep them both in a job. As Atletico Madrid used to underline so regularly, radically revamping a side every year is more likely to lead to chaos than cohesion.
The identity of those who departed was also troubling. Indeed, the defections of first-team regulars Alessandro Gamberini and Valon Behrami to Napoli hit hard, given the
Viola
had already lost their captain, Montolivo. However, Prade recruited incredibly shrewdly during the transfer window.
Borja Valero and Gonzalo Rodriguez were rescued from the sinking submarine that was Villarreal and both are already in contention for the accolade of Serie A's signing of the season. Fiorentina also took a punt on the dreadfully injury-prone Alberto Aquilani and the seemingly shot Luca Toni, but both have played a key role in the
Viola
's remarkable revival. The 33-year-old David Pizarro also looks like a player reborn, Facundo Roncaglia is one of the better Bosman signings in recent years, while Matias Fernandez has settled in supremely well following his move from Sporting. Juan Cuadrado, on loan from Udinese, has done so well that Prade has already confirmed that the club will be taking up their option to acquire a 50 per cent stake in the versatile wing-back next summer.
Ultimately, Fiorentina began the 2012-13 campaign with a squad of 26 senior players, 17 of whom had not been at the Artemio Franchi the season before. That they have gelled so quickly is testament to the success of Prade's recruitment policy and Montella's man management.
The former rather modestly claims that there was not all that much to it. "We chose the players that would suit Montella's ideas. The coach can do as much as he wants, but if he doesn't have the right players ... We took players who knew each other well: boys like David Pizarro, Alberto Aquilani, Borja Valero etc. If you start with the right basis, then a squad is a lot easier to build."
Still, the job that Montella has done in propelling Fiorentina into contention for a Champions League place – and the speed at which he has done it – should not be underestimated. As former Fiorentina boss and current Italy coach Cesare Prandelli pointed out, the improvement in his old side's fortunes has been as dramatic as it has been rapid. "Montella has managed to get Fiorentina playing some quality football, implementing his ideas in a very short space of time," the
commissario tecnico
enthused last month.
Meanwhile, new captain Manuel Pasqual has repeatedly praised Montella for completely changing the whole atmosphere within a dressing room that had been in disarray. "Montella has brought peace," the veteran full-back explained earlier this season. "He puts everyone on the same level: young players and experienced players. The boss has brought serenity to the squad."
Of course, the vultures are already circling, with Milan CEO Adriano Galliani rather ominously musing in November: "Montella gets his teams to play good football, the same brand that president Silvio Berlusconi likes and which, since 1987, took us to the top of the world ..."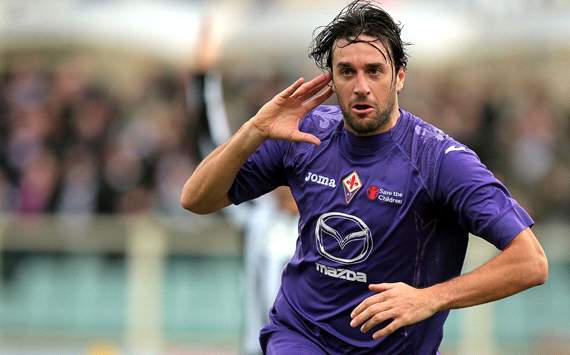 Toni Transformed | The veteran striker is enjoying an Indian summer in Florence
However, with such an exciting project still only in its infancy, and nothing of note yet achieved, why would Montella consider leaving Fiorentina for a Milan side still in transition? In addition, would the Rossoneri really have much chance of persuading Fiorentina to let the former forward leave? Dalle Valle craves stability. The Viola, after all, went through coaches two last season so it came as no surprise that just two months into the current campaign it was already being reported that they were considering offering Montella a contract extension. Dalle Valle stood firm when Juve came sniffing around Jovetic last summer; why would he react any differently now that Milan are seemingly courting his coach?

Indeed, one imagines that all and sundry at Fiorentina are currently fully focused on sustaining what has been a remarkable season so far. Certainly, the acquisition of Giuseppe Rossi certainly suggests this is the case. Yes, there are serious doubts over the long-term health of a player who has ruptured the same anterior cruciate ligament twice. However, this is a forward who was once being lined up by Barcelona to replace David Villa, and let us not forget that Juventus were also said to be considering a loan move for Rossi this month. Of course, the versatile 25-year-old attacker will not be fit until March so how big a role he can play in their push for a Champions League place is unclear. But, in reality, it's a moot point.

Rossi has been signed with the future in mind. This is a statement of intent by Fiorentina. It is a sign that they are thinking long-term, that they know full well that with Milan, Inter, Napoli, Lazio and Roma all currently incapable of challenging Juve's Serie A supremacy, they have an excellent opportunity to secure a return to the Champions League and, in turn, reestablish themselves as a major force in Italy for the first time since the glory days of Gabriel Batistuta & Co.

As Giovanni Galeone mused: "Montella is the best emerging boss in the Italian game and the Viola can aim high with him at the helm." In other words, the sky's the limit for 'The Little Aeroplane' and his exciting Fiorentina side.