COMMENT
By Kris Voakes | Italian Football Writer
A lot has happened since May 20. We had the 30th Olympic and 16th Paralympic Games in London, Felix Baumgartner hurtled through the sound barrier from 39 kilometres above Earth's surface, Silvio Berlusconi was sentenced to a prison term after being found guilty of fraud, Hurricane Sandy ripped its way through North America and the Caribbean, and there was a solar eclipse in Australasia.
But while the world has continued to go about its daily business in the past six months, Antonio Conte has not once been able to coach Juventus from the touchline in a competitive fixture. Since seeing his side go down to defeat in the Coppa Italia final on that Rome evening against Napoli, the Puglia-born boss has seen his name dragged through the mud as part of the Calcioscommese investigations, with the decision to ban him from matchday activities for 10 months – later reduced by 60 per cent – sending him through the toughest spell of his career.
The nightmare is over though. Saturday marks the end of his four-month suspension, meaning that Sunday's trip to Palermo will witness Conte's first visit to pitch level since pre-season. The last time he stood in the technical area in a league game, he left it carrying the Scudetto. And while Juventus haven't exactly struggled in his absence, with Champions League progression having this week been added to their status as Serie A leaders after 15 rounds, they will be delighted to see their inspirational leader return to full duties.
THE OTHER GUYS | How Conte's replacements managed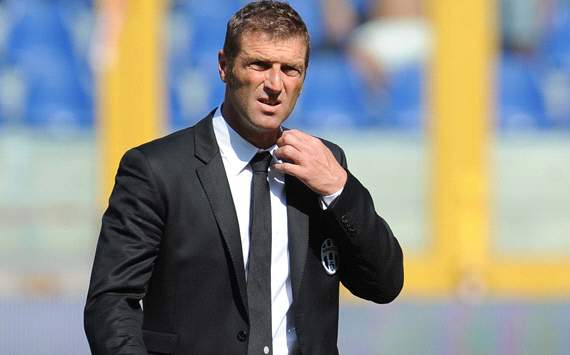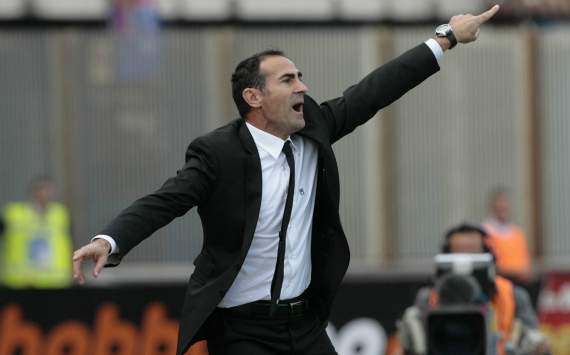 MASSIMO CARRERA



GAMES: 10

WINS: 7

DRAWS: 3

LOSSES: 0

GOALS FOR: 24

GOALS AGAINST: 9

WIN PERCENTAGE: 70%

ANGELO ALESSIO



GAMES: 12

WINS: 8

DRAWS: 2

LOSSES: 2

GOALS FOR: 24

GOALS AGAINST: 7

WIN PERCENTAGE: 67%
His ability to still coach the team during the week from the training ground has without a doubt softened the blow of his suspension, and as such he has remained the mastermind behind their excellent campaign to date. But a squad which has been built on their coach's drive, determination, motivation and will to win, will take heart from the knowledge that they can glance to the touchline and see him kicking every ball with them going into the second half of a season that they hope will make a real statement all across Europe.
"It's everyone's title, but above all Antonio Conte's," said director general Giuseppe Marotta after the Scudetto triumph in May, and this week he had a similar message. "We're delighted to have gone through in Europe as it allows Conte to experience the Champions League."
They coped well enough in his partial absence, most notably during Massimo Carrera's spell as matchday coach, but while victories against Genoa and Napoli came on the back of key substitutions made by Carrera and his successor Angelo Alessio, the Bianconeri have largely won games thanks to the platforms constructed by the 11 players Conte has worked out plans with at Vinovo each week. "We have always trained well, because the coach is always present and the team responds to his suggestions," said goalkeeping coach Claudio Filippi earlier this term.
Despite his switch from 4-2-4 to 4-3-3 to 3-5-2 last season, it was clear to many that the main reason for his impact on the club came not in his tactical or technical input, but in his leadership and motivational qualities. The now famous video of his speech at Vinovo demanding his players "spit blood until the end of the last game" typifies much of what those around the club relate to when asked about Conte's coaching style.
"We have always trained well, because the coach is always present and the team responds to his suggestions"





- Claudio Filippi

"We can talk of formations and numbers, but it's always about working," said the coach to Sky Sport after winning the title last summer, and he was hailed by Claudio Marchisio moments later.
"He arrived with very clear ideas, gave us identity and got the whole team working together," said the midfielder. "We all followed him in the best manner, and that's what made this dream happen."
Even Jose Mourinho, famed for building a strong group mentality within his squads more than for his footballing brain, agreed with the assertion that Conte is cut from the same cloth. "Conte is the Italian Special One? I like that," said Mourinho. "I feel honoured. He is a bit like me. I like Conte a lot as a coach. He knows what he wants and is a real winner. He has a lot of charisma."
Juve director Pavel Nedved can't wait to see Conte back on the touchline. "On Sunday, a champion returns to our bench,"" said the former winger this week. "Conte has suffered, but now I want to see everyone standing shoulder to shoulder. Also for the squad, because they deserve so much for how hard they are working. Straight after the victory against Shakhtar, the players were already thinking ahead to Palermo, and that's the mentality you need if you are to win the Scudetto.
"It depends on us now. In today's football you cannot stop for a moment."
That final sentence could almost have come from Conte's own mouth. His focus on working hard for every second of every game has seen his side dominate games with high-energy, gutsy, team-oriented football since the day he walked back into Vinovo in the summer of 2011.
And now, as he regains full control, shouting, screaming and kicking every ball, he will surely only have more desire and more motivation to take himself and Juventus even further down the road to redemption.
Follow Kris Voakes on