COMMENT
By Robin Bairner
With
Jose Mourinho
reportedly unsettled with
Real Madrid
, despite doing his best to dispel such talk, and Pep Guardiola out of work, the media is braced for the two great coaches to go head-to-head once again, though, not in the dugout, but in the race for the
Paris Saint-Germain
job.
Throw in Arsene Wenger, who is experiencing an unprecedented period of problems with Arsenal, and it will be a formidable three-way scrap for the role at Parc des Princes.
Of course, while Carlo Ancelotti retains his job in Paris this is little more than a press fantasy, but with each passing day it comes a little closer to reality.
The back story is familiar. In May 2011, PSG were taken over by Qatar Sports Investment (QSI), who hold ambitions for the Parisian outfit to become one of the most powerful in Europe. Money has been piled into the club, with Zlatan Ibrahimovic and Thiago Silva arguably the two highest-profile captures in a shopping spree exceeding €200 million in less than 18 months.
Success, however, has yet to follow, with underdogs Montpellier beating
les Rouge et Bleu
to the Championnat crown last season.
This term the picture is a little rosier. Olympique Lyonnais, Olympique de Marseille and Saint-Etienne - all of whom have ran transfer surpluses this campaign - find themselves perched above PSG in the Ligue 1 standings, despite being forced to trim their squads over the last six months.
If football was played out on weight of finance alone,
les Parisiens
would be crushing their opposition, but as Manchester City, Zenit St Petersburg and Chelsea have discovered this season, rarely does the game run so predictably. Nevertheless, this harsh reality is not to the taste of wealthy owners.
All of Europe's big summer spenders have had their moments of crisis this campaign, and now PSG must face theirs, with Ancelotti's head in the guillotine.
The manner of the weekend defeat in Nice was anaemic to say the least, and as the capital outfit suffered a third league loss in five, critics were quick to pounce on the familiar failings. Once again PSG had lacked verve and drive in a midfield seemingly more orientated towards solidarity than entertainment or enterprise, leaving the forward three isolated and apparently expected to act as a unit of their own as opposed to part of a unified outfit.
Ancelotti's post-match press conference was telling and his remarks cutting: "At the moment the whole team annoys me," he fumed to the press, having previously talked of "radical solutions" and a "lack of responsibility" on the part of the players.
In taking a swipe at the team, however, he also revealed personal weakness as he discussed the need to "find good combinations". Four months into the season - and three since the close of the transfer window – he should really have a better idea of how to cohesively mould his troops into a functioning unit.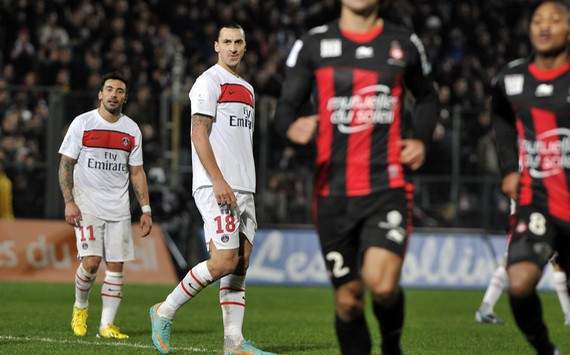 Not so Nice |
Saturday's 2-1 reverse was PSG's third in their last five Ligue 1 outings
Indeed, PSG fans could be forgiven for thinking that it is they who have been landed with Claudio Ranieri and his 'Tinkerman' reputation, as Ancelotti's team selections have made the Monaco boss look consistent and predictable.
Of course, at the top level squad rotation is now inevitable, but with half the team changing on a match-by-match basis and the captaincy being tossed around like a worthless rag, is it any wonder the side looks disjointed and uncertain?
Losing is one thing, but doing so in an ugly manner that is perceived to be defensive and dull is another altogether – particularly when so much is expected.
It could even be argued that 'Carletto' has taken PSG backwards. When Antoine Kombouare was sacked little over a year ago, he had his side top of the league, yet he was not the big name that QSI required to lead their project and he was callously dispensed with.
Kombouare was sacked at Christmas, and over the course of the next three weeks it seems that Ancelotti will also be playing for his future. If
les
Rouge et Bleu
have not closed the gap on Lyon by the winter break, the Italian is expected to be the latest victim of QSI's ambition, and with several other high-profile coaches uncomfortable in their present roles, this could prove an opportune time to act.
Follow Robin

Bairner

on