ANALYSIS
By
David Lynch
Manchester United
's
3-1
victory over
QPR
helped continue this season's overarching theme for the Red Devils of going behind but ultimately winning.
Sir Alex Ferguson's side have been accused of simply using their firepower to overcome opponents this term and, with a squad that boasts Wayne Rooney, Chicharito and Robin van Persie, that has at times been a fair argument. The 70-year-old certainly has a tough ask in choosing between his in-form attacking options, meaning he generally has plenty of strength in reserve on the bench should things go awry.
But there was a marked difference with regards their come-from-behind success against the manager-less west London side on Saturday afternoon in that it was in midfield, rather than up top, where the game-changing alteration occurred.
UNITED'S SUPER SUB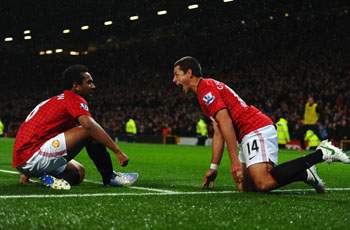 HOW ANDERSON RATED VS QPR





Entirely changed the game. His physicality in midfield pushed United on following his introduction and his assist for Chicharito's goal was top class.
It had been an area in which QPR had been particularly impressive, with Alejandro Faurlin and Shaun Derry providing an obstinate wall of determination and intelligence in front of the back four and breaking up attacks with consummate ease. Then, on came Anderson, and flipped the battle on its head.
The Brazilian arrived on the hour mark with his team losing 1-0 courtesy of a Jamie Mackie strike but left the pitch having orchestrated a 3-1 victory.
When observers point out the differences between Anderson and the man he replaced, Paul Scholes, they are often doing so to contextualise a criticism, but, against QPR, the fact he little resembles the 38-year-old on the pitch was his greatest asset.
Though Scholes rarely wasted a pass, the Englishman struggled to provide urgency for the hosts. Anderson, with his physicality and energy, immediately changed that, and with it the flow of a football match which was threatening to provide a shock result.
His 30-minute cameo was a glimpse at exactly why the club shelled out £18 million to bring him to Old Trafford from Porto back in 2007, and a window into what still might be. Darren Fletcher, despite scoring an important goal on his way back from injury, is still some way from his best, whilst Scholes' age is an oft-referenced reality which United will one day have to come to terms with.
Another of Anderson's midfield challengers, Tom Cleverley, still also seems some way short of proving himself as Scholes' long-term successor, as had been hoped.
Of course, injuries have largely unsettled Anderson's time in Manchester, leading to him being underused by a manager keen not to unsettle his usually functional midfields. But this season it is hard not to feel that at some point United will find that their wealth of attacking talent is not enough to see them through, particularly in European competition.
That is why handing Anderson further responsibility could be vital to the club's hopes on all fronts this term. And that his manager clearly noticed his impact can have done little harm to the chances of that happening, too. "Anderson made a difference, there's no question about that." Sir Alex Ferguson told
Sky
Sports
after the game. "[He] came on and we came to life."
As Goal.com exclusively revealed back in September, the Scottish boss has recently toyed with the idea of selling the 24-year-old
, but that half-an-hour appearance might well have postponed such a hasty cutting of losses. That said, the fact that Anderson's position has been considered is a fair indicator of how precarious his position at the club remains.
He must now prove that allying consistency to a strong performance is something which is not beyond him, in the way it seems to be for a man who joined the club in the same summer, Nani. The Portuguese appears to be clearing a path toward an eventual exit, an outcome which would prove a frustrating end to a talented player's time at Old Trafford.
It is evident that Anderson is desperate to avoid the same fate and he has now bought himself the time to prove his journey will not have such an unhappy ending.
Follow David Lynch on