COMMENT
By Jamie Dunn
November 19, 2011. With just over 10 minutes remaining at the Globe Arena, 18th-placed Crewe trail Morecambe by a single Kevin Ellison goal, until
Nick Powell
's vital equaliser helps the League Two strugglers on their way to an eventual 2-1 away win in front of just over 2,100 fans.
Fast forward almost exactly one year, and the 18-year-old Powell is making his Champions League debut – and first competitive start – for Manchester United in the hostile atmosphere of Galatasaray's Turk Telecom Arena.
The whistles every time a United player had the ball were deafening. "It was difficult," said Darren Fletcher, who boasts plenty of Champions League experience, after the game. "Shouts like 'man on' and 'turn' were a bit difficult to hear, but you've got to experience that, you've got to deal with that."
And deal with it is exactly what Powell did. It was a tough night for Sir Alex Ferguson's fledgling side, which fell to a 1-0 defeat courtesy of a Burak Yilmaz goal. There was no Wayne Rooney, Robin van Persie, Paul Scholes or Ryan Giggs among several other talismanic figures, as the Scot rested his big names with qualification from the group stages wrapped up and the chance to go top of the Premier League awaiting them at Old Trafford on Saturday against QPR.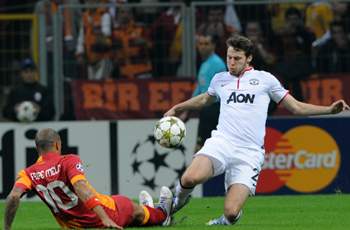 While some let a Turkish side full of energy and urgency overrun them, the teenage summer signing looked undaunted
Galatasaray, meanwhile, were playing for their Champions League livelihood and knew anything other than a win would likely see their stay in Europe's elite competition ended for another season.
But while some United players let a Turkish side full of energy and urgency overrun them for long periods in the hope of an opportunity on the counterattack, the teenage summer signing looked undaunted and was one of few positives in a side that overall created little, refusing to shy away under pressure from the likes of Felipe Melo and Semih Kaya.
Powell adopted an advanced role in the midfield and set about combining well with England internationals Tom Cleverley and Danny Welbeck, who started in a wide position, with Chicharito operating largely as a lone striker.
The former Crewe man nearly capped his European bow with a goal, too, but the crossbar denied the youngster after he had climbed highest to meet a Cleverley corner and left Galatasaray goalkeeper Fernando Muslera with little chance of making a save.
Meanwhile, others around him laboured. Anderson, for example, did little to help his cause with a largely anonymous performance. The Brazilian and Powell were both replaced after 74 minutes, but presumably for rather different reasons.
Morecambe and Istanbul may be thousands of miles apart in both distance and European status, but amassing over 60 appearances in the lower reaches of the English Football League so early in his career will undoubtedly have served Powell well on such an occasion.
Powell will, after all, be used to the rough treatment of League Two defenders and supporters alike, and while venues such as Burton Albion, Cheltenham or Torquay are hardly known for hostility similar to that reserved for English clubs on European excursions to Istanbul, his experiences thus far are surely different to those of most Premier League academy players.
It is perhaps too early for calls for the England Under-21 international to make a step up to the starting XI on a regular basis, especially with the likes of Scholes continuing to pull the strings at Old Trafford at the age of 38 – 20 years older than his fellow midfielder.
That Sir Alex would throw Powell in at the Champions League deep end, however, is surely testament to the quality he believes his teenage summer signing already possesses.


Follow Jamie Dunn on