COMMENT
By Kris Voakes | Italian Football Writer
The date: Wednesday, September 19, 2012. The game: Chelsea v Juventus.
In the 29th minute, Arturo Vidal picks up Branislav Ivanovic's loose pass, drives forward and feeds Mirko Vucinic for a chance that the striker should really bury. But more concerning than the Montenegrin's miss is the fact their inspirational midfielder is down injured having turned awkwardly on his right ankle as he twisted away from David Luiz's challenge.
Two minutes later, Oscar puts Chelsea ahead having been afforded space to shoot by the Bianconeri's short-handed midfield, and 120 seconds later the Brazil international bends home a magnificent second to seemingly end the game as a contest.
But Vidal has other ideas. After limping back on to the pitch he is intent on dragging Juve back into the match. It takes him a good five seconds to put weight on his injured ankle after firing a left foot shot over the bar, but moments later he drills another effort low beyond Petr Cech to give his side a lifeline. His first instinct is to go hobbling towards the Chelsea net to retrieve the ball. Juventus' midfield warrior wants only to save his side, ignoring the pain his ankle is causing.
That nine-minute passage in the Old Lady's 2-2 draw at Stamford Bridge has become an iconic period in the club's season. The 25-year-old, whose magnificent attitude was the driving force behind the club's run to the Serie A title last term, clearly was not about to let the small matter of a badly twisted ankle stop him from having a massive effect in Europe too. The Chilean's desire to compete is what makes him the player he is, and has also been the cause of attention from the Premier League.
"JUVE WON'T SELL, AND VIDAL IS HAPPY"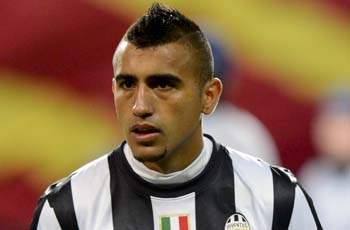 THE ITALIAN VIEW

"When Manchester City made an approach, Juventus simply said 'No thank you, the player is not for sale'. Vidal is also very happy to continue playing for Juve because he is considered as an immovable part of the first XI. Certainly, things can change, but given that City are in a very poor position in the Champions League compared to Juve, I don't believe that the Bianconeri have anything to fear from City at the moment."
Vittoriio Campanile, Goal.com Italy Chief Editor
Since that night in west London, Vidal has experienced his poorest run since signing for Juventus from Bayer Leverkusen for €10.5 million in the summer of 2011, but he has come bursting out of that in recent weeks with a number of displays reminiscent of his form of last season.
During Juve's Scudetto charge, he made more tackles (133) than midfield counterparts Andrea Pirlo (57) and Claudio Marchisio (59) put together, while also contributing seven goals as part of a buccaneering skill set which many of the English game's best players would be very proud of. His display against Chelsea only served to show that he has what it takes to mix it with England's finest.
With five Serie A goals, and eight in all competitions, Vidal is Juventus' leading scorer this term, and his symbol as the heart and soul of the side which has lost only two of 59 competitive fixtures under Antonio Conte, has been backed up by statistics that show when the Chilean is absent Juve enjoy a full 10 per cent less possession per match.
It is his endeavour and grit which recycles the ball and allows Juve to play a high pressing English style of football, with a view to spending as much time as possible probing in the final third. It is he who builds the platform from which Pirlo can play the type of football which he had not previously exhibited since Gennaro Gattuso did his dirty work at AC Milan.
Vidal's ability to do a lot of everything is, at times, astounding, and it came as no surprise at all to Serie A enthusiasts when Goal.com broke the news that Manchester City manager Roberto Mancini was turning his attention to the former Colo-Colo man, in his bid to solve his ongoing search for a top quality central midfielder.
The truth of the matter, though, is that Juventus would be crazy to let him go. Considering his form since arriving in Turin, his importance to their renaissance as the outstanding side in Italian football, his age, and the cost of finding a replacement who could do even half of the job he fulfills, his exit would only serve to balance the books.
Yet his continued rise to the top of the game will inevitably spark increased interest from suitors abroad, and particularly from the Premier League. With Vidal boasting every asset necessary to be a success in England, Juventus will have to get used to Premier League sides flirting with their star man, all of which would undoubtedly be improved by arguably the best box-to-box midfielder in world football.