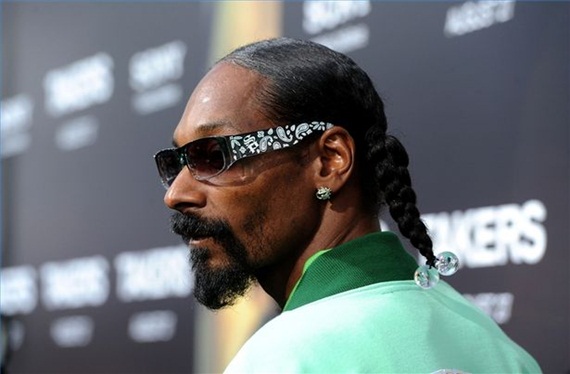 Celtic
fans might want to start cracking out the gin and juice in celebration, as hip-hop superstar Snoop Dogg has revealed that he wants to buy shares in the Parkhead club.
The rapper revealed his interest in "soccer" and the Scottish side in particular after their stunning 2-1 win over Barcelona in the Champions League and is keen to develop a link with the team.
The 'Drop It Like It's Hot' and 'Sensual Seduction' star says that any investment depends on board members being willing to sell but told the press: "I got a lot of interest in soccer. It's not a new thing for hip-hop stars to invest in sports teams but it is a new thing for hip hop stars to invest in soccer teams.
"I didn't catch the whole Barcelona game but I watched the highlights. I know Barcelona are 
a big deal and it shows Celtic are a big deal as well.
"I see how passionate Celtic fans are about their team and I could see myself making an investment if any of the board wanted to sell.
"I haven't really thought how much. I don't need to run a soccer club but enough of a percentage to get me on the board so I can be heard.
"I want to bring a bit of Snoop to things. The boxes at Celtic would never be the same once I have hosted a party there."
Snoop - or Calvin Cordozar Broadus, Jr as he is known to his family - sought out the opinion of friend David Beckham and even suggested that he would try to sign the former England skipper if he had a say at Celtic.
"I asked my man David about Celtic and he was like: 'Yeah, teams don't come much bigger'," the rapper continued.
"I would try and sign him up for a season but he is pretty happy over here. LA is home for him and his family now - but I would have to at least make that offer to my boy. Never say never."
The 41-year-old is full of enthusiasm about Scotland, eager to return after the expiry of a ban from the United Kingdom over an altercation at Heathrow Airport in 2006. Of particular interest is the food on offer, although he made no mention of haggis.
"I love Scotland. I am so happy my UK ban is up," Mr Dogg continued. "I love British Indian restaurants, man - but the best one I ever had was in Glasgow. The food blew me away, man.
"When I am away, I like to stay in hotels and have people look after me. But if I had investment in Celtic, that's a different story. Maybe I would look for a crib over there."
The 41-year-old has also been paying attention to the club's players, handily describing Georgios Samaras as "a proper athlete and a pretty dangerous player" - the forward must be buzzing.